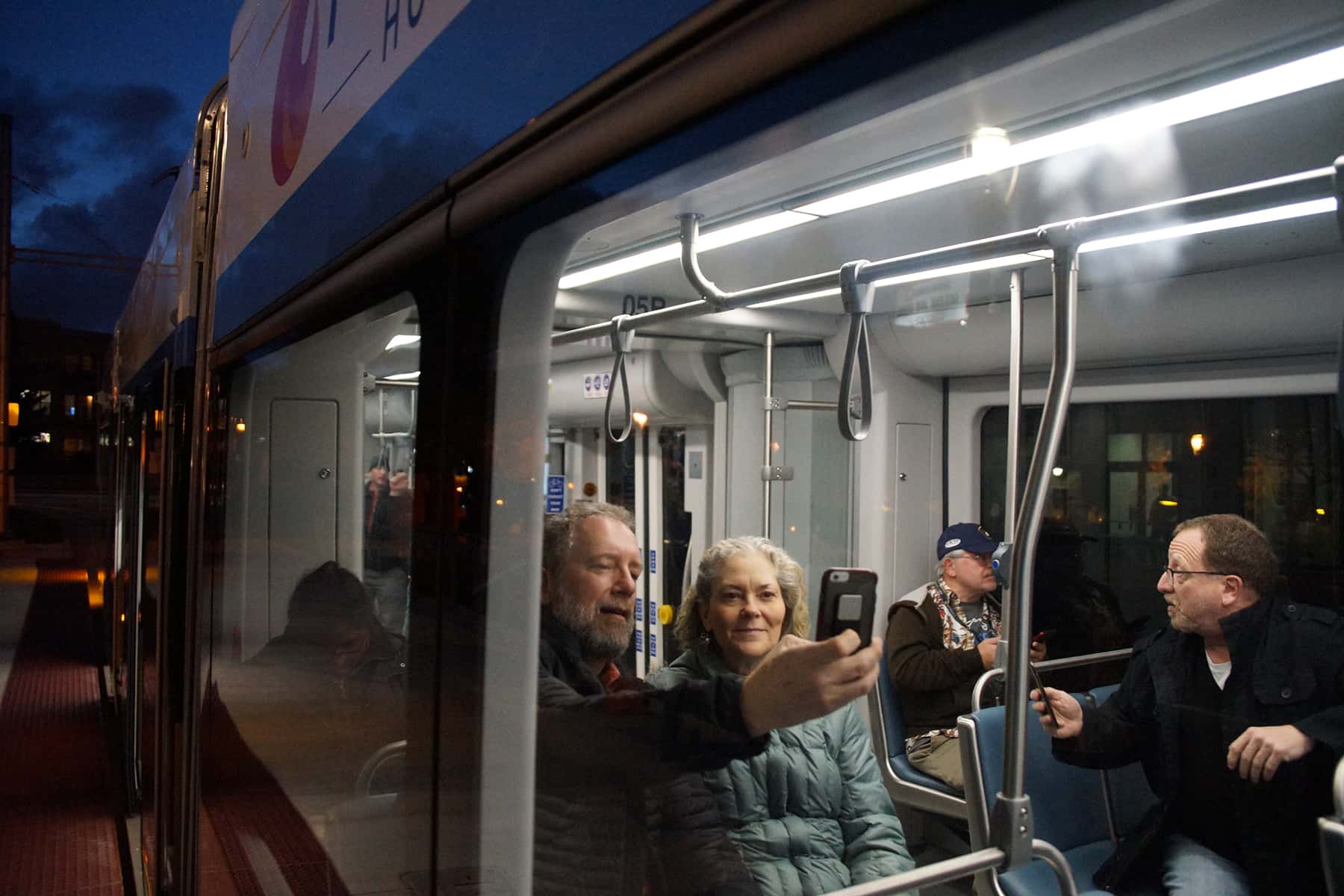 The long-awaited streetcar launched its initial 2.1-mile loop along the streets of Milwaukee on November 2. Thanks to the generous sponsorship of Potawatomi Hotel & Casino, rides on The Hop will be free for its inaugural year.
On November 3, during the installation of two rainbow crosswalks by Cathedral Square Park at the intersection of Jefferson and Wells Streets – to pay homage to the city's LGBT heritage – Milwaukee Mayor Tom Barrett began his speech with a mention of The Hop, Milwaukee's new Streetcar system.
"We have now had one full day of Streetcar service in Milwaukee," said Mayor Barrett. "So when I woke up this morning, I was happy to see that all the people who disparaged The Hop were wrong. Western Civilization as we know it did not come to an end because of Milwaukee's Streetcar."
Mayor Barrett previously announced that property value along the M-line route have increased 28% in the past two years. The city also projects that The Hop could generate $3.35 billion in new development in the downtown area.
The Hop is a versatile way for visitors and residents alike to get from the city's terminus at the Intermodal Station to Milwaukee's world-class attractions, restaurants, and shops.
"Milwaukee is in the midst of an unprecedented downtown boom and The Hop is a critical part of connecting it all," said VISIT Milwaukee CEO Paul Upchurch. "We know visitors, whether they're here for business or leisure, will enjoy the convenience and affordability that this fixed-transit system brings."
Just three blocks from the Wisconsin Center and about five blocks from the Fiserv Forum, The Hop is already making it easier for people to get around downtown, and time will better reflect its impact on the local economy.
The Milwaukee Independent rode The Hop from its inaugural run with Mayor Barrett and through the opening weekend to document in photographs the initial ridership experiences along the new transit system.
Facts about The Hop
The Hop will run every day, Monday through Friday: 5:00 a.m. to 12:00 a.m.; Saturday: 7:00 a.m. – 12:00 a.m. and Sunday: 7:00 a.m. to 10:00 p.m.
The 5 streetcars will stop at all 18 stations along the 2.5-mile loop every 10-15 minutes, so your ride will never be far away.
Each car has a capacity of 150 passengers, seated and standing, and two doors per side for fast boarding.
Each car offers a clean and quiet ride, has 32 seats: 14 on each end of the vehicle plus 4 flip-down seats in the center.
Its low-floor design is compliant with the Americans with Disabilities Act, and each car features roll-on/roll-off access for wheelchairs, strollers, and bikes.