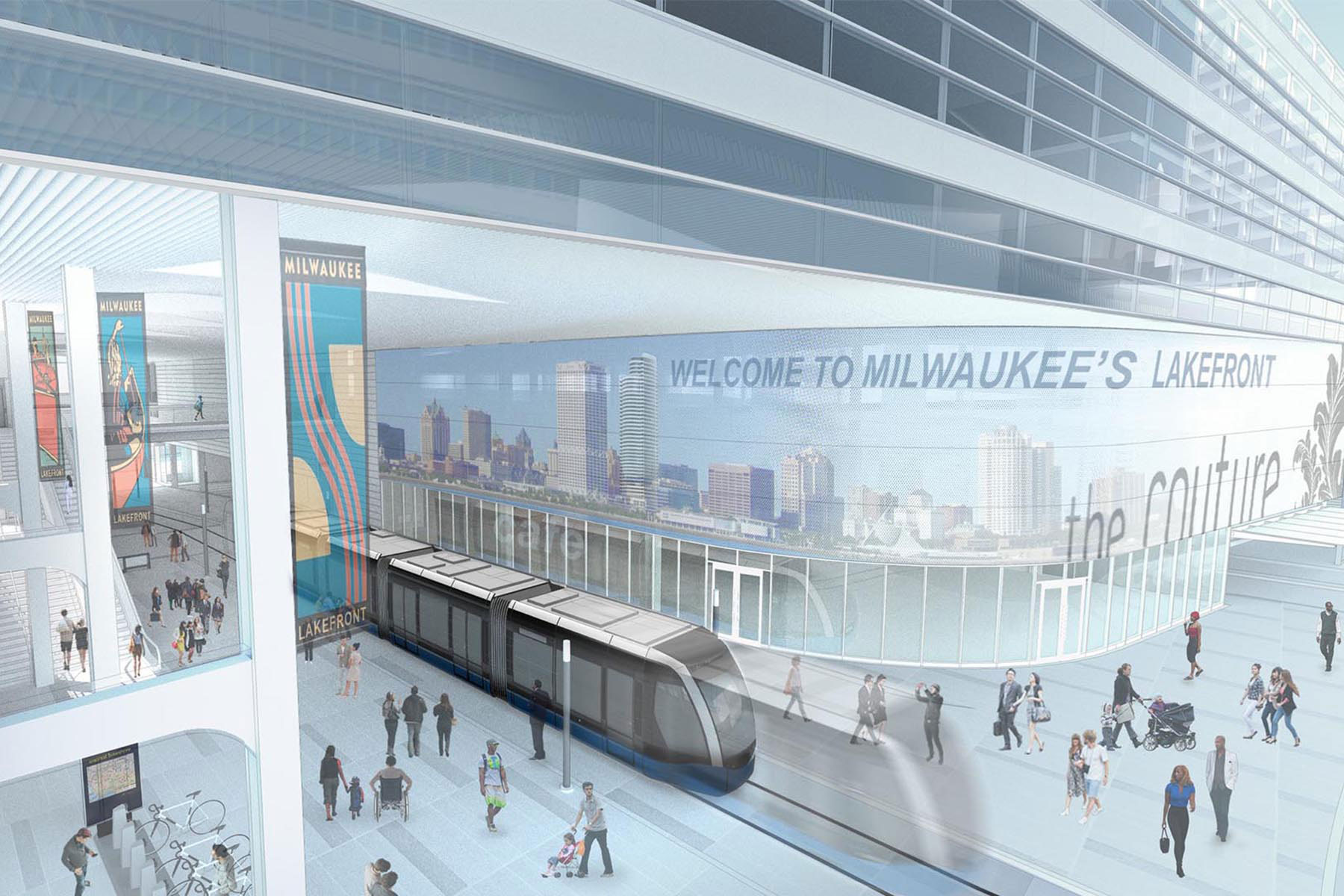 Developers Rick Barrett and Tan Lo of Barrett Lo Visionary Development announced on November 2 that they has been invited to submit an Application for Firm Commitment for the U.S. Department of Housing and Urban Development (HUD) loan guaranty program.
The loan guaranty will be used to support construction of The Couture, the 44-story, 700,000 square foot, mixed-use skyscraper that will be built on County land along Milwaukee's lakefront.
The building will incorporate numerous public amenities, including a concourse for the Milwaukee County Bus Rapid Transit line, which will serve the corridor from downtown to the Milwaukee Regional Medical Complex, and for the Milwaukee streetcar – The Hop – which just began service.
"This is a major milestone for The Couture that enables us to move forward with the final stage of financing," said Rick Barrett, no relation to Mayor Tom Barrett. "We are thrilled to be working with HUD on this catalytic development that will transform this vacant site into a vibrant public space that improves access to the lakefront, creates thousands of new jobs and adds a signature building to Milwaukee's skyline."
HUD maintains a rigorous underwriting process, thoroughly testing every aspect of potential projects to help ensure that the projects they support are a success. The invitation to the Firm Commitment Application stage of the underwriting process is a major milestone and enables Barrett Lo to move forward with the final financing steps for the project.
"This is good news for several reasons," said Mayor Tom Barrett. "The Couture will add vibrancy to downtown and the lakefront; it will create construction jobs for city residents and work for disadvantaged businesses; and it will add a unique transportation amenity. The Couture contributes to another Milwaukee tradition by increasing the link to our lakefront. With people-friendly walkways, our residents will have a new way to reach festivals, museums, and Lake Michigan."
The Couture has been designed, from the ground up, to be a key part of the Lakefront Gateway project, including a multimodal transportation hub incorporating the lakefront streetcar line, pedestrian walkways and bridges, Bus Rapid Transit, County buses and Bublr Bikes that will serve millions of visitors annually directing them to area retail, downtown businesses, nearby attractions and public lakefront pathways. Twenty-five percent of the total building and 97% of the ground level will be for public use.
"The Couture project will be transformative, both for our downtown and for the quality trades jobs it will bring," said Milwaukee County Executive Chris Abele. "What we're really building is a national model for transit-focused development that connects our community in an innovative way, adding another icon to the skyline, and finally bridging downtown to the lakefront in a way that will bring more activity and value to both."
Workforce development is a key priority for the developer, as well as the City and County. Rick Barrett has committed an additional $100,000 toward an apprenticeship training program being run by Employ Milwaukee.
Together with a grant from Employee Milwaukee, and other County resources, there will be $500,000 in training resources to help County residents gain family-supporting careers in construction.
In addition, The Couture will also meet or exceed both City and County hiring targets, including utilizing County residents for 40% of the work on the project and utilizing Disadvantaged Business Enterprises for at least 25% of the project.