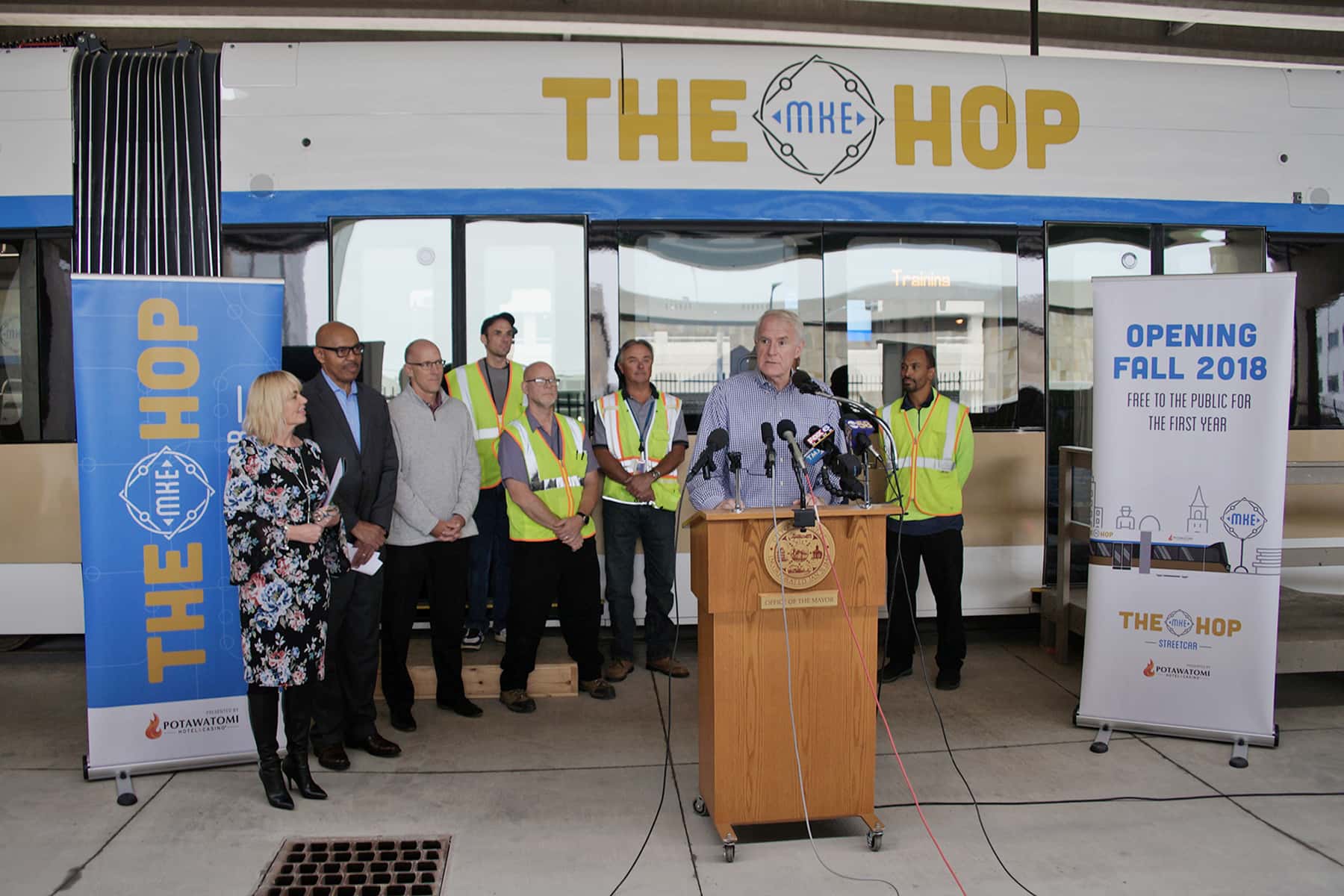 The Hop, presented by Potawatomi Hotel & Casino, is officially slated to begin passenger service on Friday, November 2, kicking off a full slate of "Grand Hop-ening" weekend events designed to engage the entire Milwaukee community.
The event will mark the return of fixed-rail transit to the city for the first time in 60 years and usher in a new era of modern mass transit that will spur development and create a more vibrant, connected urban community.
"This is a historical milestone years in the making and one we're excited to celebrate with the entire community," Milwaukee Mayor Tom Barrett said. "The Hop will be a tremendous asset to the city and a key contributor to the renaissance we're experiencing in Milwaukee. Whether you live downtown, work downtown, or just enjoy experiencing all of the incredible energy, excitement and amenities the city has to offer, ride The Hop and help keep Milwaukee moving forward."
The "Grand Hop-ening" celebration will be centered around Cathedral Square Park in the heart of downtown and adjacent to The Hop's eastbound and westbound platforms on Kilbourn Ave. The historic event will begin at 12:00 p.m. on Friday, November 2 with remarks from officials and the ceremonial launch of passenger service. The celebration will feature music and entertainment from local performers and activities to engage the crowd while waiting to board.
Events will continue throughout the weekend, with Saturday slated as a day to celebrate the many diverse businesses accessible via The Hop and Sunday tabbed as a family-friendly celebration featuring youth-themed activities throughout the route. Additional details regarding the schedule of events for the entire "Grand Hop-ening" weekend will be announced in the coming weeks.
Helping to fund grand opening event activities are several streetcar project development partners: Platinum level: Kiewit/Mass Electric; Silver level: HNTB Corporation, Brookville Equipment Corporation; Bronze level: 2-Story Marketing.
Beginning with the November 2 launch, The Hop will operate seven days a week on the following schedule:
Monday – Friday:
Saturday:
Sunday:
5:00 a.m. – 12:00 a.m.
7:00 a.m. – 12:00 a.m.
7:00 a.m. – 10:00 p.m.
Thanks to Potawatomi Hotel & Casino's generous support, rides will be free for the first year of operation. No tickets or vouchers will be required – passengers will simply wait for the next vehicle at the nearest platform and hop on. Vehicles will arrive at each of the 18 stations along the M-Line every 10-15 minutes. The L-Line, which will service destinations along the lakefront, is slated to open in 2020.