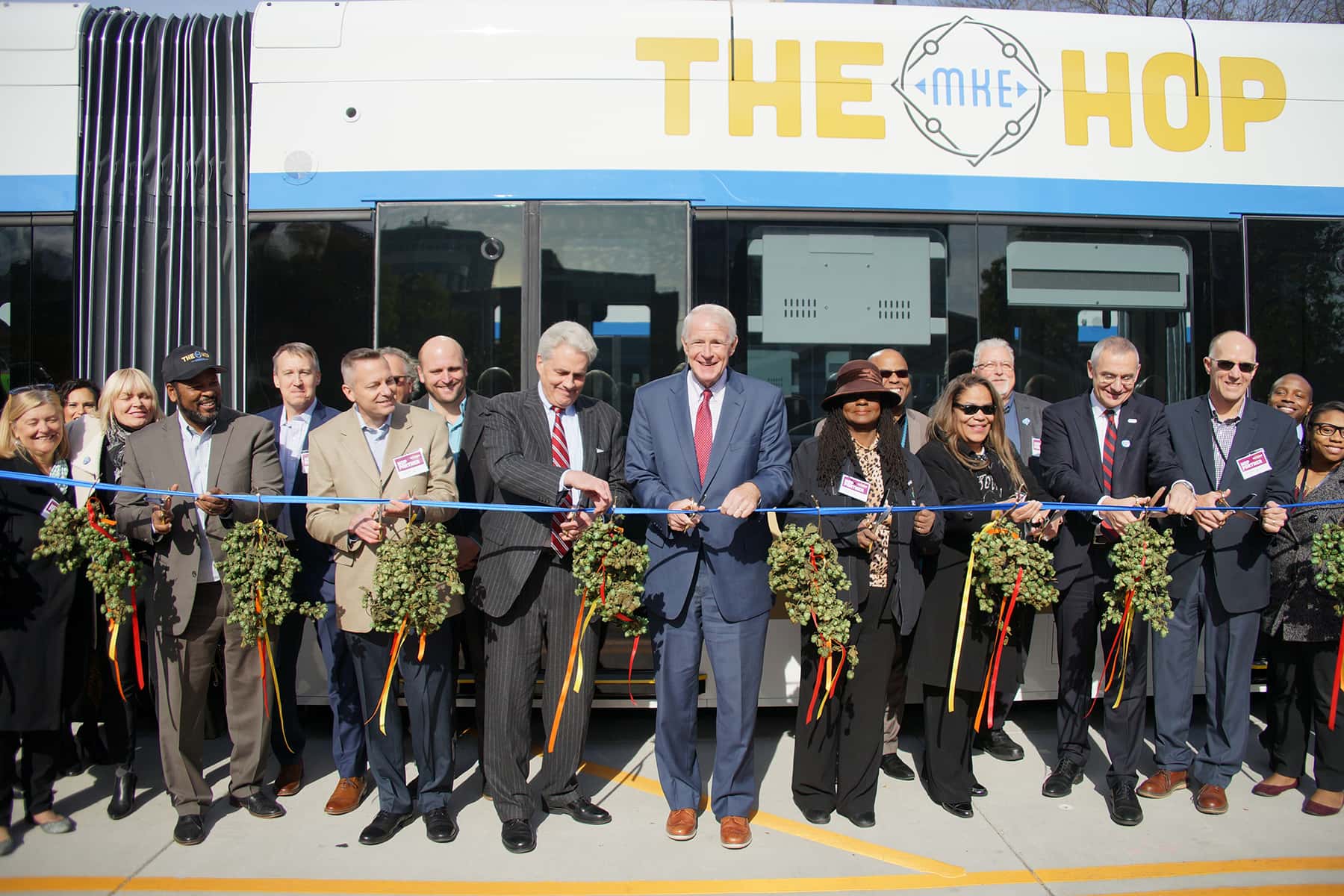 After six decades, Streetcars are again apart of Milwaukee's transit system and landscape scenery, when Mayor Tom Barrett, city leaders, and community stakeholders cut the ceremonial ribbon interwoven with hops – used for brewing beer – to officially launch passenger service on November 2 at 12:55 p.m.
No longer a computer rendering, the future of Milwaukee moved into a live reality. Hundreds of area residents crowded Cathedral Square Park to watch the historic start of The Hop at the "Grand Hop-ening" celebration, and to be among the first to ride the city's modern Streetcar vehicles.
"My son is 31, we started talking about this when he was 5. Am I excite? I could cry I'm so excited," said the event's host Beth Weirick, CEO of Milwaukee Downtown.
The M-Line's route stretches 2.1-miles, connecting the Milwaukee Intermodal Station in the Historic Third Ward to Burns Commons on the Lower East Side. The kick off event also featured local music and activities to entertain the crowd, while waiting to board The Hop at the East and West bound stations on Kilbourn Avenue.
"This is not our grandparents' streetcar," said Mayor Barrett. "Get on board. You'll find it smooth, quiet, and accessible to everyone no matter their abilities. And, for the first year it's free."
In addition to launching the streetcar, Mayor Barrett announced a big step forward for the 44-story Couture development. After a thorough review, the U.S. Department of Housing and Urban Development (HUD) was moving the project forward. When the Couture is built at the Lakefront, The Hop will loop right through the base of the building.
Many individuals and organizations were thanked during the ceremony, for making the Streetcar a reality after numerous years of effort with planning, funding, lobbying, and construction. Among those who were acknowledged included Rodney Ferguson of the Potawatomi Hotel Casino and the Forest County Potawatomi community, Congresswoman Gwen Moore, Alderman Robert Bauman, Senator Tammy Baldwin, the Wisconsin Department of Transportation, Milwaukee County Transit System and its managing director Dan Boehm, The Downtown BID, East Town Association, Westown Association, the Historic Third Ward Association, City Engineer Jeff Polenske, President Obama, Senator Herb Kohl, Congressman David Obey, business leader Michael Cudahy, developer Gary Grunau, Gary Witt of the Pabst Theater, Transdev Services, and The Hop general manager Darryll Simpson.
The city is already working on The Hop's next phases to bring the Streetcar to more neighborhoods, with a Lakefront connection expected in 2020.
"We have been talking to residents on the north side and the south side about what they want to see when the streetcar comes to their neighborhoods," added Mayor Barrett. "We have started the design work for the first leg of an extension that takes the streetcar to Bronzeville."
This audio was recorded live during the historic "Grand Hop-ening" celebration, with images that documented both the event and the first public Streetcar ride in Milwaukee.