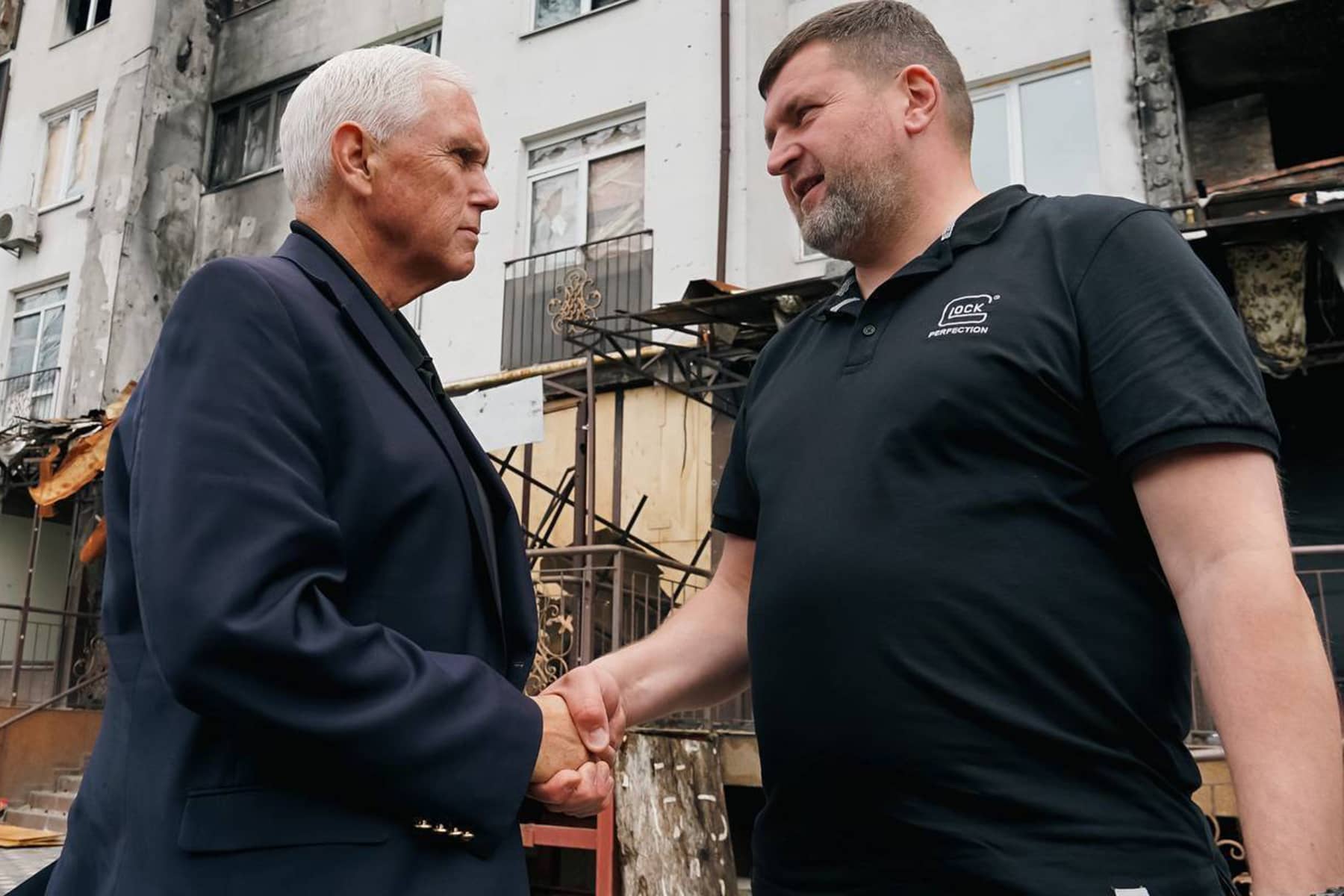 Return to Ukraine:
This feature is part of an original
Milwaukee Independent
editorial series that recorded news from areas across Ukraine, including Milwaukee's sister city of Irpin, from June to July of 2023. It was the second time in the span of a year that the award-winning Wisconsin news organization traveled to the country during the war. The purpose of this journalism project was to document a humanitarian aid mission by the Milwaukee-based nonprofit,
Friends of Be an Angel
, and report about conditions 17 months after Russia's brutal full-scale invasion.
mkeind.com/returntoukraine
"I know the difference between a genius and a war criminal, and I know who needs to win this war in Ukraine, and it's the people fighting for their freedom and fighting to restore their national sovereignty. There is no room in our party for apologists for Putin. There is only room for champions of freedom." – Mike Pence, June 29, 2023
Mike Pence, former vice president and a candidate for the 2024 presidency, made an unannounced visit to Ukraine on June 29 with stops in Moshchun, Bucha, and Irpin, three cities that Russian forces ravaged in February and March of 2022.
The trip came at a crucial moment in the war, just after the Wagner mercenary group's rebellion and the deadly Russian missile strike on a pizza restaurant in Kramatorsk. 
The presidential hopeful met with the Mayor of Irpin, Oleksandr Markushin, and toured sites around the "Hero City" that had been damaged during the early days of the Russian occupation – including the destroyed Romanov Bridge, where civilians had evacuated across the Irpin River.
Mayor Markushin also presented Pence with an English-language edition of the book that chronicled the early days of Russia's full-scale invasion of the region, "Battle for Irpin."
"We are currently discussing ways to finance the replacement of roofs and windows at other facilities damaged by Russian warplanes during hostilities last year," said Mayor Markushin.
The visit to Irpin came after the former Vice President met with Ukrainian President Volodymyr Zelenskyy. Pence, who in June launched his campaign for the Republican nomination for president, has been deeply critical of Russian President Vladimir Putin's brutal and unprovoked invasion of Ukraine.
He has called on the U.S. to deliver more military aid to the country and criticized GOP rivals who have questioned the ongoing U.S. involvement, saying there is no room in the party for "Putin apologists." He has also pushed back against those who want the U.S. to take a more limited role on the world stage.
"I'm here because it's important that the American people understand the progress that we've made and how support for the Ukrainian military has been in our national interest," he told the network. "I truly do believe that now, more than ever, we need leaders in our country who will articulate the importance of American leadership in the world."
In addition to his meeting with Zelenskyy, Pence received multiple briefings. They included one from Ukrainian officials on the country's current security situation.
The other regarded human rights violations, held at the Ombudsman of Ukraine's Child Rights Protection Center with Iryna Suslova, a Representative for the Rights of Children, Families, Youth, and Sport. Russia has been repeatedly accused of abducting Ukrainian children in a bid to weaken Ukrainian resolve.
Pence also participated in a commemoration ceremony to honor Ukrainians killed during the defense of Moshchun during Russia's offensive. And he laid flowers at the Wall of Remembrance of the Fallen for Ukraine at St. Michael's Cathedral in Kyiv.
The trip was the second by Pence to the region. In March 2022, he made an unannounced visit to the Ukrainian border with Poland, where he crossed into Ukraine and helped deliver aid to the flood of refugees who escaped the war's initial invasion.
In the shadow of the presidential elections next year, the future of U.S. support for Ukraine is in question with rival GOP candidates. Conservative voters, such as MAGA Republicans, who Pence is trying to woo in the Republican primary are not eager to aid Ukraine because of their sympathetic support of Putin, Russia's de facto dictator.
"Ever since the days of Ronald Reagan, the American people have always stood with those who fought back to defend their own freedom. We actually called it the Reagan doctrine, the idea that if you were willing to fight the Communists in your country, we'll give you the means to fight them there so that we don't ever have to fight them on our soil," said Pence. "It's part and parcel of what brought down the Soviet Union and made it possible for Ukraine to live in freedom to begin with. But I do believe that the majority of Republicans and the majority of Americans still hold to that cause of freedom."
A February poll from the Associated Press-NORC Center for Public Affairs Research found only about a quarter of Americans, or 26%, believe the U.S. should have a major role in the conflict, down from as high as 40% in March 2022. Among Republicans that number is even lower at just 17%.
Both ex-president Donald Trump and Florida Governor Ron DeSantis, who are also seeking the 2024 Republican presidential nomination, have claimed the defense of Ukraine is not a vital U.S. national security interest.
Trump publicly praised Putin's invasion of Ukraine in February 2022 as "genius" and "savvy." DeSantis once called the Russian invasion a "territorial dispute."
"I think the former president and the governor of Florida just don't understand Americans' national interest in supporting the Ukrainian military in repelling the Russian military in Ukraine," added Pence. "Make no mistake, China is watching."
Oleg Hryb / ITV, The Presidential Office of Ukraine, Kevin Wolf (AP), Jesse Brothers (AP), and Mike Pence / Rоn Nіckеl
Milwaukee Independent has reported on Russia's brutal full-scale invasion of Ukraine since it began on February 24, 2022. In May of 2022, Milwaukee Independent was the first news organization from Wisconsin to report from Milwaukee's Sister City of Irpin after its liberation. That work has since been recognized with several awards for journalistic excellence. Between late June and early July of 2023, Milwaukee Independent staff returned to Ukraine for a second assignment to report on war after almost a year. The editorial team was embedded with a Milwaukee-based nonprofit, Friends of Be an Angel, on a humanitarian aid mission across Ukraine. For several weeks, Milwaukee Independent documented the delivery of medical supplies to military and civilian hospitals, and was a witness to historic events of the war as they unfolded.
Return to Ukraine: Reports about a humanitarian mission from Milwaukee after a year of war