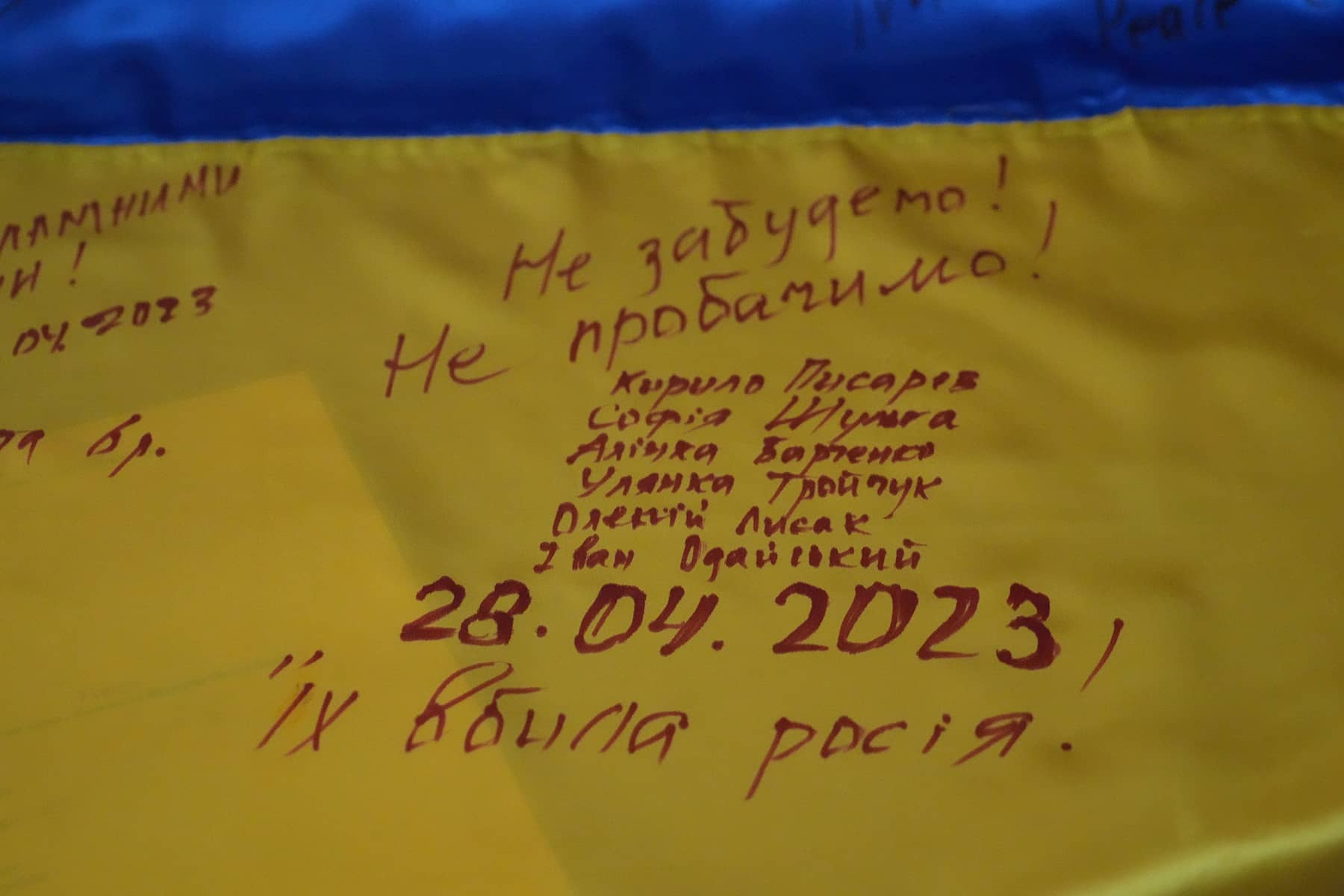 Return to Ukraine:
This feature is part of an original
Milwaukee Independent
editorial series that recorded news from areas across Ukraine, including Milwaukee's sister city of Irpin, from June to July of 2023. It was the second time in the span of a year that the award-winning Wisconsin news organization traveled to the country during the war. The purpose of this journalism project was to document a humanitarian aid mission by the Milwaukee-based nonprofit,
Friends of Be an Angel
, and report about conditions 17 months after Russia's brutal full-scale invasion.
mkeind.com/returntoukraine
The names of 6 dead children were written on a Ukrainian national flag by a teacher at one of Uman's schools, around the time of their funerals. It is one of many small memorials to the small lives that the city lost in the middle of the night.
The Uman Secondary School is located just a block from the residential building that was targeted by Russian missiles in April. The damaged structure, which was once home to dozens of families, could be seen from classroom windows if not for a row of trees obstructing the view.
"When visitors come to our school, we invite them to sign this special flag. Our community lost six young lives on April 28. They were our students, our future. This flag is simple but it means a lot to our school. We hope to do more to honor their memory," said the school's administrator.
To a military that bombed hospitals in Syria, and tried to freeze Ukrainians from their homes over the winter, no target is off-limits from their brutality. Schools have every reason to take extra precautions as a result.
The delegation from Milwaukee toured the school during its visit to the central Ukrainian city. Milwaukee Independent was embedded with members of the humanitarian nonprofit Friends of Be an Angel, and was shown updates made to the educational institution since the April missile strike killed 23 people less than 100 yards away.
The basement area had been renovated into a bomb shelter for students, and expanded. Uman had experienced relative peace in the first year of the war. Being located far from strategic areas, it had not experienced aerial attacks like so many other cities. Uman's geographic position had also transformed it into a transit hub for processing displaced people.
But any sense of safety was shattered in the middle of the night, as Russia's campaign of terror set the area around the secondary school on fire just weeks ago. Students have not needed to use the bunkers for shelter since that fateful night, but the spaces are kept ready for the next time they are needed.
While on summer break from classes, the Uman Secondary School provides extracurricular programs for children. Most involve sports like Korean Taekwon-Do.
On July 13, Uman's Sister City of Davis, California held an event to raise funds for students in Uman who have had a parent killed, captured, or injured in the war.
"Why do the skies cry bombs instead of raindrops?" – literal translation of a question written on a bulletin board by a student in Uman
© PHOTO NOTE:
All the original editorial images published here have been posted to
mkeind.com/facebook
. That Facebook collection of photos contains the
Milwaukee Independent
copyright and watermark for attribution, and may be used for private social media sharing. Do not download and repost images directly from this page.
Milwaukee Independent has reported on Russia's brutal full-scale invasion of Ukraine since it began on February 24, 2022. In May of 2022, Milwaukee Independent was the first news organization from Wisconsin to report from Milwaukee's Sister City of Irpin after its liberation. That work has since been recognized with several awards for journalistic excellence. Between late June and early July of 2023, Milwaukee Independent staff returned to Ukraine for a second assignment to report on war after almost a year. The editorial team was embedded with a Milwaukee-based nonprofit, Friends of Be an Angel, on a humanitarian aid mission across Ukraine. For several weeks, Milwaukee Independent documented the delivery of medical supplies to military and civilian hospitals, and was a witness to historic events of the war as they unfolded.
Return to Ukraine: Reports about a humanitarian mission from Milwaukee after a year of war