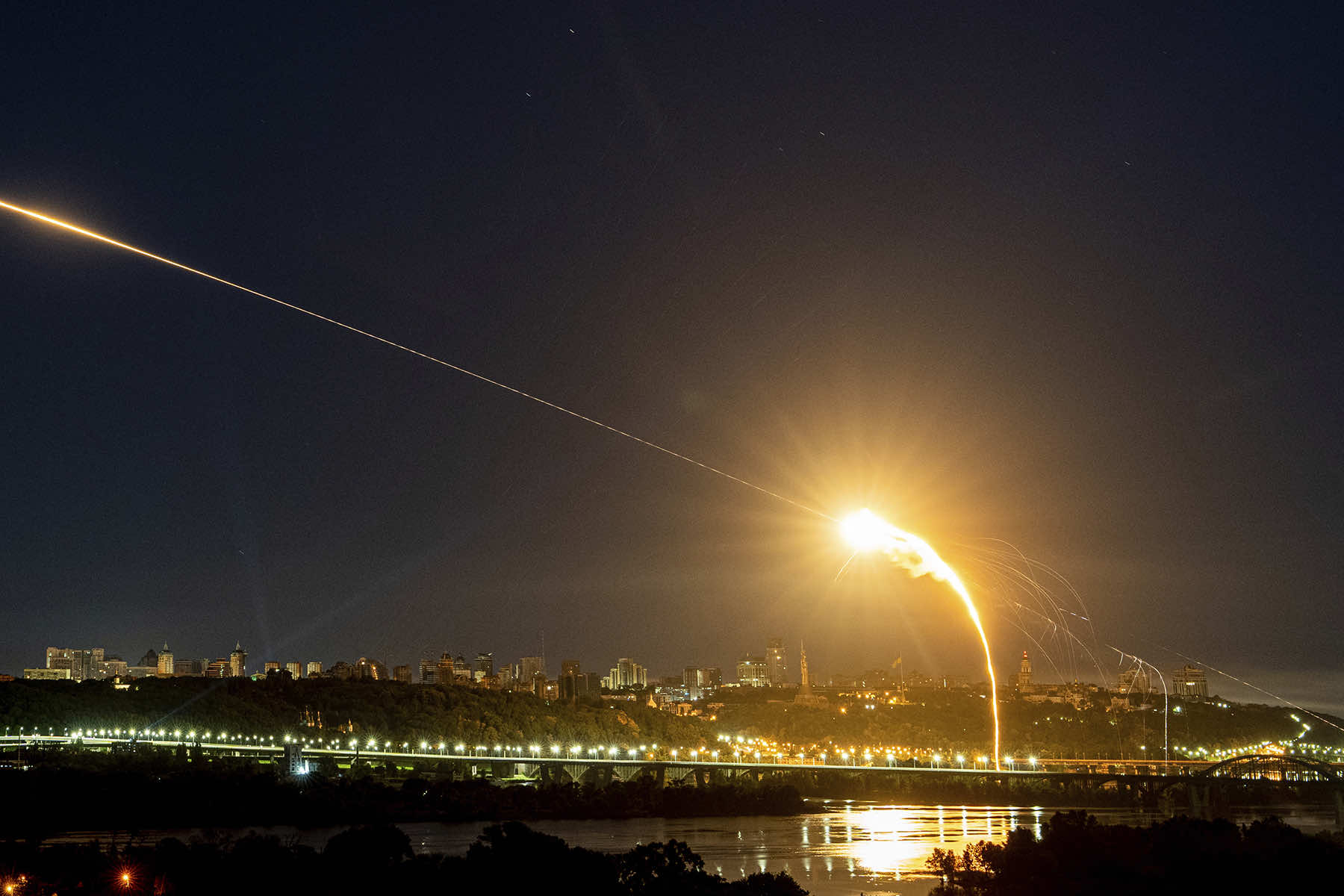 Return to Ukraine:
This feature is part of an original
Milwaukee Independent
editorial series that recorded news from areas across Ukraine, including Milwaukee's sister city of Irpin, from June to July of 2023. It was the second time in the span of a year that the award-winning Wisconsin news organization traveled to the country during the war. The purpose of this journalism project was to document a humanitarian aid mission by the Milwaukee-based nonprofit,
Friends of Be an Angel
, and report about conditions 17 months after Russia's brutal full-scale invasion.
mkeind.com/returntoukraine
Russia launched an early morning July 2 drone attack on Ukraine's capital, Kyiv. It was the first such attack after a 12-day window of relative calm that saw many international leaders visit the city.
All of the Iranian-made Shahed exploding drones were detected and shot down, according to Serhii Popko, the head of the Kyiv city administration. In addition to the city itself, the surrounding Kyiv region was targeted.
Senior photojournalist for Milwaukee Independent, Lee Matz, was on assignment reporting from Kyiv, and based near the central railway station, when the air raid alarms began.
"We were told to prepare for nightly attacks, as part of Putin's effort to terrorize Ukraine," said Matz. "But the Polish prime minister and other dignitaries were here all week, so Russia paused targeting the capital for fear of triggering a NATO response."
Matz said Ukraine's early warning system had dramatically improved thanks to the Patriot missile systems supplied by the United States. For the July 2 attack, residents of Kyiv had several hours of warning.
One of the vital defense systems was damaged in May, soon after being deployed. What was not widely reported was that local residents in Kyiv had filmed the Patriot missile battery launching a counter-strike to destroy a hypersonic Kinzhal missile. After the video was uploaded to social media, Russia was able to locate its position from the embedded geotagging.
Kyiv regional Governor Ruslan Kravchenko reported on July 2 that one person was wounded by falling debris from a destroyed drone.
Officials in the Ukrainian capital did not provide an exact number of drones that attacked the city. But Ukraine's air force said that across the country, eight Shaheds and three Kalibr cruise missiles were launched by the Russians.
Further south, a 13-year-old boy was wounded in overnight shelling of Ukraine's partially occupied southern Kherson province, said Oleksandr Tolokonnikov, spokesman for the Ukrainian administration of the province.
The child was wounded when the Russian army shelled the village of Mylove on the banks of the Dnieper River in the Beryslav district, Tolokonnikov said.
"The child was hospitalized, there is no threat to his life," Tolokonnikov added," he said on state TV.
Shelling of the Kherson province continued the following morning, wounding four people in the regional capital, also called Kherson. The regional prosecutor's office said that a residential area of the city was targeted by Russian troops operating in the Russia-occupied part of the Kherson province. "
"At least four citizens were wounded, two of them due to a targeted strike on a high-rise building," the office wrote on Telegram.
Meanwhile, Ukraine's military reported that the most intense fighting continued in Ukraine's industrial east, with attacks focused around Bakhmut, Marinka, and Lyman in the country's Donetsk province, where 46 combat clashes took place.
On July 2, the General Staff said that over the previous 24 hours, Russia had carried out 27 airstrikes, one missile strike, and around 80 attacks from multiple rocket launchers, targeting regions in the north, northeast, east, and south of the country.
Milwaukee Independent has reported on Russia's brutal full-scale invasion of Ukraine since it began on February 24, 2022. In May of 2022, Milwaukee Independent was the first news organization from Wisconsin to report from Milwaukee's Sister City of Irpin after its liberation. That work has since been recognized with several awards for journalistic excellence. Between late June and early July of 2023, Milwaukee Independent staff returned to Ukraine for a second assignment to report on war after almost a year. The editorial team was embedded with a Milwaukee-based nonprofit, Friends of Be an Angel, on a humanitarian aid mission across Ukraine. For several weeks, Milwaukee Independent documented the delivery of medical supplies to military and civilian hospitals, and was a witness to historic events of the war as they unfolded.
Return to Ukraine: Reports about a humanitarian mission from Milwaukee after a year of war