Duo walking 332-miles for Great Lakes conservation awareness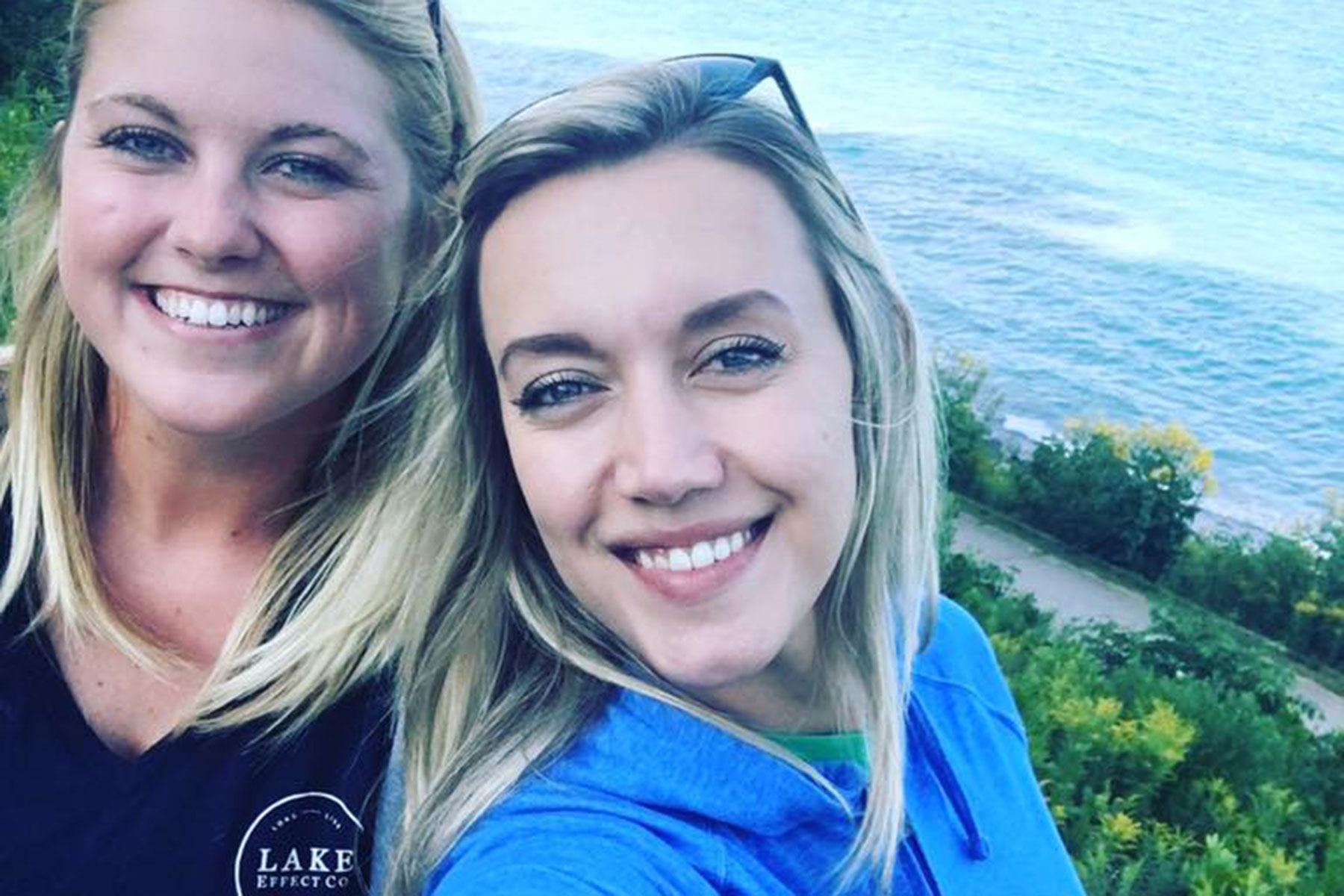 It takes roughly five and a half hours to drive from Milwaukee, Wisconsin, to Michigan's Porcupine Mountains. It will take Alyssa Armbruster and Julia Robson one month to walk the same route.
The pair began their 332-mile hike on August 26, from Milwaukee to the shores of Lake Superior at Union Bay. Their purpose is to highlight the Great Lakes as valuable natural resources and to raise awareness for freshwater conservation.
They are calling it the Walk to Sustain Our Great Lakes. Armbruster and Robson, both employees of the Milwaukee County Park Department's Natural Areas Program, will meet with members of the communities they walk through to speak about conservation in the Great Lakes.
"It's really rewarding to meet with people who live on the Great Lakes and discuss some issues that aren't always as obvious to members of the public," Robson said. "I'm looking forward to the learning opportunities we have and the ability to do outreach along the way."
The pair will also do video blogging and social media outreach throughout their journey, which the public can follow on Facebook.
Fundraising for the walk is being donated to several environmental nonprofits that engage in Great Lakes research and education. These include the Alliance for the Great Lakes, Discovery World and Milwaukee's Urban Ecology Center.
Robson first presented the idea for the walk to Armbruster in January 2017. It took three months to plan their route from Lake Michigan to Lake Superior — what Robson called the "most strenuous portion of the process."
Their route takes them along paths like the Oak Leaf Trail and the Fox River State Trail. They'll also be traveling some interurban trails and U.S. Forest Service roads. Natural highlights along the way include Wisconsin's Kohler-Andrae State Park, which boasts an impressive sand dune landscape, and the waterfalls in the Porcupine Mountains.
"Neither Alyssa nor I have ever been to the Porcupines," Robson said. "We've spent some time in the U.P., but the Porcupine Mountains was the one spot in the U.P. that neither of us had been before. It's going to be a pretty exciting finish for us."
There will be a feature-length documentary of their travels produced by Rayni Day Productions. The documentary will show the walk itself, interviews with community members and video of current conservation projects in the Great Lakes.
It will also include interviews conducted before the walk starts. The pair spoke with scientists from universities across Wisconsin. They even got to take a spin on the School of Freshwater Sciences' research vessel, the Neeskay, to learn more about their buoy monitoring system. They also talked with Great Lakes area farmers and commercial anglers for their take on local issues.
"Speaking to them was honestly one of the most eye-opening, interesting conversations I've had," Robson said. "Especially with farmers, because in Green Bay or Lake Erie where they have a lot of harmful algal bloom problems, sometimes the public can easily villianize them. But speaking with these individuals, they genuinely do care. They're not trying to be the bad guys. They're just looking for solutions that work."
Through the documentary, as well as community and social media outreach, Robson and Armbruster say they hope to connect people to the Great Lakes who might never think of them otherwise. Most of all, they want the walk to spark conversation.
"There's conversations that can be had amongst people from all backgrounds that are really important, and they need to happen," Robson said. "I think that would be an accomplishment for me, to feel that I've well informed somebody of the positive things that have come out of what we've done in the Great Lakes region in terms of restoration."
Eventually, Robson said she hopes the documentary will be shown in schools to educate children about the Great Lakes. She and Armbruster have plans to show it at the 2019 Environmental Film Festival in Washington, D.C.
They also said they hope to develop a lecture series based on what they learn during the walk. They want to deliver it in the communities they will visit, telling them more about Great Lakes conservation projects. But on a more personal level, the walk will culminate in the satisfaction of having literally come so far.
"I don't think I'll ever do something quite like this again," Robson said. "I just can't wait to get to put my feet in Lake Superior, and just look down on it, and in simple terms, to just have walked that far, from one Great Lake to another. That's going to be huge."
Robson and Armbruster held a send-off event at Discovery World, with supporters participating in the first mile of the walk along the Oak Leaf Trail.
A few thoughts by Alyssa
"I've always been the one kid that wasn't afraid to jump into a pond to catch a frog, or come home late for dinner covered in dirt because I was too busy exploring in the neighborhood woods teaching myself all there is to know. Since college, I've struggled with finding a way to combine my love for outdoor recreation and my passion for our Earth and our environment. I received my bachelors in Conservation and Environmental science from UW-Milwaukee where I also had the opportunity to work and help build the Outdoor Pursuits program. We focused on leading students on backcountry trips such as backpacking, rock climbing, paddling, and skiing. This walk answered all my questions as to how to combine my passions. I heard a quote once; "People only protect those things they love; you can't protect something unless you inherently identify with it."
I think that we all can identify with the need for clean water. Its present in so many things we do whether we realize it or not. I think now more than ever we need to focus on the importance of clean water regulation so we can continue doing things we love. Everything on Earth is connected in some way, working to protect our freshwater resources is a stepping stone towards something bigger. Living in the Great Lakes watershed is a privilege that not many of us see. We have one of the world's largest freshwater resources at our fingertips and it's so fragile we don't see how easily it can be damaged. When a watershed is unhealthy, everything living in it suffers. The symptoms are easy to see: Beaches are closed because of pollutants. Fish populations dwindle because there isn't enough water or the quality is too poor to support them. Air pollution endangers our health and damages soil, water, crops, forests, and wildlife.
When we thought about doing this trip as a hike, our first reason behind it was to decrease our carbon footprint. But by doing this hike human powered we're also going to be seeing the world firsthand, and not through a window. We're going to be taking on all the elements head-on. We're going to be connecting with our surroundings and the communities we pass through more than we would if we were just driving through. Roughly 300+ miles takes a while to drive, let alone walk. As a society, we love comfort. It's hard for people to step out of their comfort zone. I've noticed that working with students on backcountry trips. So, when we say that we're walking roughly 300+ miles with everything we need to live on our backs, it shows how passionate we are for this cause. I'm ready to do my part, and if my part is hiking through Wisconsin to spread awareness, so be it."
– Alyssa Armbruster
A few thoughts by Julia
"I received my bachelor's degree in Conservation and Environmental Science from UW-Milwaukee. I can actually remember the exact moment that I decided I wanted to stay here in Wisconsin for college. I was running in a cross-country meet at Sheridan Park when we came up along the forested bluffs on Lake Michigan. I was so captured, simply with the beauty of Lake Michigan, that I was committed, right then and there, to staying in the state. Funny, that exact spot is where we took this photograph. Beautiful, isn't it?
My desire and passion for science and nature has always felt mostly innate, but definitely nurtured by my upbringing as a child. As a kid sitting in my favorite grapefruit tree in our backyard in Miami, Florida, I was taught by my mother to never take more fruit than the tree could give. That simple lesson could easily be what shaped the young mind and heart of the conservationist that I am today. That principle of stewardship stuck with me as I grew up and evolved as I began my career as an ecologist. Over the years, I have worked with wolves, birds, snakes, frogs, turtles, prairies, wetlands, oak savannas… you name it. Of them all, what ultimately intrigues me the most is the complexity and resilience of the relationship between humans and our natural world.
Yes, we are losing species to extinction at a rate that is a thousand times that of the natural background rate, 58% of our coral reefs have been destroyed, and over 350 million people suffer from severe water scarcity. These are just some of the enlightening, but shameful truths that we must face. However, I would be lying if I said that I have lost all hope (as a self-proclaimed pessimist at times, I am sure my friends who know me best are likely somewhat perplexed by that statement). In our fairly recent history, we as a people have demonstrated that we can restore the damages done to nature. Think about what state the environment was in during the 1960s and 70s before the EPA was established: cancer-causing pesticides like DDT were being pumped onto the landscape daily, rivers started on fire because they were loaded with industrial waste, and thick smog regularly polluted the air in our cities. However, we have come a long way since then because we, as a people, collectively cared to change our course and take action.
Actually, it seems like Human Psychology 101 because we, as human beings, care most about issues that directly affect us. When the effects of something are tangible, like they were so blatantly in the 60s and 70s, that seems to be the point at which we react to what our environment has been telling us. Now, we have come a considerable distance from where we were environmentally prior to the EPA and regulations, such as the Clean Water Act and Clean Air Act. However, we are still facing many challenging hurdles, whether it be climate change, food and water scarcity, or continued loss of species diversity and ecological collapse.
While daunting, we have seen what we are capable of when we collectively push for progress toward the sustainable conservation of our natural resources and environment. It all starts with an appreciation for what we are fighting to achieve. That is why I decided to do this Great Lakes walk; to raise awareness about one of the most important freshwater resources on the planet, but also to hopefully inspire people to care and, more importantly, to act. We cannot afford to fall backwards, and must push forward with regulation, research, and education that protects these finite resources on a national, statewide, and local level.
Environmental issues do not, and should not, belong to one political party or group. The impacts of our decisions now, however big or small, will transcend any political boundaries for generations to come. I feel that it is my responsibility to do whatever I can to foster a culture of stewardship and appreciation for this entity that connects us all."
– Julia Robson
Joe Brusky, Alyssa Armbruster, and Julia Robson