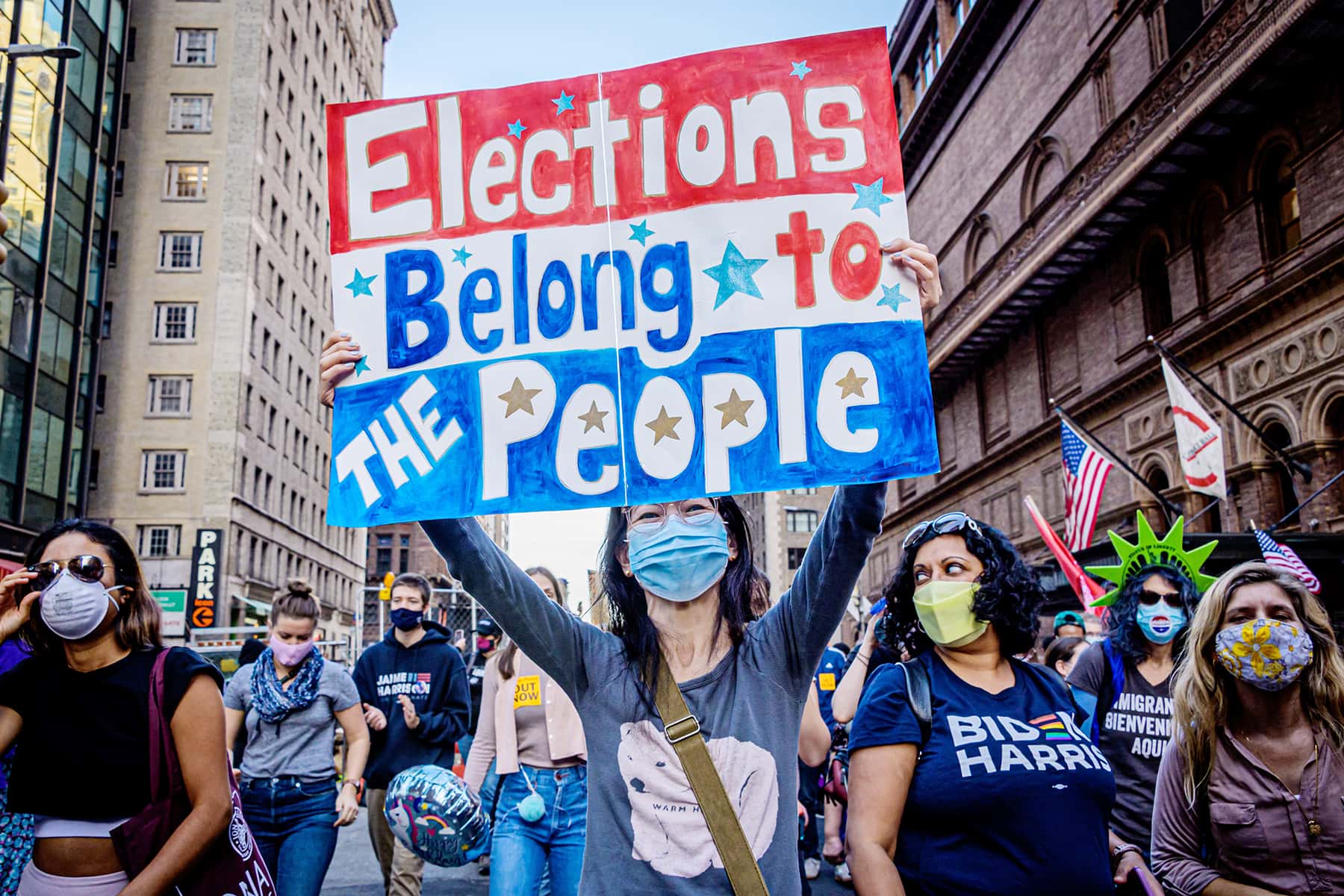 One year since then-President Donald Trump and his Republican accomplices' lies about voter fraud led to a failed coup on January 6, 2021, progressives are warning that the GOP's ongoing, nationwide assault on the franchise will continue as long as Senate Democrats fail to pass pro-democracy legislation.
"In America, voters decide the outcome of elections," Lisa Gilbert, executive vice president of Public Citizen, said in a statement. "Yet 365 days after the attacks on the 2020 election culminated in the Capitol calamity, we still haven't enacted meaningful reforms to prevent another January 6. If the Senate doesn't act now, we are guaranteeing that there will be more election chaos in 2022."
Jana Morgan, director of the Declaration for American Democracy, a coalition of over 240 organizations leading the fight to pass the Freedom to Vote Act, said that "the January 6 attack last year by right-wing militants who were motivated by former President Trump's Big Lie demonstrated the dangers facing our nation."
"It also underscores the urgency with which we need to transform our political system into one that works for all Americans," said Morgan. "To prevent this kind of attack from happening again, our elected leaders must pass critical legislation that will protect this country from anti-democratic forces. The U.S. Senate and President Biden must do whatever is necessary to pass the Freedom to Vote Act, John Lewis Voting Rights Advancement Act, and other critical reforms."
In the twelve months since a reactionary mob stormed the Capitol in a deadly effort to prevent Congress from certifying President Joe Biden's Electoral College victory—after which 147 Republican lawmakers sided with the insurrectionists by declining to verify the results—right-wing officials at the state level have weaponized Trump's Big Lie to enact numerous voter suppression laws and gerrymandered maps, while Senate Minority Leader Mitch McConnell (R-KY) has blocked federal voting rights legislation on multiple occasions.
Senate Republicans deployed the filibuster, an anti-democratic rule that requires a 60-vote supermajority to advance most legislation, four times last year to prevent voting rights bills from reaching Biden's desk. After blocking the sweeping, House-passed For the People Act in June and August, they also filibustered its less ambitious successor, the Freedom to Vote Act, in October, and the House-passed John R. Lewis Voting Rights Advancement Act two weeks later.
The Freedom to Vote Act would establish an automatic voter registration system, make Election Day a federal holiday, and ban partisan gerrymandering, while the legislation that bears the name of the deceased civil rights icon John Lewis would restore anti-discrimination protections to the 1965 Voting Rights Act.
Senate Democrats—with the support of all 50 members of the caucus plus a tie-breaking vote cast by Vice President Kamala Harris—can reform or nix the filibuster indefinitely, which would enable them to circumvent the increasingly authoritarian GOP's obstructionism and swiftly enact both pro-democracy bills along with the redistributive economic agenda that a majority of U.S. voters elected them to implement.
However, some conservative Democratic senators, including Joe Manchin (W.Va.) and Kyrsten Sinema (Ariz.), remain opposed to abolishing the filibuster and to carving out a voting rights exception to the 60-vote threshold, even as scholars and activists warn that federal legislation is necessary to neutralize the GOP's brazen attacks on the nation's faltering democracy.
"One year ago, an armed mob whipped up by right-wing lies about the election, attacked the Capitol and tried to overturn the results of the election," Brooke Adams, director of movement politics for People's Action, said in a statement. "The anniversary is a reminder of that day and also of right-wing forces' ongoing efforts to rig election rules, pack election boards in small towns across the country, and attack fair voting districts."
Adams said that "corporations and their right-wing, fascist allies want minority rule in this country, and are funding disinformation campaigns alongside their takeover of local election commissions to overthrow democracy."
A recent poll found that one year after the January 6 insurrection, 71% of Republicans continue to believe that Biden's victory was illegitimate. Two months ago, another study found that a growing share of GOP voters—who have downplayed that day's brutality or blamed it on Democrats, Antifa, and the Capitol Police—have endorsed the use of political violence to "save" the country, which is likely why a majority of Americans fear a repeat of last year's attack.
Republican-led state legislatures, meanwhile, have passed dozens of voting restrictions, and according to the Brennan Center for Justice, they intend to escalate their disenfranchisement campaign in 2022.
The laws include limits on the use of mail-in ballots—which Trump, who voted by mail himself, baselessly claimed was a fraudulent tactic ahead of the 2020 election to preemptively delegitimize any unfavorable results—and the criminalization of "ordinary, lawful behavior by election officials" who try to assist voters.
As part of what experts have called an ongoing "election sabotage scheme," pro-Trump lawmakers are also pushing to appoint the former president's loyalists to election boards, voting inspector positions, and other key posts ahead of the 2022 and 2024 elections.
Calling Trump's 2020 election subversion effort "just a warm-up act," a longtime scholar of violent conflict warned earlier this week that in the absence of far-reaching progressive reforms, U.S. democracy "could collapse" by 2025, and "the country could be governed by a right-wing dictatorship" by the end of the decade.