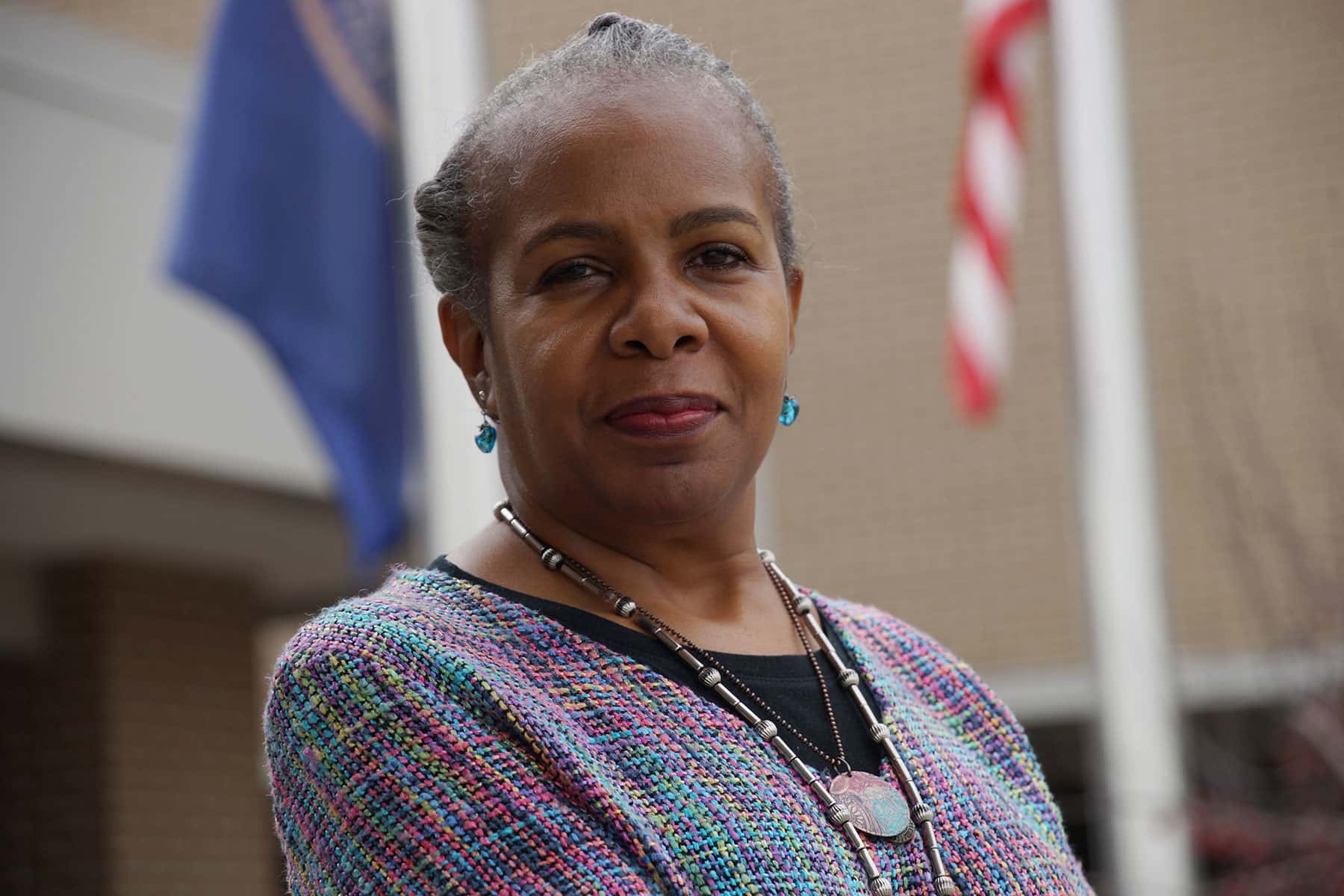 Growing up in the same neighborhood as Vel Phillips, Carla Brockman never expected to one day be part of a re-enactment group for Wisconsin's only colored troops in the Civil War.
But working with wounded soldiers at the VA has given her a unique perspective for the timeless effect of war.
Milwaukee Independent: When did you first discover Company F, 29th Infantry Regiment U.S. Colored Troops (USCT)?
Carla Brockman: The Milwaukee Veterans Administration (VA) Medical Center used to have a multi-era event called Reclaiming Our Heritage. It was held annually on the VA grounds and included re-enactors from the War of 1812 to Afghanistan. Jack Tomlinson and Charles Wallace, who became our founding members, were going to represent the 54th Massachusetts. Laura Rinaldi, who was a member of Friends of Reclaiming Our Heritage (FOROH), told Jack and Charles that we had a Black Civil War solider buried in our cemetery, Essex Roach, Company I, 118th USCT. She told also them about Company F, which interested Jack and Charles enough to start their research and attend encampments.
Milwaukee Independent: Can you explain a little history about Company F 29th USCT?
Carla Brockman: On May 22, 1863 the War Department established the Bureau of Color Troops to handle recruitment, organization, and service of the newly organized black recruits to be commanded by white officers. Seventy-five black men from Wisconsin were part of this unit. These men served with distinction and valor, they saw action in the Battle of the Crater, and the surrender of General Robert E. Lee at Appomattox Court House April 1865.
Milwaukee Independent: What connection does the Milwaukee VA Soldiers Home have with Company F 29th USCT?
Carla Brockman: We have not found any buried here, but some of them may have gotten care here, or lived here at one time.
Milwaukee Independent: Are there Company F troops buried on or around the Milwaukee VA grounds?
Carla Brockman: There are no Company F soldiers buried in the VA Cemetery, but we did find a Company F soldier named William Reed who is buried in the Forest Home Cemetery. We recently purchased a headstone for his grave, and we hope to have a presentation for him in May.
Milwaukee Independent: Why did you help start the reenactment group for Company F 29th USCT?
Carla Brockman: My fellow employee Jack Tomlinson ask members of the Black Employment Committee to join the group as it was starting, and I was part of the committee.
Milwaukee Independent: What was your most surprising discovery about Company F 29th USCT?
Carla Brockman: I guess it was learning about the families that followed the soldiers. I knew that women cooked and cared for the colored troops. But women would pack up their homes and children and follow the army. They came off the plantation and had no home to go back to. These women had to stay close to the army, otherwise they could be captured and sent back into slavery.
Milwaukee Independent: How has the group helped raise awareness and educate the public about colored troops during the Civil War?
Carla Brockman: We participate in very few encampments these days, but we do a lot of presentations at schools, senior centers, and different local events.
Milwaukee Independent: What types of community activities is Company F 29th USCT involved in?
Carla Brockman: We present the colors at different events, which are our national flags, and we march in our Juneteenth Day and Veterans Day parades every year.
Milwaukee Independent: What is your most memorable experience from being a part of the reenactment group?
Carla Brockman: It's when we do school presentations, and a small kid asks a really intelligent question, and it's heartwarming because they were really paying attention.
Milwaukee Independent: How do you explain the different context between the terms for black, African-American, and colored troops?
Carla Brockman: During the Jim Crow era we were colored, starting with the Black Power movement in the 1960s we became Black, now we are African American. The terms reflect the identities of those eras.
Milwaukee Independent: Do you feel your efforts have helped connect the lessons of the past with today?
Carla Brockman: One of our members does volunteer work at a school, and he had the kids write papers on what was the Civil War, including what Company F was involved in. Some of the papers were pretty good, so we are reaching the kids and helping preserve our past.
Milwaukee Independent: Do you see any similarities for modern Veterans and our ancestors who fought in the Civil War?
Carla Brockman: There are many similarities. War is always war, and veterans come home injuries. But now we do see much more traumatic brain wounds. Also, a lot of our veterans are dealing with severe PTSD and they choose not to get treatment for it.
Milwaukee Independent: What help does your group need to preserve the history of African-American troops in the Civil War?
Carla Brockman: Every organization can use donations, but we really need is people to spread our information. Before getting into this group I knew nothing about black Civil War soldiers from Wisconsin.
Milwaukee Independent: How long and in what roles have you worked for the Milwaukee Veterans Administration?
Carla Brockman: I have worked at the Milwaukee VA for 28 years. My first 11 years were spent in Admissions clinic. I worked for 8 years in Performance Improvement as a secretary, and now 9 years in Spinal Cord Injury as a secretary.
Milwaukee Independent: What are the most significant problems you see today that African-American veterans experience?
Carla Brockman: Black Veterans today faces the same problems that Black Veterans have faced since this country first started fighting wars. Aside from the broken bodies and broken psyches that that all veterans face, the Black Veteran comes home to the American dream and reaching it is even further away that before. They face prejudice due to their race, an unemployment in Milwaukee rate that is almost twice the national average, and neighborhoods where it is not safe for their children to play outside without the fear of being caught in the cross fire of guns. It is like they leave one war zone only to return to another, but here is home.
Milwaukee Independent: What is the biggest lesson you have applied to your own life from working with veterans?
Carla Brockman: The first one is to be Happy. If I come to work sad or down, all I have to do is look around and am reminded that I have nothing to be upset about. The other is patience and compassion.
Milwaukee Independent: What can the Milwaukee community do more of to support our returning veterans?
Carla Brockman: I have the say that the Milwaukee VA is a great place. We just need the public to get the word out about us and the services we offer. If anyone knows a veteran in need, please just bring them to us. Every returning Veteran is given two years of free care at the VA, all they have to do is come in.