After inaction by legislature Attorney General Kaul files lawsuit to block Wisconsin's 1849 abortion law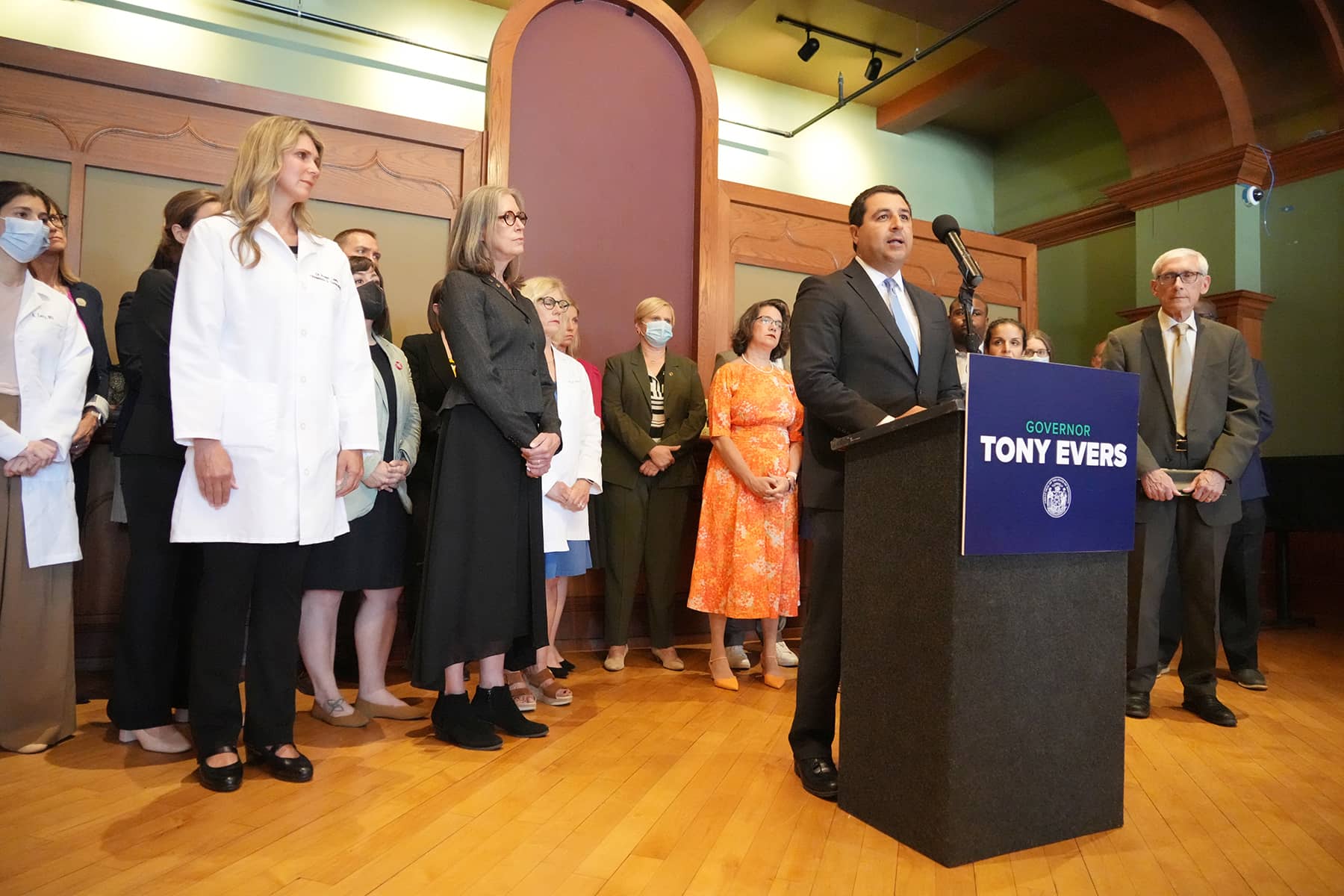 Governor Tony Evers and Wisconsin Attorney General Josh Kaul announced on June 28 a new lawsuit challenging Wisconsin's criminal abortion ban.
The lawsuit comes just days after the U.S. Supreme Court released a decision in Dobbs v. Jackson Women's Health Organization to overturn Roe v. Wade and Planned Parenthood of Southeastern Pennsylvania v. Casey, upending nearly 50 years of a constitutional right to abortion that Wisconsinites and Americans have relied upon for almost five decades.
"In one fell swoop, the Supreme Court overturned Roe and ruled that the U.S. Constitution confers no right to an abortion, effectively stripping Wisconsinites – and many Americans across the country, our family members, friends, and our neighbors – of the ability to make their own reproductive health care decisions without interference from politicians," said Governor Evers. "Half the people in our state now have fewer rights than they did 40 years ago, fewer rights and their mothers and their grandmothers had before them. That is an unconscionable legacy for those who died, because they were not entitled to these rights, and for those who fought hard to gain and protect those rights."
Governor Evers and Attorney General Kaul blasted the Supreme Court decision last week, vowing to fight to defend reproductive freedom, including access to safe, legal abortion in Wisconsin. They detailed their right to question the validity of an outdated law in 2022, in an effort to have the litigation declare it unenforceable.
"My office has begun receiving questions from sexual assault nurse examiners who are wondering whether they can still dispense emergency contraception, who are asking whether there is an exception under the 19th century abortion ban for rape and incest. The reality is, if that 19th century abortion ban remains in effect, sexual assault victims in Wisconsin will be required under Wisconsin law to carry their rapist's baby to term without medical intervention," said Attorney General Kaul. "That is not a free society. Women in Wisconsin deserve better. The Supreme Court decision has made Wisconsin's women less safe, less equal and less free. And we need to change that."
Wisconsin's criminal abortion ban — which originated in 1849 before the Civil War and at a time when Wisconsin women did not have the right to vote and the brutal Southern business of Slavery was still legal in the United States — would ban nearly all abortions in Wisconsin, including in cases of rape and incest. Wisconsin adopted statutes in 1849 and 1858 banning doctors from performing abortions unless the pregnant person's life is in danger.
In anticipation of the Supreme Court's decision in Dobbs and the prospect of Wisconsin's criminal abortion ban potentially going into effect, healthcare providers in Wisconsin have already begun halting abortion procedures across the state.
"In January, I stood with Democratic legislators and Attorney General Kaul at our state capitol and called on Republicans to do the right thing. To take proactive action before the Supreme Court decision and repeal that ban," said Governor Evers. "Instead, Republicans packed up and concluded their regular session without taking action. They ignored the majority of Wisconsinites who support safe and legal access to abortion."
In early June the Governor again called on the legislator to repeal the archaic law in a special session. Instead, Republican lawmakers failed the people of Wisconsin by not doing anything. They rejected the special session, gaveling in and out within seconds.
"Republican legislators sat around and watched this happen in slow motion, and didn't do a thing to take care of it," added Governor Evers. "They failed to listen to the will of the people and do their jobs. They failed to even debate or discuss what this decision would mean to the health and safety of the people they serve. And they failed to protect the freedom and the right of every single Wisconsinite to make the reproductive health care decision."
Attorney General Kaul made two arguments to overturn the ban in his lawsuit. After Roe, Wisconsin passed a series of laws to regulate lawful abortion that were directly inconsistent with the 19th century ban. He said it cannot be both legal and illegal to provide an abortion to protect the health of a mother. The law could also be invalidated because it has not been used in the 50 years since Roe was decided. Under a legal doctrine called "desuetude," outdated laws are rendered obsolete because of disuse or a lapse of enforcement.
"Access to safe and legal abortion stopped in Wisconsin on June 24. With this lawsuit, we are fighting to restore reproductive freedom in Wisconsin," added Attorney General Kaul. "The Republican-led legislature's failure to act during last week's special session has left Wisconsin law regarding abortion in a state of uncertainty. This lawsuit is asking the court to clarify that Wisconsin's 19th century abortion ban with no exceptions for rape or incest has not gone back into effect."
Dr. Kristin Lyerly, an OB-GYN in Green Bay, said that overturning the ban was essential to her work, and the oaths taken by other medical professionals, to help people deal with both wanted and unwanted pregnancies.
"We have dedicated our lives to taking care of our patients, which for many of us includes helping people get pregnant, taking care of them throughout their pregnancies, and delivering them when the time comes," said Dr. Lyerly. "Our culture revels in the joy of pregnancy, and we should. But we also have to keep in mind that every pregnancy is not joyful. Women commonly suffer from chronic health conditions that make pregnancy dangerous, and even sometimes fatal. Pregnancy complications, including preventable premature rupture of membranes, genetic and developmental problems, and ectopic pregnancy to name a few. These complications frequently threaten desired pregnancies, forcing women to make agonizing decisions when all they wanted was a healthy baby. When we walk beside our patients and their families during these challenging times, we provide support and care and guidance, we participate in the healing process emotionally, mentally, and physically. This is a relationship built on trust. But that trust is destroyed when politicians interfere with our sacred patient physician relationship."
Under the ban, Dr. Lyerly would be unable to terminate an ectopic pregnancy, a pregnancy outside of the uterus. The condition is the number one cause of death in women in early pregnancy, and it is a common condition. But many communities lack enough qualified physicians to evaluate a patient.
"How sick is sick enough?" added Dr. Lyerly. "Abortion is common. One in four women in this country will have an abortion in their lifetime. Making abortion illegal will not stop abortion, but it will cause women and families and communities to suffer. And some will die. Abortion is healthcare."
According to the Marquette University Law School Poll, nearly 60 percent of Wisconsinites support safe and legal access to abortion. A national survey conducted just last month by Marquette University Law School found similar support, with nearly 70 percent saying abortion should be legal in all or most cases.
The lawsuit filed on June 28 names President of the Wisconsin State Senate and Co-chair of the Joint Committee on Legislative Organization Chris Kapenga, Majority Leader of the Wisconsin Senate Devin LeMahieu, and Speaker of the Wisconsin State Assembly and Co-chair of the Joint Committee on Legislative Organization Robin Vos as defendants.
"The Supreme Court believes that the State of Wisconsin has more of a right to make decisions about our healthcare than we do. These profoundly personal choices should be ours to make and ours alone. The court's ruling was one of the most shameful in our nation's history," said the ACLU of Wisconsin in a statement.
The lawsuit argues Wisconsin state statutes contain two sets of criminal laws that directly conflict with each other if both are applied to abortion and therefore Wisconsin's 19th century criminal abortion ban, Wis. Stat. § 940.04, has been superseded by more contemporaneous legislation and cannot be enforced.
The lawsuit also argues that several state laws regulating how a physician can lawfully provide an abortion conflict with the 19th-century criminal abortion ban. More specifically, provisions, including a waiting period, the use of ultrasound, and how abortion-inducing drugs are administered, among other things, by virtue of providing parameters for when a physician may lawfully perform an abortion, are incompatible with the pre-Roe statute that broadly criminalizes abortion.
"We will never stop fighting to ensure every Wisconsinite has the right to consult their family, their faith, and their doctor and make the reproductive healthcare decision that is right for them — a decision that should be made without interference from politicians or members of the Supreme Court who don't know anything about their life circumstances, values, or responsibilities," added Governor Evers.
The lawsuit, was filed in Dane County Circuit Court. It seeks declaratory judgment and asks the court to clarify that Wis. Stat. § 940.04 was impliedly repealed by subsequently passed abortion-related statutes that conflict with it and is unenforceable.
"The unborn are a convenient group of people to advocate for. They never make demands of you; they are morally uncomplicated, unlike the incarcerated, addicted, or the chronically poor; they don't resent your condescension or complain that you are not politically correct; unlike widows, they don't ask you to question patriarchy; unlike orphans, they don't need money, education, or childcare; unlike aliens, they don't bring all that racial, cultural, and religious baggage that you dislike; they allow you to feel good about yourself without any work at creating or maintaining relationships; and when they are born, you can forget about them, because they cease to be unborn. It's almost as if, by being born, they have died to you. You can love the unborn and advocate for them without substantially challenging your own wealth, power, or privilege, without re-imagining social structures, apologizing, or making reparations to anyone. They are, in short, the perfect people to love if you want to claim you love Jesus but actually dislike people who breathe. Prisoners? Immigrants? The sick? The poor? Widows? Orphans? All the groups that are specifically mentioned in the Bible? They all get thrown under the bus for the unborn."

– Pastor Dave Barnhart, Saint Junia United Methodist Church in Birmingham (June 25, 2018)