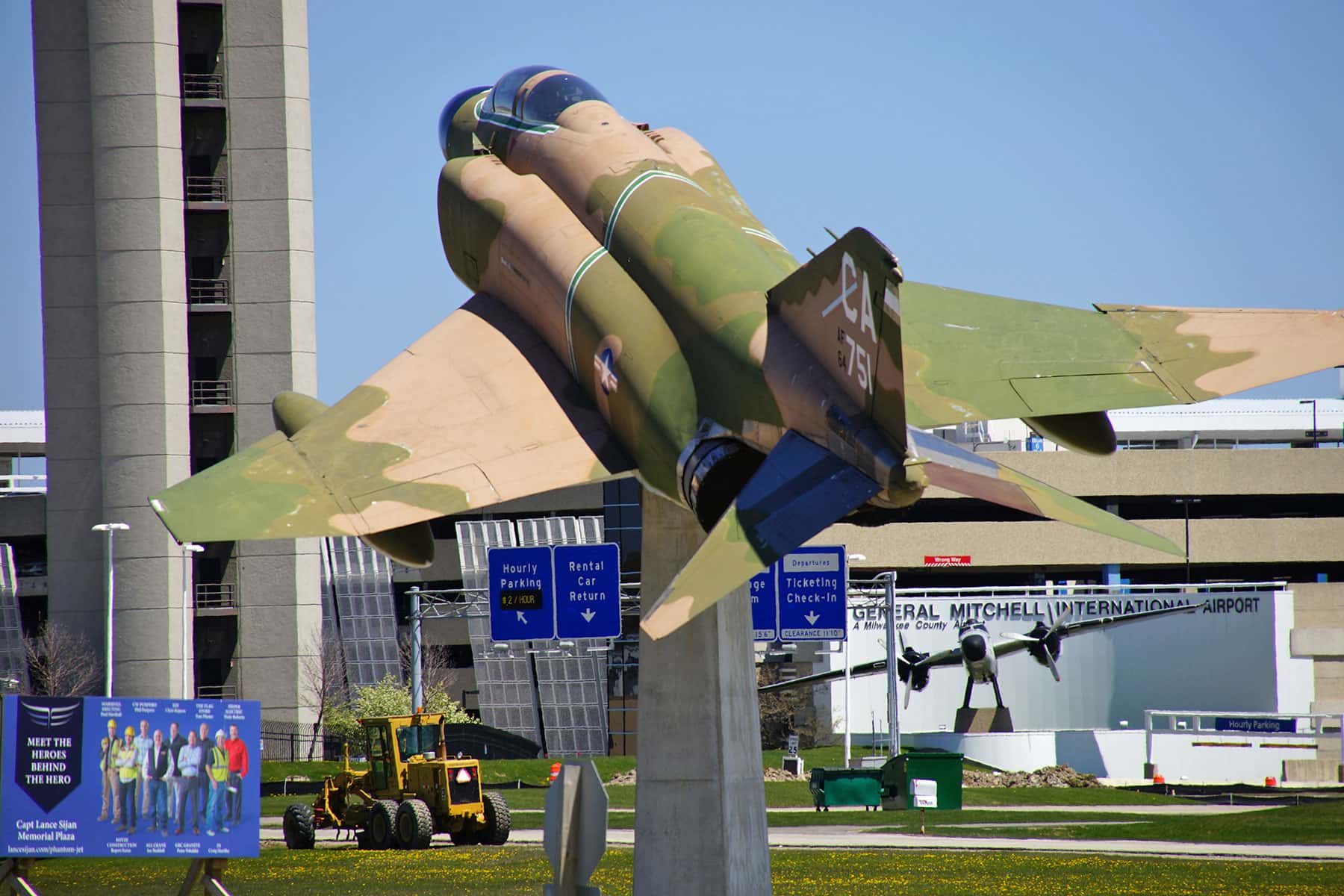 The sad truth is that heroes are forgotten and their stories, like their weathered monuments, are worn down by the apathy of time. Janine Sijan Rozina has led a public awareness campaign to preserve the memory of her brother and Medial of Honor winner, Captain Lance Sijan, for most of her life. Over the past several years, she has organized the effort to move the monument to her brother, a replica of his F-4C Phantom jet.
When the 440th Air Lift Wing of the Air Force Reserve closed its base in Milwaukee in 2008, Sijan's jet stood all but abandoned. Janine worked to move the 15 ton supersonic aircraft to a better location, and establish a foundation for her brother's story for generations to come.
Sijan Memorial Plaza at 5500 South Howell Avenue is just across from the entrance to Mitchell International Airport, named for another of Milwaukee's sons and fellow Medal of Honor recipient, Brigadier General William "Billy" Mitchell. It joins his WW2 era B-25 Mitchell Bomber on display at the entrance.
These photos feature the memorials to Lance Sijan around the county, and Sijan Plaza prior to its official dedication ceremony on May 26. The new Milwaukee landmark, remembering all who have served their country, stands as a silent witness that within each person is the spirit and ability to survive any hardship and to never quit.
"Lance is one of the brightest lights in guiding me to finding my best self. If we only look at the last three months of his life and the way he died, and we only see that tragedy, we've missed so much. We've missed the understanding of how big our lives can become and who they can touch. I feel very committed to this because of the love I have for Lance and for my parents, and because of the understanding I have this one story. About how many lives it can touch. How much light it can shed for those who are in the dark." – Janine Sijan Rozina
All the locations featured in this report were visited in a few hours using the Milwaukee County Transit System on a single-day pass ($4 with the M•Card). The experience was both an adventure to honor Lance Sijan and an example to show the usefulness of taking the bus. Ride MCTS.