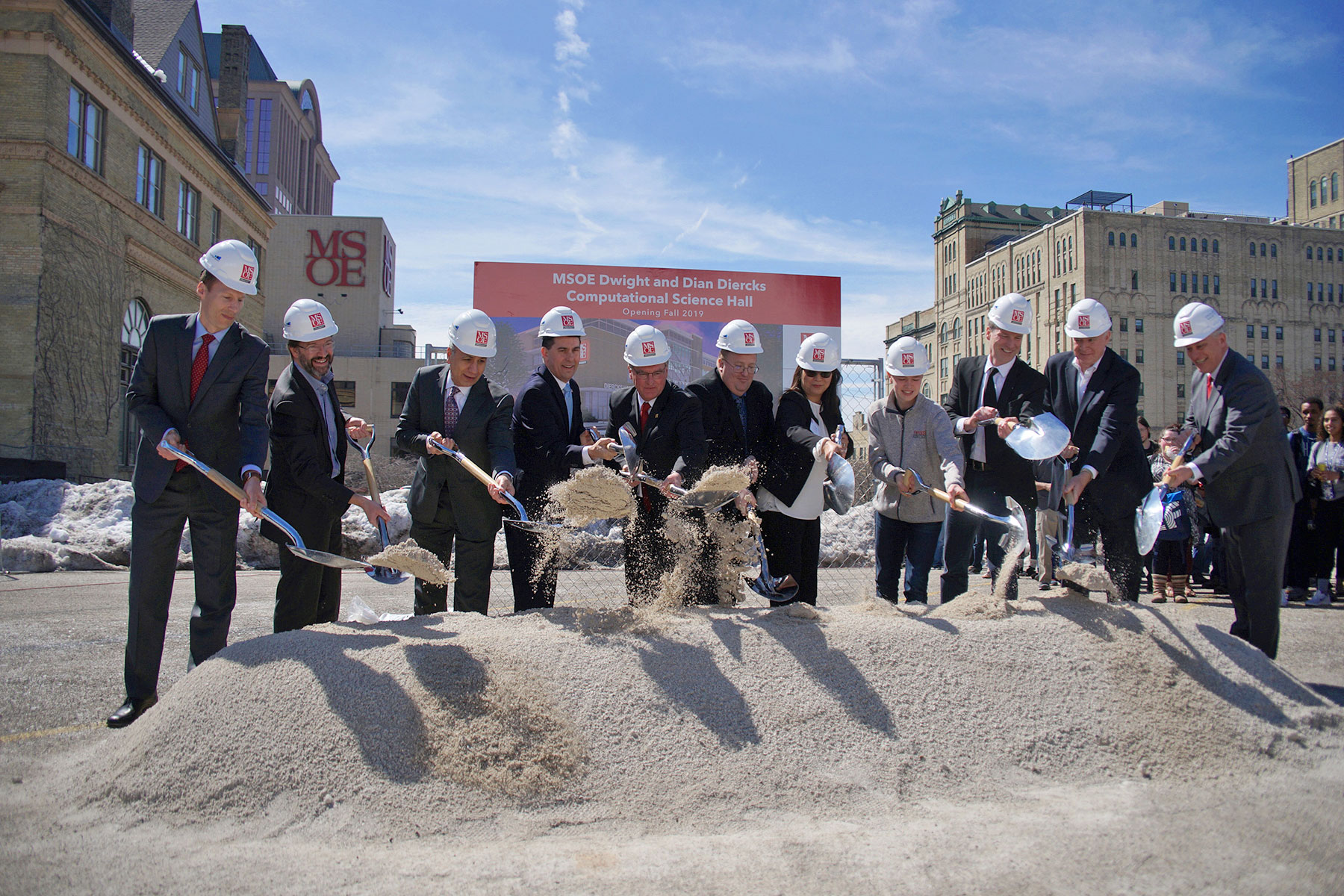 The Milwaukee School of Engineering (MSOE) kicked off construction on its new academic facility at 1025 N. Milwaukee Street on April 23, funded by a donation from MSOE Regent and alumnus Dr. Dwight Diercks and his wife, Dian.
A major feature of the $34 million Dwight and Dian Diercks Computational Science Hall will be a state-of-the-art datacenter, which will be home to a GPU-accelerated supercomputer. Students, faculty and staff, and businesses across industries are invited to collaborate with MSOE to benefit from this tremendous asset to the region.
"MSOE changed the course of my life and my career, and has a special place in my heart," said Diercks. "Just as the modern computer transformed technology 30 years ago, AI will transform technology as we know it for the next generation and across all industries. I wanted to give MSOE a gift that would position this incredible university as a major application-focused computer science and artificial intelligence center for the Midwest and U.S. for years to come."
With the addition of the facility and the new Bachelor of Science in Computer Science program, MSOE will be positioned at the educational forefront in artificial intelligence (AI), deep learning, cyber security, robotics, cloud computing and other next-generation technologies. MSOE will be a national educational leader in this transformative technology space and will apply AI to deepen and enhance the current disciplines of study at the university: engineering, business and nursing.
The 64,000-square-foot building will be positioned directly east of MSOE's German-English Academy, and will include 18,000 square feet of underground parking, 13 innovating teaching labs, 28 faculty offices, a 250-seat auditorium and a large interactive screen in the student atrium. The cornerstone facility that will join the university's iconic Grohmann Museum, Kern Center and Grohmann Tower campus buildings.
Dr. Diercks earned his bachelor's degree in computer science and engineering at MSOE in 1990. He also holds an Honorary Doctor of Engineering degree from the university. The Diercks' donation is the largest single gift given by an alumnus in the university's 114-year history. Diercks became a member of the MSOE Corporation Board in 2002, joined the Board of Regents in 2005, was inducted to MSOE's Alumni Wall of Fame in 2006, and received MSOE's Distinguished Alumnus Award in 2015.
The audio was recorded live at the groundbreaking event, with speeches by Dr. John Walz, president of MSOE; Dr. Dan Moceri, chairman of the MSOE Board of Regents; Dr. Dwight Diercks, senior vice president of NVIDIA; Mayor Tom Barrett; Milwaukee County Executive Chris Abele; Wisconsin Governor Scott Walker.