Golda Meir students join national school walkout against gun violence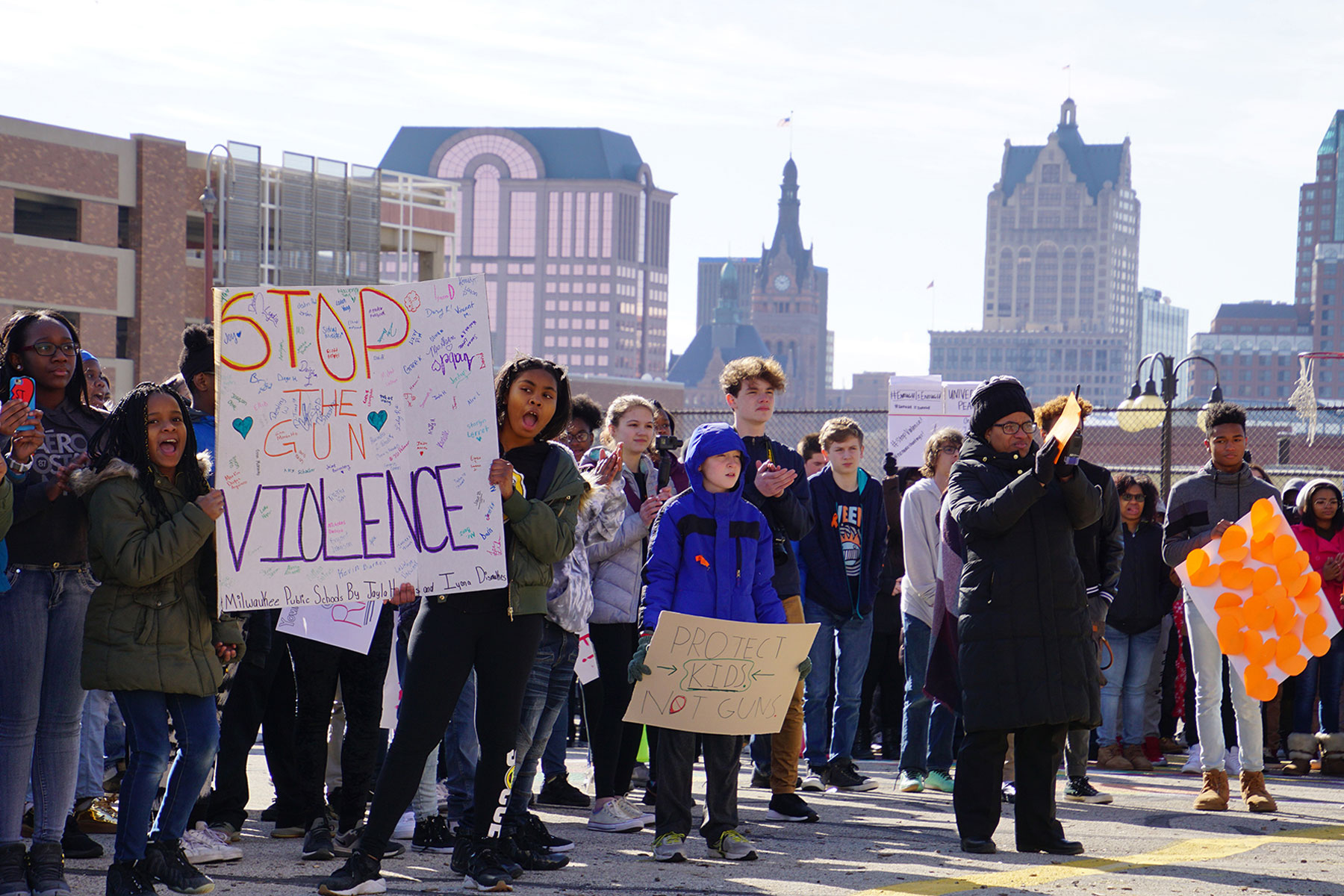 "As students attending Golda Meir, our motto is "Today's Learners, Tomorrow's Leaders." So we acted as leaders in our school community and organized a much needed walkout. We thought that it was important to speak out loud and use our voices to stand for what we believe in, safety in our schools. Should we not be able to attend school without having thoughts like, 'will I make it home or am I really safe?' That is what we are fighting for. We want gun control and our right to feel safe going to school. It is so outrageous that in today's society it is not safe to walk outside, or ride a bike, or even go to school. We are also honoring the 17 victims that suffered the terrible tragedy on February 14 in Parkland, Florida. That should have never happened, and it hurts even more to realize that this tragedy was not the first."
– Daisha Lafford, 8th Grader, Golda Meir Upper Campus
Thousands of students poured out of classrooms in the United States on March 14 in an unprecedented expression of mourning, and with a demand for action to stem the country's epidemic of gun violence. An estimated 3,000 schools across the country participated in the walkout, scheduled one month after a student gunman killed 17 people at Marjory Stoneman Douglas high school in Parkland, Florida, in the deadliest high school shooting in the country's history.
At Golda Meir School in Milwaukee, students Daisy Kiekhofer and Daisha Lafford co-organized the walkout for the upper and lower campuses, along with Trinity Tucker, and Isabelle Bastardo. A handful of parents and family members joined in support of students, who collectively said #ENOUGH to gun violence in America. The youth stood in protest for 17 minutes in honor of the 17 Parkland victims.
These images capture moments from the event where children made a public plea to adults to enact gun control legislation to protect their lives and make the country safe.
"We gathered here to not only make a change, but to remember the 17 innocent people who passed, their mourning families, their mourning friends, and fellow students in the building who went through this traumatic experience. We are here to make sure that this does not happen again. Because we are sick of these shootings. We are sick of politicians who cannot find the courage to make positive changes. We are sick of the NRA controlling the world and turning it into a battleground where kids cannot walk outside safely. We are sick of all of this. So that is why we came out here, to bring about the change want to see. We hope the 17 minutes of our protest will bring awareness to gun violence and save lives." – Brigid Flanders, 8th Grader, Golda Meir Upper Campus