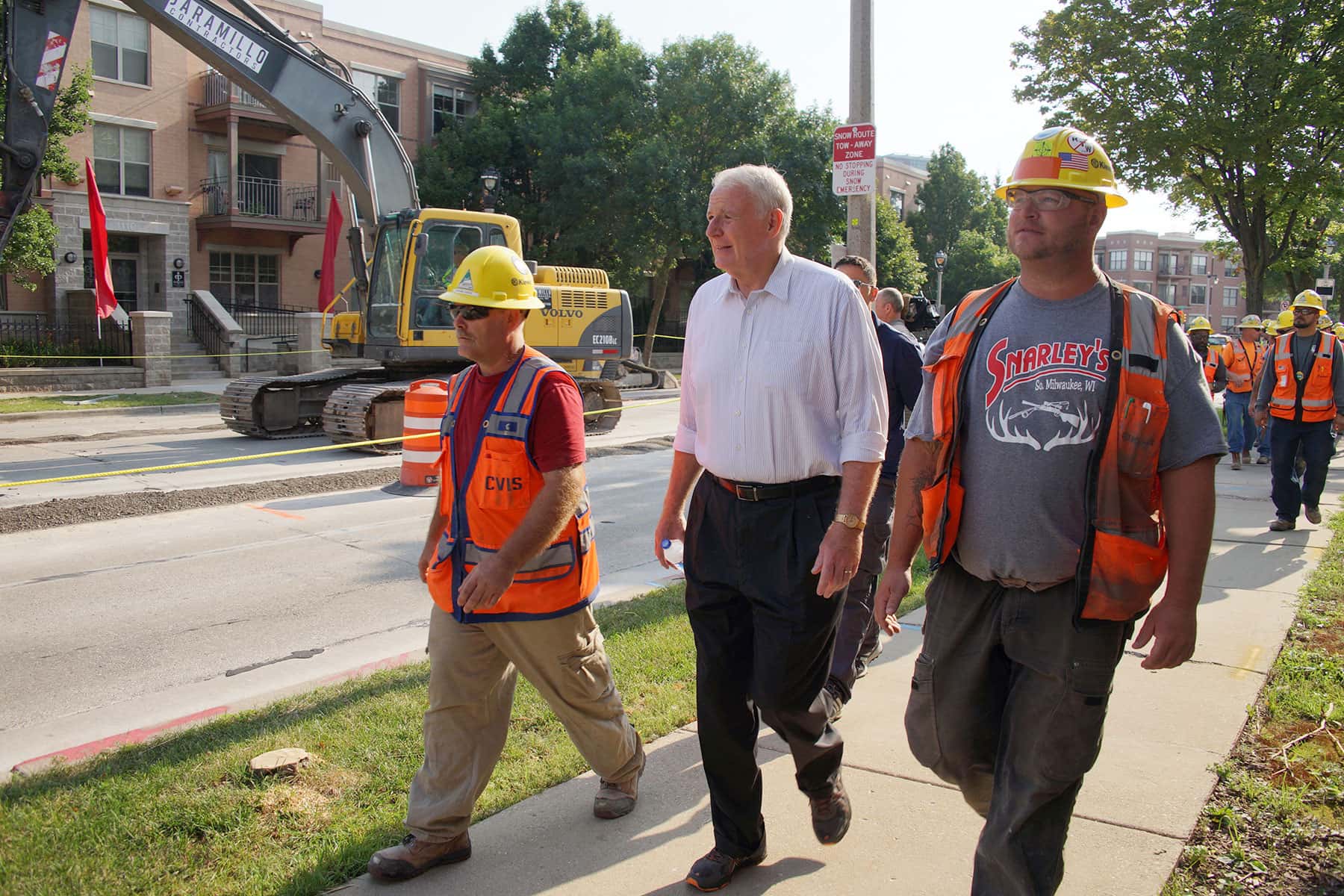 Mayor Tom Barrett traveled by foot with Milwaukee Streetcar construction workers, along a section of the track route on August 2 as part of his "Walk 100 Miles in 100 Days" Challenge to encourage healthy living among residents.
The walk was also held in conjunction with Downtown Milwaukee BID #21's "Downtown Employee Appreciation Week," highlighting the Milwaukee Streetcar as being one of the most visible employment projects in the city's center.
"I wanted to let people who are working on building Milwaukee's future know how much we appreciate their effort," said Mayor Barrett. "So we are walking with the Streetcar workers, who will point out the construction progress going on with the Milwaukee streetcar route."
The Mayor talked about how important it was to keep the flow of traffic going during the installation process. He understood that the work was causing disruptions, and that the effect could be irritating for some people. But he noted that the disruptions would be temporary, life would get back to normal, and the brief inconvenience was a small price for the great addition to the community.
The group walk followed parts of the Milwaukee Streetcar route for just over a mile. It began at Burns Commons on North Franklin Place, headed west on East Ogden Avenue to North Jackson Street, and then south on Jackson to end at Wisconsin Avenue. A breakfast donated by the Eggs & Bakin' Food Truck and 600 EAST Café was provided to the Milwaukee Streetcar construction workers.
"I've talked to a number of real estate people who have already said that they've seen increases of demand for property along the Streetcar route, because they think it will be such a great benefit to the city," added Mayor Barrett. "I understand there had been a bit of controversy surrounding this, so I'm not ignoring that. But I think that people are going to appreciate it once its here, and the debate will change to how can it get extended to my neighborhood as well."
Mayor Barrett's "Walk 100 in 100 Days" Challenge encourages Milwaukee residents to stay active by participating in community walks with fellow residents. The event was part of the Mayor's fourth year encouraging residents to join him in creating a healthier Milwaukee. Participants in the 100 day challenge can track and monitor their progress online at Milwaukee.gov/walk100.
The Downtown Employee Appreciation Week kicked-off its 12th year on July 31, with lunchtime giveaways for the urban workforce at Red Arrow Park. The workweek festival offered Milwaukee's 84,000 employees another chance to enjoy the perks of downtown.