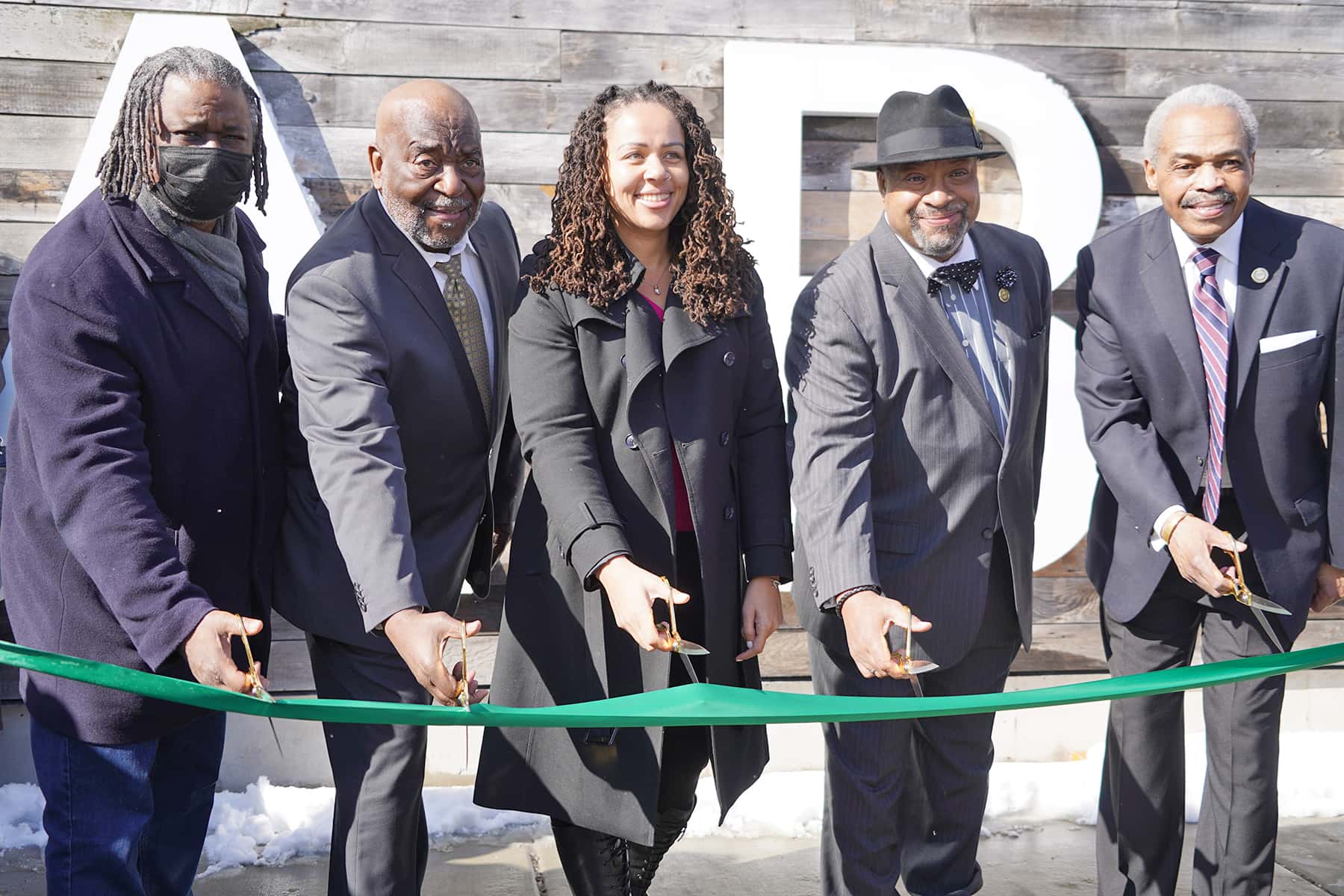 "History tells me that a people without a story are a people with no name. Without a name, one is not respected or understood. Without a name or a story, the depth-regions of the heart will never be plumbed. You remain a stranger to yourself and others. Stories give shape to our personal journey. Stories give a context to our collective pilgrimage." – Dr. James Cameron
After the COVID-19 pandemic delayed plans by almost two years, America's Black Holocaust Museum (ABHM) finally re-opened its doors to the public on February 25, what would have been the 108th birthday of its founder, Dr. James Cameron.
Visitors travelled from across the state to attend the ribbon cutting celebration that took place in the wake of a rare winter snowstorm the night before. Then they stood in line to get their first look at the somber exhibits that detailed the history of lynchings in America. About 700 people would enter the museum's doors on its first day.
The story of Dr. Cameron, the only documented survivor of a lynching, and ABHM parallels the rise and fall, and reemergence of Milwaukee's Black community.
"Nearly 14 years of work has brought a fulfilling reward, culminating in the reemergence of America's Black Holocaust Museum. I am so proud to see this day, and I am eternally grateful to Dr. James Cameron for having a profound vision that laid the foundation for today," said Alderwoman Milele A. Coggs in a statement, unable to attend the ceremony due to an illness. "To honor of Dr. Cameron and all of our ancestors, it is our responsibility to do our part to ensure the future of the museum through support with our time, talents, and membership. The stories of people of African descent in America must be told, the atrocities must be recognized and discussed, and the successes must be celebrated. The museum is a catalyst to help us do that as we lead toward healing and reconciliation as a nation."
Many individuals were involved with the mission to fulfill Dr. Cameron's dream, and key members of that process were thanked for their years of contributions during the ceremony. They included former Mayor Tom Barrett, former Commissioner Rocky Marcoux, Rhonda Manuel, Deshea Agee, Genyne Edwards, ABHM Head Griot and Senior Columnist for Milwaukee Independent Reggie Jackson, Fran Kaplan, Virgil Cameron, Melissa Allen, Ralph Hollmon, Chauntel McKenzie, Brad Pruitt, and Chris Abele.
Speakers at the ribbon cutting event included Senator Tammy Baldwin, Congresswoman Gwen Moore, Governor Tony Evers, Alderman Russell W. Stamper II on behalf of Alderwoman Coggs, Acting Mayor Cavalier Johnson, and ABHM's President and CEO Robert "Bert" Davis. Special guests also included alumni from Tuskegee University in Alabama.
Having collected Jim Crow and other historical objects in his study, Dr. Cameron began exhibiting them in a series of storefront museums. On June 19, 1988, in honor of Juneteenth Day, he opened his first formal museum. It was not a big hit, but he persisted in pursuing his vision and eventually found a new home for the museum.
In May of 1992, Dr. Cameron purchased an old boxing gym in the Bronzeville neighborhood for $1 from the City of Milwaukee. He formed a nonprofit organization to run the museum. After extensive repairs, many of which he did himself, the Bronzeville location became the home of ABHM on November 9, 1994.
Dr. Cameron built the museum into a valued part of Milwaukee's cultural life. He used the museum to tell the untold stories of African American suffering and resilience. One of his inspirations for creating a historical learning center came from a trip to Jerusalem, where he visited Yad Vashem, the Jewish people's living memorial to the Shoah – the Holocaust they suffered in Europe. Dr. Cameron was born in Lacrosse, Wisconsin, and passed away at the age of 92 in 2006.
"It's obviously an extraordinary day for the museum. But more than that for this community, for this city, for this state, for this country, as a global partner and citizen," said Pruitt. "Dr. Cameron's vision involved a more comprehensively explore our collective American history, as a cornerstone and a building block for reconciliation and healing. My hope is that today his message, that spirit, and energy can reverberates around the world."
Because of the Great Recession in 2008, and the economic turmoil that hit Milwaukee's real estate market, ABHM was forced to close that September. It transitioned to a web-based virtual experience in 2012, when members of the community led efforts to bring about the museum's physical revival.
By April 2017, developer Melissa Allen would break ground on the new museum as part of a $17.4 million catalytic project designed to transform a vacant city block into a vibrant mixed-use campus. Even though the building was completed a year later, it would be almost four years before the museum could officially open. ABHM is located at 401 W North Avenue, at the intersection of Vel R. Phillips Avenue.
"I can't tell you how excited I am to join you today for this celebration, and how fitting it is that we are here at the corner of Vel Phillips Avenue," said Senator Baldwin. "I know that Vel is smiling down on us with that smile we all know so very well."
Vel Phillips, one of Wisconsin's great Civil Rights pioneers, passed away in 2018 before the completion of the The Griot building, where the museum occupies the first floor. A "griot" is a West African historian, storyteller, poet, or musician, and considered a repository of oral traditions.
ABHM is open Tuesday through Saturday, 10:00 a.m. to 5:00 p.m. and Sunday from noon to 5:00 p.m.
"Have you ever watched one man die and then another, knowing that your turn was next? Have you ever looked into ten thousand angry faces whose open mouths screamed for your blood? Have you ever felt yourself in the hands of such a mob whose sole purpose was to destroy you?" – Dr. James Cameron, "A Time of Terror: A Survivor's Story"