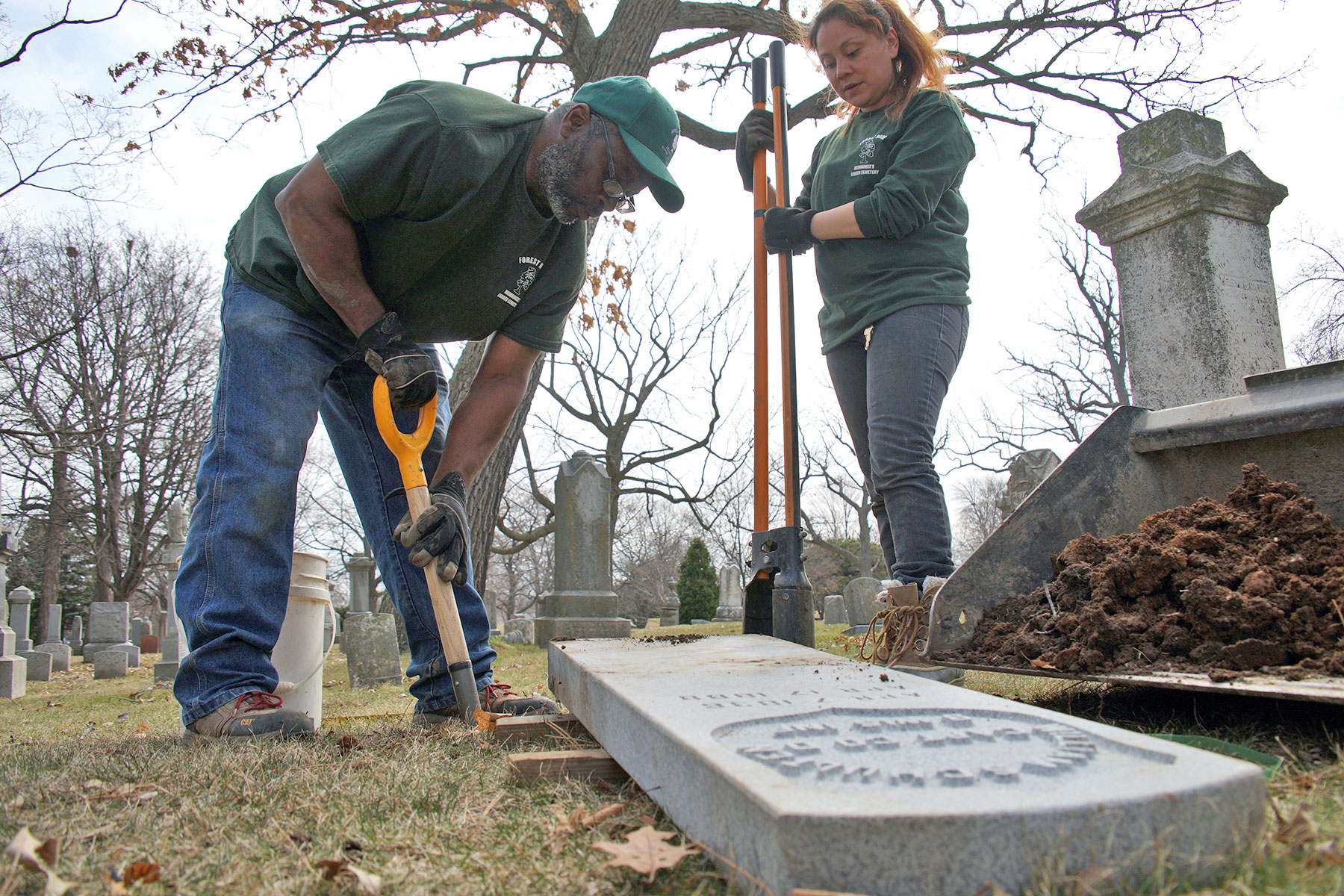 Wisconsin historians Tom Ludka and Margaret Berres have so far brought recognition to more than one hundred veterans of the Civil War buried at Forest Home Cemetery, with a program that finally puts headstones on their unmarked graves after more than a century.
During President Abraham Lincoln's second inaugural address, he expressed the need for the Nation to "care for those who had borne the battle, as well as their widows and orphans." That responsibility was passed to following generations, to remember the men who fought and died to preserve our Union.
A multi-year project compiled by local historians Ludka and Berres resulted in the identification of approximately 1,000 Civil War Union veterans buried at Historic Forest Home Cemetery, 80 of whom died during the war. Over the course of their research, it was discovered that 178 veterans lay in unmarked graves. In addition, 22 government-issued headstones were so worn by decades of weathering that they needed replacement.
The Adopt-A-Soldier program evolved out of this investigation, with funds raised from individuals, patriotic societies, companies, and organizations. The United States Department of Veterans Affairs (VA) provides the headstones at no cost. Headstones for the Civil War veterans are 13" x 42," and must have 24" to 26" of the length exposed per VA regulation. Forest Home Cemetery has assisted by offering a reduced cost for the labor and materials to set the markers in place.
A pool of donations accumulated since the beginning of 2018, and Forest Home was able to install a batch of several headstones recently. The Milwaukee Independent was invited to photo document the process, as Joe Wofford and Ligia DeLeon with the grounds crew set the headstone of Captain William Schulten, 9th Wisconsin Infantry. Not much was recorded about the Captain's life after his military service, but Berres shared her notes about Schulten.
Captain Schulten was born in Prussia and enlisted from Fond du Lac at the start of the Civil War, and would go on to serve more than 4 years. He was 25 years old when he enlisted, leaving the home he shared with his mother and 3 younger sisters. Schulten was the oldest child and only son of the widow Wilhelmina Schulten.

Schulten's first enlistment was with a regiment of the 1st Wisconsin Infantry from April to August 1861, stationed at Camp Scott on Milwaukee's westside. After mustering out, he reenlisted in September with the 9th Wisconsin Infantry as a Second Lieutenant at Camp Sigel, organized along the Lake Michigan shore where the Saint John's On The Lake retirement community is today.

The 9th Wisconsin Infantry conducted expeditions on the southern plains, and then moved through Missouri and Arkansas. It participated in the Battle of Prairie Grove, Arkansas. Schulten was promoted to captain and assigned to Company D of the 9th Wisconsin in December 1864.

When Schulten died in Milwaukee on April 17, 1888, his youngest sister, Charlotte, made arrangements for his interment in Forest Home Cemetery, Section 44. He rested in an unmarked grave until he was sponsored by an anonymous donor just this year. Schulten is the 95th Civil War veteran to receive a government headstone through the Adopt-A-Veteran Program.
For background on the Adopt-A-Soldier program and his personal insight, Tom Ludka participated in a Q&A session with the Milwaukee Independent.
MILWAUKEE INDEPENDENT: HOW WERE SOLDIERS BURIED AT FOREST HOME WITHOUT A HEADSTONE MARKER?
Tom Ludka: About 178 Civil War soldiers with verified service were buried in Forest Home without a headstone. The government did not begin issuing headstones prior to the early 1870's. The Grand Army of the Republic (GAR) lobbied for pensions and employed pension lawyers to assist veterans with obtaining benefits. Many veterans or their families were just unaware of the ability to obtain headstones. Some were buried in family plots and none of the family have a headstone. Some were buried in single grave plots and the family had little or no money to afford installing a headstone. Today, we have better communication and County Veteran Service Officers who assist veterans and families with obtaining all earned benefits. The cemeteries themselves and funeral directors provide information and guidance for the families upon the death of a veteran. That did not happen back in the 1870's.
MILWAUKEE INDEPENDENT: HOW DID THE ADOPT-A-SOLDIER PROGRAM BEGIN?
Tom Ludka: The program began after Marge Berres and I had completed our initial cataloging of buried Civil War veterans at Forest Home. We met with Paul Haubrich and explained what we had discovered. He suggested that we develop a program utilizing the Historic Preservation Foundation for people to submit a tax free donation. This provided an incentive for the donations. Marge and I developed a brochure and Forest Home gave a generous price break of only $175 to cover the cost of installation for each headstone.
MILWAUKEE INDEPENDENT: WHAT WARS DID THESE SOLDIERS PARTICIPATE IN?
Tom Ludka: Our focus was Civil War but several soldiers had service in The Mexican American War, Spanish American War, or Indian Wars.
MILWAUKEE INDEPENDENT: HOW ARE THE HEADSTONES AND THEIR INSTALLATIONS FUNDED?
Tom Ludka: The Veterans Administration provides markers for unmarked veterans graves or replacement of damaged or illegible headstones. However, because they are placed in a private cemetery the cemetery incurs a cost to install them. The funding has come from organizations such as the Sons of Union Veterans of the Civil War and their Auxiliary, descendants of the veterans themselves, individuals who take our guided tours at Forest Home, and other interested people who understand that no veterans grave should be unmarked and history must be preserved for future generations.
MILWAUKEE INDEPENDENT: HOW MANY HEADSTONES HAVE BEEN INSTALLED, HOW MANY REMAIN, AND DO YOU HAVE ANY PLANS AFTER THE PROJECT IS COMPLETED?
Tom Ludka: We have replace 21 damaged or illegible government headstones and 89 not previously marked. At this point we have 88 veterans with verified service who are still unmarked. Our initial project was simply to identify all the Civil War veterans buried at Forest Home. The project morphed into obtaining grave markers for the unmarked and replacing worn government headstones. Marge and I have always said our projects find us. Several people have told us that we should do a book. So that may be on the horizon.
MILWAUKEE INDEPENDENT: WAS THERE A SOLIDER IN THIS PROJECT WHO WAS OF PARTICULAR INTEREST TO YOU?
Tom Ludka: It is tough to pick any one Soldier, Sailor or Marine as a favorite. We were surprised by many of them and what some did after the war. John Zettler became a mail carrier even though he had his right arm amputated after being wounded at Kennesaw Mountain. Sidney Hauxhurst and friends started Roundy's grocery company, now Pick 'n Save. Timothy Maynard was killed giving a drink of water to a wounded rebel. The Hyde family sent three sons off to fight and only one returned, and he became a Milwaukee Policeman. The stories just go on and on and reflect the self-sacrifice and self-reliance of that generation. They are all inspiring.