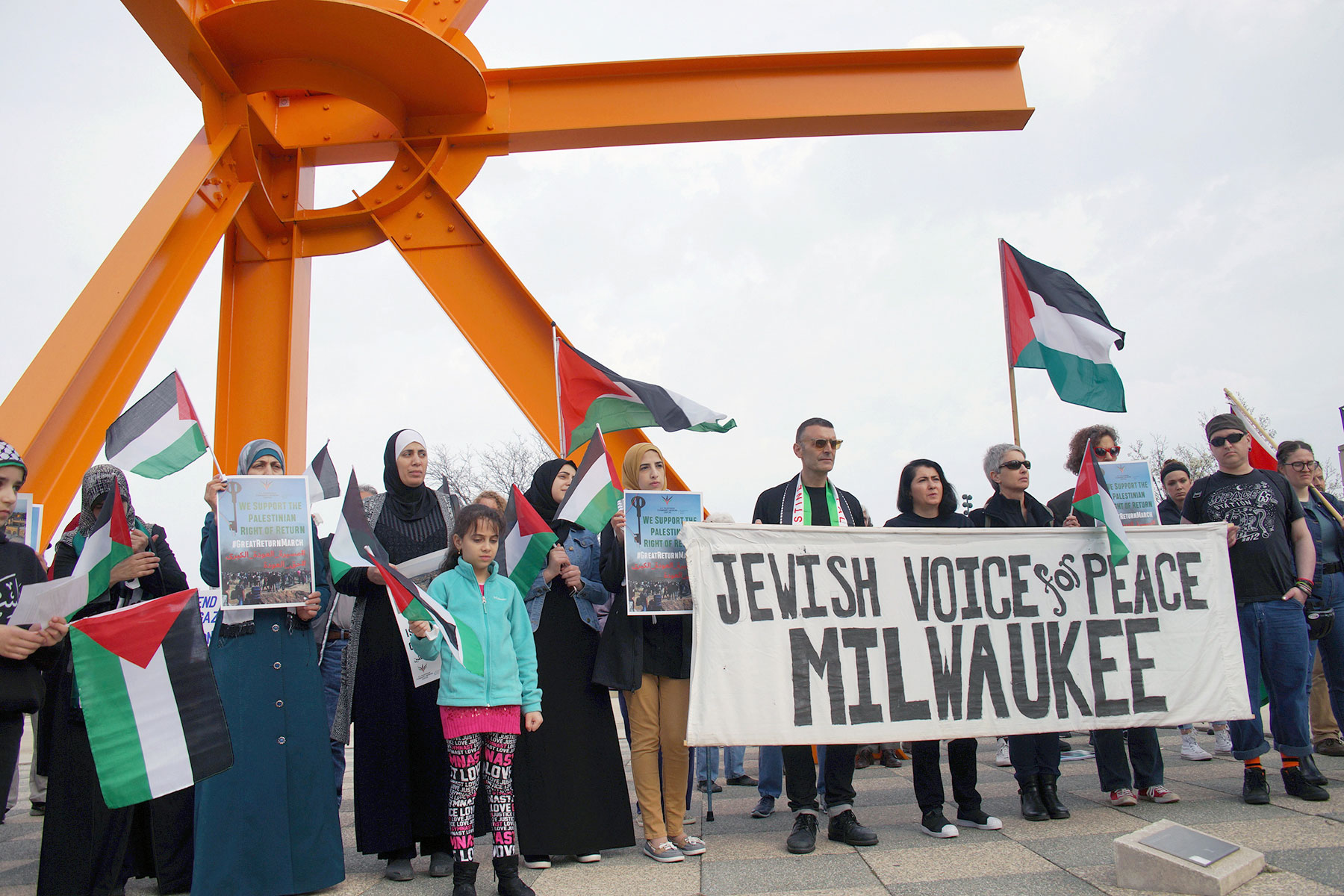 The 70th anniversary commemoration of the Nakba, or "catastrophe" in Arabic, was held on May 14 at a Lakefront rally that brought together interfaith groups in Milwaukee seeking an end to Palestinian oppression, on a day that also saw Israel kiII dozens of civilians at Gaza dead.
The rally and march opposed the ongoing occupation of Palestine. It coincided with the controversial opening of the American Embassy in Jerusalem. No previous president before Trump had authorized the relocation, due to concern that the measure would complicated efforts for Middle East Peace.
Hosted by Friends of Palestine – Wisconsin, participating groups also included USPCN Milwaukee, Welfare Warriors, Young People's Resistance Committee, Milwaukee Muslim Women's Coalition, U.S. Palestinian Community Network, Students for Justice in Palestine – UW-Milwaukee, and Jewish Voice for Peace – Milwaukee (JVP-MKE).
"We're here today to speak up against US government and mainstream Jewish community complicity for ongoing Israeli human rights violation in Gaza," Lorraine Halinka Malcoe, said co-coordinator of JVP-MKE. "The idea that security for some communities requires violence against others is a deadly falsehood that props up the policies of both U.S. and Israeli governments. From the U.S. to Israel, the path to safety for all requires building joint struggles for justice and showing up to protect and defend one another. Free Palestine!"
In 1948, an estimated 700,000 Palestinians were expelled from their homes by Israel without the ability to return, despite numerous United Nations resolutions. Refugees continue to live in camps in Jordan, Lebanon, and Syria. Every year they march to assert their right to return home, reminding the international community of its obligation towards Palestinian refugees, and its shared responsibility for their crisis.
Members of the United States Congress, including two representing Milwaukee and Madison, released joint statement on Violence in Gaza that also happened on May 14. U.S. Representatives Mark Pocan (WI-02), Pramila Jayapal (WA-07), Keith Ellison (MN-05), Henry C. "Hank" Johnson Jr. (GA-04), and Raúl Grijalva (AZ-03) released the following statement in response to reports that Israel Defense Forces have kiIIed more than 50 Palestinians and injured more than 2,000 at the Gaza border on May 14.
"We are shocked and dismayed by the lethal force used by Israeli troops against mostly unarmed protestors demonstrating at Gaza's border, which has led to the deaths of more than 50 Palestinians and the wounding of over two thousand people in one day alone.

"Over the past weeks of demonstrations, we have repeatedly urged Israeli soldiers to abide by international law and refrain from shooting live ammunition on protestors. We have also demanded that Gazan demonstrators show restraint and peacefully exercise their right to assemble and protest.

"We commend Israeli human rights groups and civil society leaders who are urging Israeli troops to refuse to comply with unlawful open-fire orders. Unarmed demonstrators breaching a fence is not an imminent threat to life, which is the only legal justification for the use of lethal force.

"President Trump's provocative decision to relocate the U.S. Embassy to Jerusalem appears to have emboldened Israeli reactions to demonstrators, culminating in some of the highest levels of violence experienced in the area in weeks.

"We ask that Netanyahu's government show utmost restraint, allow for unfettered medical attention for those who have been wounded, and ease a 12-year blockade on Gaza, which has contributed to grave food insecurity, unemployment and a humanitarian crisis for Gaza's two million inhabitants. We believe the people of Gaza must be shown compassion and relief, and we remain steadfastly committed to ensuring Israel's security."
In response to continued protests on the 70th anniversary of the Nakba, or Day of Catastrophe, U.S. Congresswoman Gwen Moore released the following statement on May 15:
"As a strong supporter of the U.S.-Israeli relationship, I am deeply concerned by the renewed tensions and tremendous loss of life along the border with Gaza. As a nation that prides itself on diplomacy, the U.S. should be at the forefront of efforts to end this deadly crisis. However, the Trump Administration's reckless decision to abandon the position of previous Administrations by moving the U.S. embassy in Israel to Jerusalem without a formal two-state peace agreement serves only to further destabilize the Middle East.

"The ability to peacefully advocate for change must be safeguarded as a human right and an essential element of democracy. Yesterday's death of nearly 60 Palestinians, the vast majority of whom were engaged in nonviolent protests, is an alarming threat to that right and a damning commentary on the Trump Administration's policies in an already volatile region.

"The humanitarian crisis in Gaza does not make our ally, Israel, safer and it certainly will not be solved by force. As part of my effort to advocate for peace in the region, I have joined my colleagues calling on the Israeli Defense Forces to stop using deadly force against unarmed protesters, unless to prevent imminent loss of life. I have also condemned Hamas, a terrorist organization, that has shown time and again its disregard for innocent human life whether Palestinian or Israeli. Today, as protests continue, it is high time the Administration request all sides de-escalate tensions in Gaza, including protecting the ability of peaceful protesters to do so without fear of violence."