Plans for Menomonee Valley envisions transformation of underutilized riverfront sites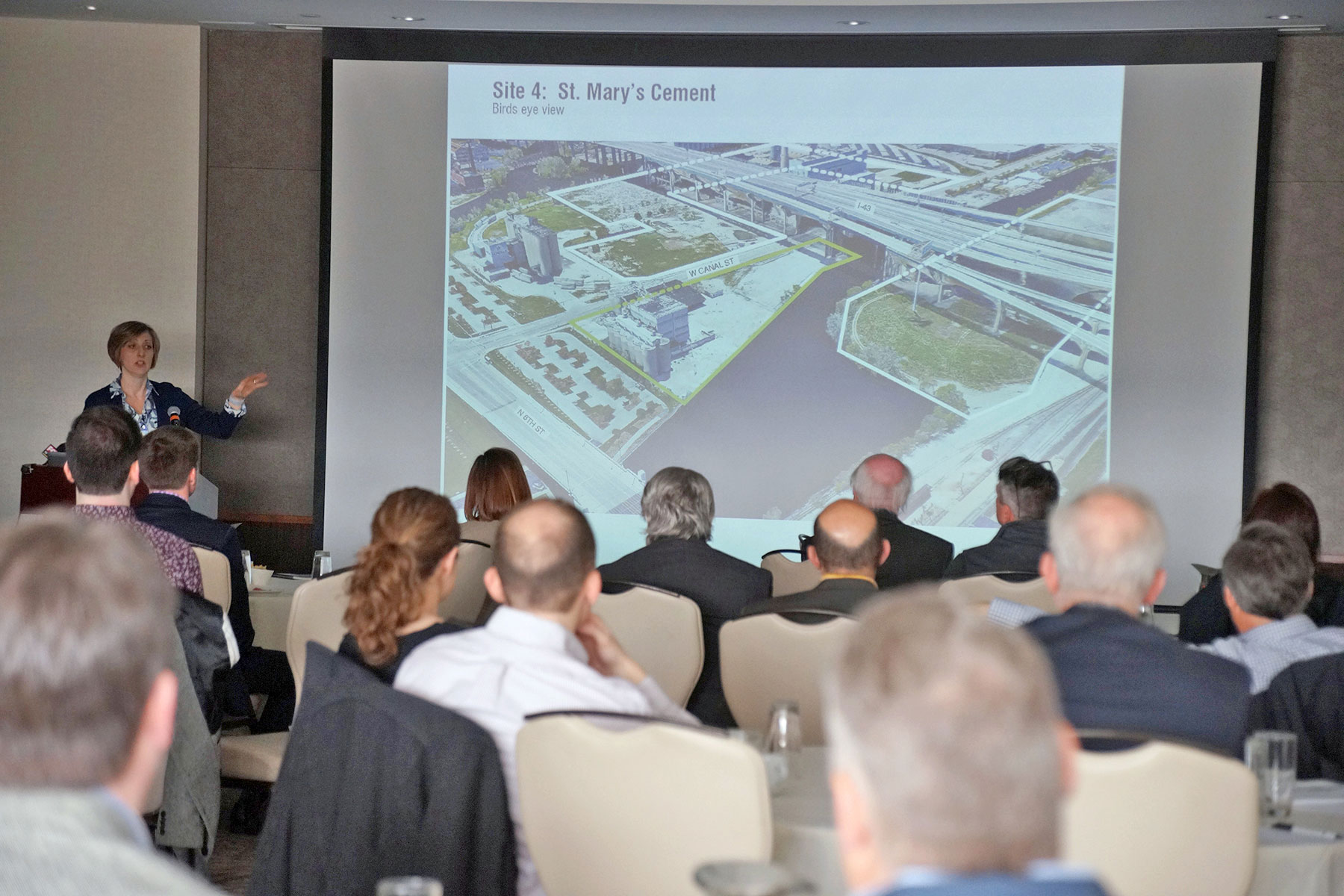 Menomonee Valley Partners, the City of Milwaukee, and UWM's School of Architecture and Urban Planning's Community Design Solutions revealed a vision to transform more than 40 acres of land remaining in the heart of the Menomonee Valley during an event at Potawatomi Hotel & Casino on April 24.
Design concepts were the culmination of the Menomonee Valley Design Charette and project a vision for sustainable development on five vacant or underutilized riverfront sites as well as streetscaping for the St. Paul Avenue corridor.
Concepts highlight potential for the next phase of Menomonee Valley revitalization, including new businesses, an extension of the RiverWalk along the Menomonee River, and physical connections to adjacent neighborhoods.
"The two most important factors in the transformation of the Menomonee Valley have been vision and collaboration. That is why I have been enthusiastic about the forward-looking design work that so many stakeholders have contributed to," said Mayor Barrett.
The Menomonee Valley Design Charette, held January 31, 2018, was a full day public planning session with six local architecture firms matched to each of the sites. Using the Valley 2.0 Plan, extensive research, and focus group discussions, the firms created innovative design concepts for high-quality, sustainable, job creating development.
"These designs show the next generation of development in the Menomonee Valley, development that will bring jobs, activate the Menomonee River, and restore the environment," said Rocky Marcoux, Commissioner of the Milwaukee Department of City Development. "What the Menomonee Valley has become, given its history, is nothing short of extraordinary. However, these design concepts suggest that the best days of the Valley are still ahead of it."
"With the Menomonee Valley Industrial Center as our precedent, we believe the development of these sites could generate up to 800 jobs as well as transform the Menomonee River into a new front door to the Valley," said Corey Zetts, Executive Director of Menomonee Valley Partners. "The firms who worked on the charette succeeded in demonstrating the potential of strong design to connect people to jobs, to nature, and to each other."
The six key sites include:
1. St. Paul Avenue Corridor, Architect: Quorum Architects
In the last two years, six businesses have opened on W St. Paul Ave between 11th and 25th streets. Quorum Architects proposes expanding the showroom, gallery, and food destination theme, along with sidewalks, lighting, and greening that welcomes pedestrians. Park space, outdoor recreation, and pedestrian connections to the16th Street Viaduct and Hank Aaron State Trail provide links to the broader community.
2. City Lights, 1601-2001 W Mt. Vernon Ave, Architect: Zimmerman Architectural Studios
With the site's four-block-long riverfront presence, Zimmerman Architectural Studios visualizes a riverwalk extension, new street access from 25th Street to Emmber Lane, and three mixed-use commercial buildings that engage the riverfront. Proposed development includes food production and sale, light industry, and office or other uses. The easternmost building could connect the 16th Street Viaduct to the riverwalk.
3. Kneeland Properties, Architect: HGA
On the 9.8 acre vacant parcel adjacent to the downtown post office and Milwaukee Intermodal Station, HGA envisions a new street grid to reach destination food and beverage manufacturing and retail, mixed use office, and light manufacturing facing an active riverwalk with boat slips. Access to food grade steam is ideal for food and beverage manufacturing. To connect the site to the city grid, HGA innovatively suggests extending Mt. Vernon Avenue under the 6th Street Bridge, traveling on grade along the river and through the existing colonnade under the post office, to Plankinton Avenue. Wetland features with native vegetation provide a dual use amenity and stormwater management component, mirroring the Menomonee Valley Industrial Center on the Valley's west end.
4. St. Mary's Cement, Architect: Engberg Anderson Architects
Engberg Anderson Architects proposes a catalytic gateway and entertainment hub for this highly visible riverfront site near the Harley-Davidson Museum. The existing silos would be repurposed as a focal point, embracing the site's industrial nature. They propose a mix of food manufacturing, retail, office, hotel, and restaurant around a central space connected to a riverwalk extension.
5. We Energies adjacent land, Architect: Korb and Associates
This 22-acre parcel wraps around We Energies and runs adjacent to the Menomonee Canal to the south. New construction on this 22-acre site can capitalize on adjacent food grade steam for facilities, manufacturing, and food and beverage production and retail. The size of the site and proximity to entertainment destinations, with frontage on both Canal Street and the Menomonee Canal, make it attractive for a manufacturer with a retail/tourism component.
6. 199 N 25th St, Architect: Uihlein/Wilson – Ramlow/Stein Architects
With a prominent location on 25th and Canal Streets, this site sits between the Hank Aaron State Trail and the Menomonee River. The existing building has a steel structure which could be renovated for a single tenant or multiple smaller tenants, possibly a combination of food manufacturing and visitor's center, retail outlet, or themed restaurant. A proposed addition provides opportunity for a highly visible vertical landmark and entrance point to the Valley. Key features of the proposed development include trails around existing ponds, vegetation, and trees, as well as a boat launch. A street-facing event pad could be a launching point for walk and runs, river events, or other activities tied to the Hank Aaron State Trail, the Valley, or Menomonee River.
The Menomonee Valley Design Charette was facilitated by UWM's School of Architecture & Urban Planning's Community Design Solutions, in partnership of Menomonee Valley Partners and the City of Milwaukee. The Fund for Lake Michigan, the Greater Milwaukee Foundation, and the Herzfeld Foundation provided funds to support efforts to envision the future of this land.
Menomonee Valley Partners is a nonprofit organization formed in 1999 with a mission to revitalize and sustain the Menomonee Valley as a thriving urban district that advances economical, ecological, and social equity for the benefit of the greater Milwaukee community.