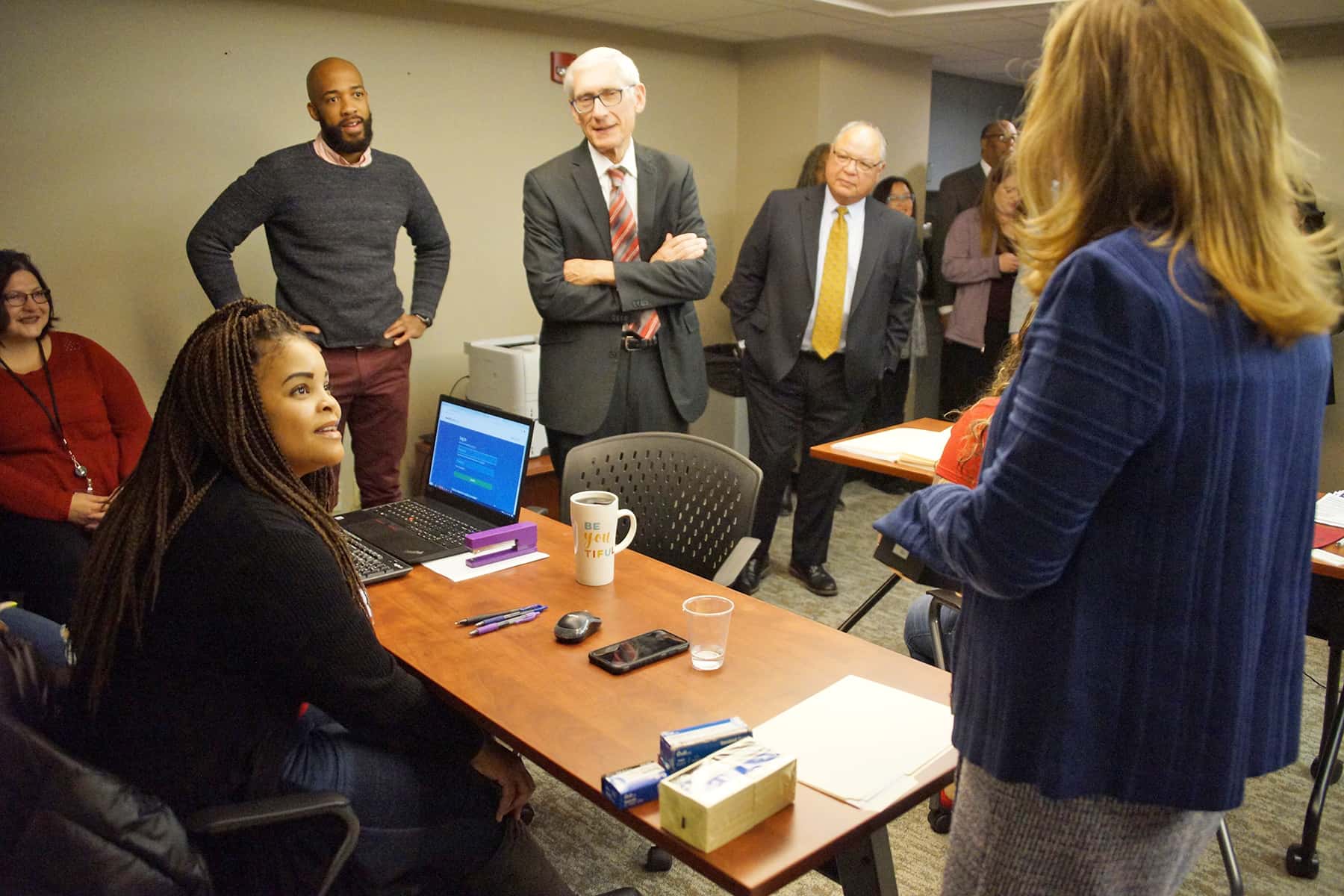 Outreach Community Health Center hosted the 2020 Open Enrollment kick off on November 1, which runs until December 15 – with coverage starting January 1, 2020 – for individuals purchasing health insurance on the individual market.
Local officials and community stakeholders attended the press conference with Governor Tony Evers, who was joined by Lt. Governor Mandela Barnes, Mayor Tom Barrett, Department of Health Services (DHS) Secretary Andrea Palm, and Commissioner of Insurance Mark Afable. U.S. Senator Tammy Baldwin was originally expected to attend, but national matters kept her in Washington DC. She did hold a press conference separately.
"Every person should have access to quality, affordable healthcare, and that starts by making sure folks know there are options for low-cost or free health insurance right here in our state," said Governor Evers. "I've said all along that healthcare should not be a privilege afforded just to the healthy and the wealthy, so that's why we're encouraging folks to get enrolled and get covered today."
Wisconsin residents were encouraged to visit GetCovered.WI.gov to learn about their options for health insurance. State officials also announced a new campaign to promote open enrollment and highlight changes in insurance choices available to residents across Wisconsin.
"Enrolling in health insurance doesn't have to be confusing," said DHS Secretary Palm. "Everyone in Wisconsin can call or text 2-1-1 to get help from an expert. When they do, they'll get connected with people like those helping Milwaukee residents here at the Outreach Community Health Center. Whether you're eligible for BadgerCare Plus or need to enroll in a private plan on HealthCare.gov, we're here to help you get access to the healthcare you deserve."
According to the Wisconsin 2018 Family Health Survey, an estimated 7 percent of Wisconsin residents were without health insurance for part or all of the past year. That represents approximately 402,000 Wisconsinites. In 2018, more than 28,000 Milwaukee County residents selected a health insurance plan on the marketplace during open enrollment, according to the Milwaukee Enrollment Network, and more than 25 percent of those were new enrollees. Yet, there was a 15 percent decline in enrollment on the marketplace from the previous year.
"We need to do everything we can to help people to get the quality, affordable healthcare coverage they need. Thanks to strong leadership from Governor Evers and the investments his administration is making, Wisconsinites across our state will have more choices and more affordable rates for quality health insurance plans this year," said U.S. Senator Baldwin. "Governor Evers is providing funding for more health insurance navigators and conducting an awareness campaign in the state, so that families in Wisconsin will have the information they need to sign up for quality, comprehensive coverage that includes essential health services. I am in full support of this open enrollment effort to get people covered with the healthcare they need at a price they can afford."
DHS launched a campaign to educate Wisconsin residents on their enrollment options called "Get Covered Wisconsin." The campaign includes Public Service Announcements, a social media campaign, and a new website to connect Wisconsinites with free help, either in-person or over the phone. DHS partnered with Covering Wisconsin and the United Way of Wisconsin to train all 211 regional contact centers to ensure residents get the help they need.
"Compared to 2015, last year there were more than 8,600 fewer people enrolling in health insurance on the marketplace in Milwaukee and that's a trend in the wrong direction," Lt. Governor Barnes said. "Nearly 68,000 people in Milwaukee County are uninsured — but we can change that. Today, and throughout the open enrollment period, we're encouraging everyone in Milwaukee and throughout Wisconsin to apply for coverage. Together, we can create a healthier Wisconsin where everyone, regardless of ZIP code, has the opportunity to thrive."
There are also more than 200,000 Wisconsin residents currently insured by high-quality plans through HealthCare.gov. Open enrollment is the opportunity for them to shop around to make sure they are getting the best coverage to meet their needs. Wisconsin insurance rates for 2020 are 3.2 percent lower on a weighted average than 2019 rates and there are also more options for insurance plans on the individual market than in previous years.
Milwaukee has been fortunate to have an strong network of people and organizations to help with the enrollment process, literally working in the trenches to help area residents navigate the system to connect with the health care coverage they need.
"Approximately four years ago, President Obama was here celebrating with us because he had issued a challenge to communities around the country as to who could have the greatest increase in enrollment," said Mayor Barrett. "And as you may recall, I'll never forget, Milwaukee won that. We had a wonderful celebration, and then we had a change of administration in Washington DC. Since then, there has been more animosity towards making sure that Americans are covered. And here in the state of Wisconsin, we also faced a health care challenge. We had a previous administration and legislator that was not engaged with us, so the city was essentially on our own. Thankfully, we now have new leadership in our state capitol who are working to making sure that people get the health care that they need."
Since President Trump took office, his administration has slashed federal funding for the Navigator program by 84 percent, meaning fewer people in America have received the support they need to obtain quality, affordable coverage. Navigators are essential to helping families, especially in rural, underserved communities, enroll in health care coverage that meets their needs.
Senator Baldwin's Expand Navigators Resources for Outreach, Learning, and Longevity (ENROLL) Act would restore funding for the Navigator program that helps American families get the information and support they need to find a quality health care plan at a price they can afford. The House of Representatives passed the companion legislation 168 days ago with bipartisan support as part of H.R. 987, but the Republican majority in the Senate refuse to bring the legislation up for a vote.
"President Trump has spent the last two years working to sabotage our health system and Senate Republicans have let him. As a result, there are more Americans uninsured today than when President Trump took office," said Senator Baldwin. "We want to protect and expand access to quality health care coverage provided by the Affordable Care Act. We want to make sure Americans have better access to quality health care plans at a price they can afford, whether its private insurance through the ACA marketplace, Medicaid or the Children's Health Insurance Program. We want to pass the ENROLL Act so more people get covered."