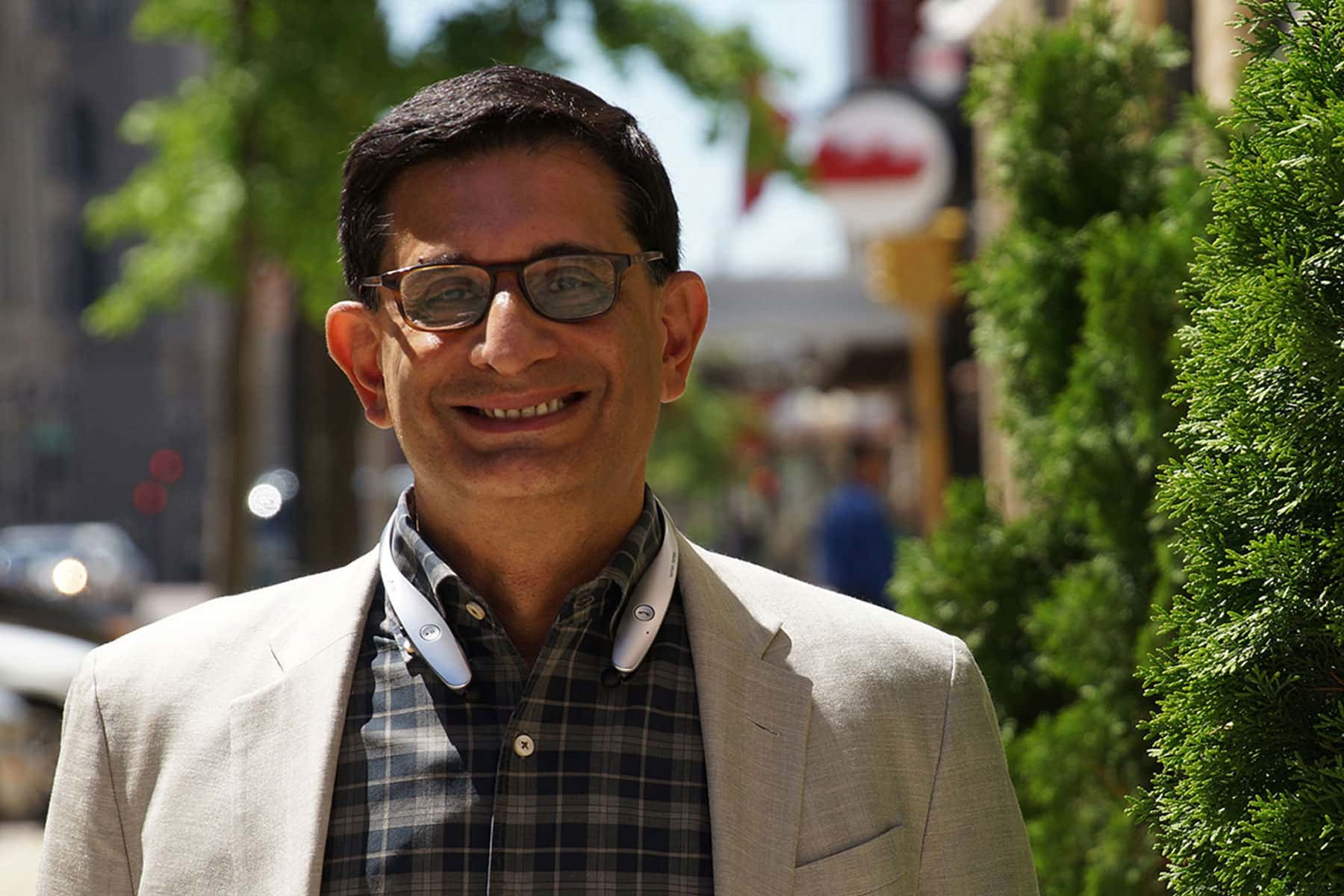 Leaving his home in India as a teenager for an education overseas, Norrie Daroga's life took him from work as an engineer to a career in law.
But experiencing clinical death twice, and enduring the long journey of recovery, gave him the art of empathy and fueled his passion for connecting the human experience with medical technology to solve problems.
Milwaukee Independent: What experience or individual was the biggest influence during your youth? And what is the fondest memory you have of growing up?
Norrie Daroga: I remember being picked up from the school bus and my nanny informing me that my older brother was leaving for America. It was 1965, and the news made me feel very sad. I was not close to my brother, but he was the first to leave home and I thought I would never see him again. A year later, when I was 8, I decided I wanted to leave home and go to college in America. Visiting my brother in Detroit in 1970 was my fondest memory. He lived in a very tough part of town and my family visited for Christmas. I had never seen snow and walked for hours in it, without clothes warm enough for the weather. It was the first time in five years our family had been together. Most of the neighbors were African American, and I had never met any before, but I soon became friends and loved going to the local store with my new friends. The concept of being able to buy things without waiting in line, or having to produce a ration card, was incredible.
Milwaukee Independent: What was your experience like at the University of Cambridge and did you have any culture shock arriving there or returning home?
Norrie Daroga: England was where my father got his education and that's where he wanted me to go. I experienced considerable discrimination in England in the early 1970s and wanted to leave. My father got me a tutor and I completed a two-year course in 9 months to get admitted into the University of Portsmouth for my undergraduate studies. I was 16 and rebellious, and wanted to attend the University of Michigan. My application was declined because I was too young, but the Dean of Engineering wrote to me and suggested I attend a smaller university in the United States and then apply as a transfer student. I was admitted to Ohio University and in 1974 I showed up with $32, 4 suitcases and a scholarship. Ohio University is in Athens, in Appalachia, and the culture shock was immense. The Greyhound bus came through twice a week and there were fifty bars on main street. I had never owned a bank account, did not know how to feed myself, or manage money. My allowance for discretionary spending was $5 per month. In 1975 I transferred to the University of Michigan and my father started funding my education. I worked in an Orange Julius fast food place cleaning toilets for $1.25 an hour as my first job.
Milwaukee Independent: What led you from a mechanical engineering degree to a law degree, and did you find any connection between the two different disciplines?
Norrie Daroga: Engineering was my way to the United States. My father would not pay for any other education. I dropped out for a semester to work and he wouldn't speak to me for a year. I ended up getting a Masters in materials science after mechanical engineering and joined General Electric as a manufacturing engineer. I liked solving problems and realized most engineering problems had more human errors than scientific errors. I enjoy observing people and their behavior. In 1982 I transferred to Milwaukee and was given the task of reducing warranty costs for the healthcare division, it was only $900 million in revenues in those days. I did a good job and worked closely with the legal department. I decided to apply to Marquette University Law School and didn't expect to get admitted, but I did. GE gave me a leave of absence during those 3 years of study and helped me get an interview at Quarles & Brady, where I interned in the summer. I realized solving problems caused by humans was the common thread. So instead of becoming a patent attorney or product liability attorney I learned real estate, general corporate and technology outsourcing law.
Milwaukee Independent: With a career at General Electric (GE) and later your own law firm, were did your interest in medical technology come from? And what influenced your decision to start iDAvatars Inc., a company based on a digital character?
Norrie Daroga: As a patient. I have been clinically dead twice. Fifteen years ago I slammed my body into a maple tree in Bolder Junction, Wisconsin on New Year's Eve while riding a sled. My then 6-year-old daughter jumped off but I flew body-on-tree at around 35 mph. It took 90 minutes to get to a hospital in Woodruff, where the only option was amputation. A flight for life trip brought me to Froedtert where the only option was a mechanically restricted limb and life in a wheelchair. Then I got to the old Columbia hospital in Shorewood where a Vietnam field surgeon looked me in the eye and told me I had essentially stepped on a land mine, and did I have it in me to try and heal myself. I chose him. Dr. David Becker, as my surgeon. It took me two and a half years to walk but I have no metal in my body. After 14 years of therapy and effort, I no longer need modified shoes and walk without a limp. This journey made me realize how badly the healthcare system needed to change, and how a virtual character could provide more empathy than a human does. Sophie is named after my daughter's best friend at age 6, whose father died of cancer the same year I was injured. The girls supported each other through their terrifying journey and became very strong young ladies. The real Sophie attended nursing school at University of Wisconsin, Madison.
Milwaukee Independent: How has faith been a part of your life and the different types of work from your career?
Norrie Daroga: I used to get up at 4:00am and watch my father pray. I learned to trust my life to a higher power before I learned almost anything else. When you show up as a minor in a country 10,000 miles away from home with $32 in your pocket, you rely on faith. My father said I was blessed with the ability to step into the darkness without knowing if there was a staircase or a cliff on the other side. I just knew God would show me the way. Each major decision was guided by His hand, my job was to follow the path shown. Change is constant and I thrive in what appears to be chaos on the outside, but is extremely serene inside me. It allowed me to heal when Western medicine did not offer me hope.
Milwaukee Independent: Since you do so much traveling from Milwaukee's less than convenient airport, why do you stay in this city?
Norrie Daroga: My wife is a third generation Milwaukeean and I adapt to the situation. It does affect my ability to attract talent and to host my geographically diverse team. We have people in India, Turkey, England, Portugal, Florida, and California, with new offices in Colorado and Canada.
Milwaukee Independent: What has been your experience with minorities in Milwaukee's technology industry? And have you face discrimination yourself?
Norrie Daroga: Discrimination is a part of life and overcoming bias is an important life skill I acquired at an early age. It's easier for me to hire minorities outside Milwaukee because the pool is much larger. Florida has amazing talent at University of Central Florida, in gaming and simulation. I feel that I am part of the fabric of Milwaukee and don't feel discriminated against, but in 1982 I could not rent an apartment in Hartland or buy a house even though I had a great job at GE.
Milwaukee Independent: Because Milwaukee is not known for its entrepreneurial culture, what challenges have you found innovating for a technology startup?
Norrie Daroga: Taking risks in Milwaukee means having a plan that has a really good chance it will work. They used to say the banks only loan money to people who don't need it and the same holds true for raising capital. In Milwaukee, the concept of failure is not tolerated. Yet, I raised $4 million from family and friends for the business from people with roots in Milwaukee. Many "smart money" people chose not to invest because the business plan was too optimistic, a virtual character that understands and helps people. Even Silicon Valley has not built such a thing yet.
Milwaukee Independent: Do you have concerns over how technology is used will divide people more than unify them? And why is the public not concerned that data-mining erodes their privacy?
Norrie Daroga: We are used to being led by companies who allay our concerns while exploiting our data. Google and Facebook are examples and their ability to protect data from breaches in security is marginal at best. But most people feel they don't have an alternative to agreeing to the terms and conditions of service because they want to use the product. In healthcare, it will be critical that data belong to the patient and is safeguarded or else the trust of people will erode and the technology will not be adopted.
Milwaukee Independent: Why is it necessary for technology to emulate humanity as we interact with machines or software? Do you feel robotics and AI remove human responsibility?
Norrie Daroga: Healthcare is not innovative and technology is usually imported from other industries. In order to adopt this technology in healthcare, it needs to appeal to the person, whether it be a patient, or a provider, or a caregiver. Without humanity, technology regularly fails in healthcare. Sophie is all about the person using the technology and we make the experience "frictionless" by not having the person focus on using technology but on talking about their problems. Sophie is all about empowering people to take responsibility and control over their health, wellness, and spirituality. It's the path to a more meaningful life.
Milwaukee Independent: Why is so much energy and money spent on machines that simulate people not on an educational process that allows people to create a healthier community for themselves?
Norrie Daroga: We believe the money is poorly spent, and our approach of population health, stronger communities and individual responsibility will prevail.
Milwaukee Independent: Two decades ago Japanese Anime envisioned robots taking care of its aging population and has pioneered robotics in reality to do this, so why has America been so slow to develop this technology?
Norrie Daroga: Most characters created in America have not been designed to become a trusted advisor or coach for the user. There is a body of knowledge on designing virtual characters that is known as the "uncanny valley" where people either view the character as cartoonish or creepy. Japan has done a far better job in designing virtual characters for its population, so have the French. America is slowly catching up.