Construction of new Cristo Rey Jesuit High School moves forward thanks to community investments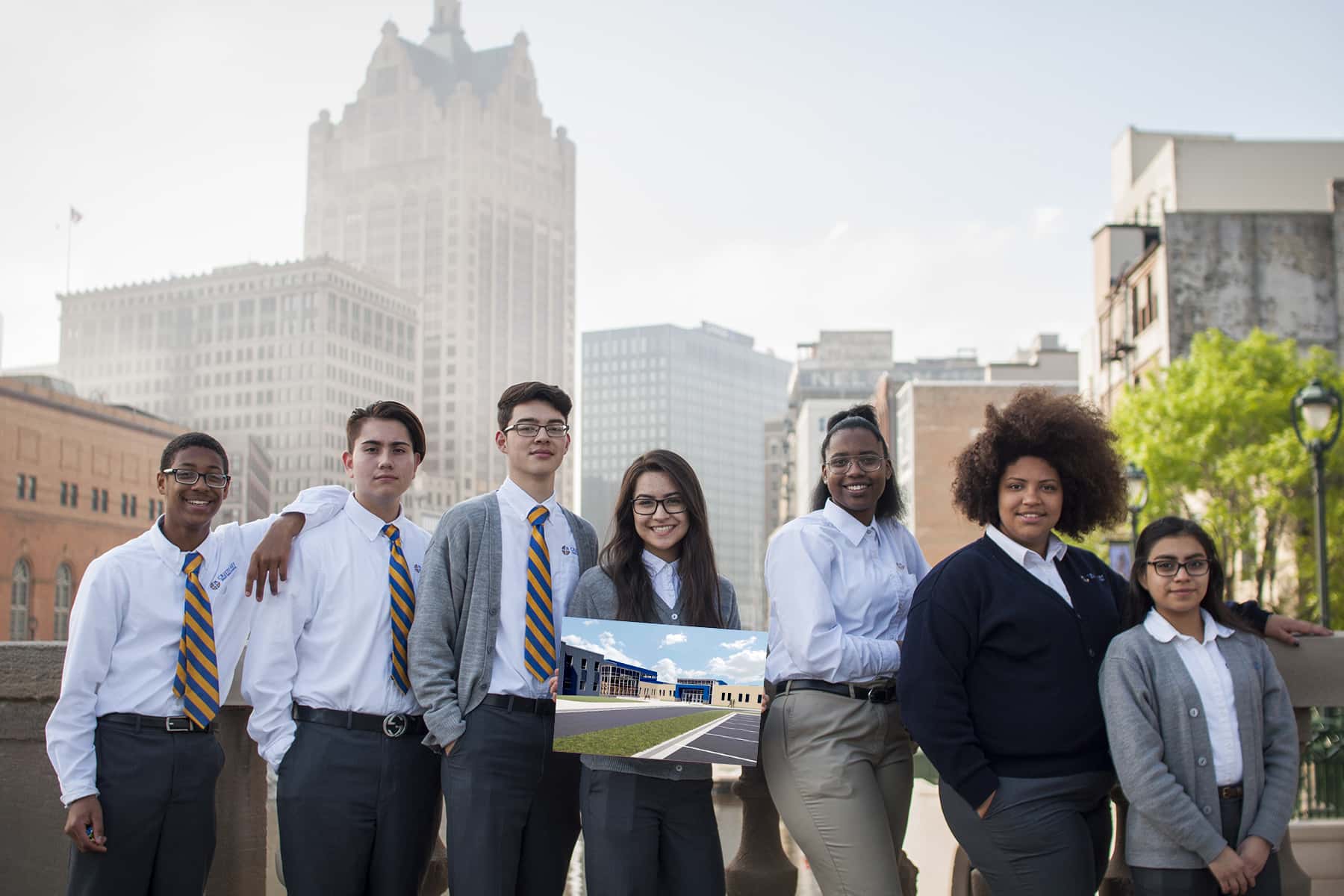 Cristo Rey Jesuit High School Milwaukee announced on September 18 that construction had begun with its new school located at 1818 W. National Avenue.
The site will become the school's new Milwaukee location starting in fall of 2020. The Cristo Rey Jesuit High School leadership hosted a special commemorative event with 800 students, families, staff, corporate partners, benefactors, and other guests in attendance to announce highlights of the construction projects.
"The best thing about the new school is how much more access there will be for everybody that needs an education," said John Jimenez, a Cristo Rey Jesuit High School Milwaukee student, who is a junior from the Clarke Square area.
School leadership is continuing fundraising efforts in order to complete the project. A collective investment from individuals, corporations and foundations, combined with Cristo Rey's initial purchase of the property, New Market Tax Credits, and a responsible level of financing has allowed Cristo Rey Jesuit High School to begin the $33 million project in the Clarke Square neighborhood.
General Contractor CG Schmidt expects that the new building foundation will be complete later in the fall. The building structure will be complete during winter, with it enclosed in late winter. The completion and move-in dates will just in time for the fall of the 2020 school year.
Guests at the commemorative event also participated in a ceremonial signing of the new building's structural beams. The activity signified the foundational work being done by stakeholders to fund the new school, as well as the community impact of preparing students to successfully fill the talent pipeline for Milwaukee's workforce.
"We can't thank our benefactors enough for ensuring that our vision of building a new school to provide enhanced college-prep academic and extracurricular programming becomes a reality," said Andy Stith, Cristo Rey Jesuit High School Milwaukee president. "We're excited about the next chapter of Cristo Rey Jesuit High School Milwaukee and we invite potential collaborators to be a part of this incredible initiative to support Milwaukee's future workforce and positively impact our broader community."
The new school is part of the school's long-term strategic plan. Cristo Rey Jesuit High School is in its fifth year with an enrollment of 398 students, currently located at 1215 S. 45th Street in West Milwaukee, which is approximately 45,000 square feet. The school graduated its first class of seniors this past spring of 2019.
One-hundred percent of the senior class were first-generation college-bound students, and accepted by more than one college or university. Based on current enrollment, admissions activity, and needs for Cristo Rey Jesuit's programming, the new school will accommodate the projected ongoing enrollment total of 400-500 students and be approximately 100,000 square feet, which will accommodate all of the programming required for Cristo Rey's college preparatory and work-study programming.
"We were able to surpass our $10 million short-term fundraising goal, raising just over $11 million in under a year to be able to begin construction," said Mike Giffhorn, Cristo Rey Jesuit High School Governance Board Chair. "We are deeply humbled and grateful for the outpouring of support, although our work is not done. We must raise an additional $8 million to complete the funding of this $33 million project and avoid incurring debt."
The new state-of-the-art building on National Avenue will allow the school to optimize its educational model by expanding academic, athletic and artistic offerings. The new building will provide several needed opportunities for the students, such as dedicated spaces for performing arts and visual arts, a regulation-size basketball, soccer and fitness training facilities, additional parking for the safety and security of students, a library and media center, additional science labs, spaces for student innovation including robotics and computer programming, collaborative work and conference spaces for staff and board, chapel space for in-school service and private social, emotional and college counseling spaces.
"With education comes opportunity. Quality education is one of the best tools we can provide our children to help prepare them for success," said Eric Christophersen, president, Northwestern Mutual Foundation. "Cristo Rey's innovative work-study program is allowing their students, and in turn our city, to thrive. We're proud to provide funding to their new location and look forward to seeing the success that will transcend from the classroom into our community."
A special Long Range Planning Committee and several school leaders thoroughly evaluated multiple sites and expansion options over the course of three years before deciding to purchase the location on National Avenue. The property meets all of Cristo Rey's criteria, including accessibility to major roads and highways to provide easy access for families as well as to safely transport students to Corporate Work Study Program locations.
"We knew the school desperately needed a new physical space to be able to flourish and benefit youth and their families in the Milwaukee community," said Mike Giffhorn, Cristo Rey Jesuit High School Governance Board Chair. "This project is about building a suitable facility, but more importantly, it's about bettering educational opportunities and combatting intergenerational poverty."