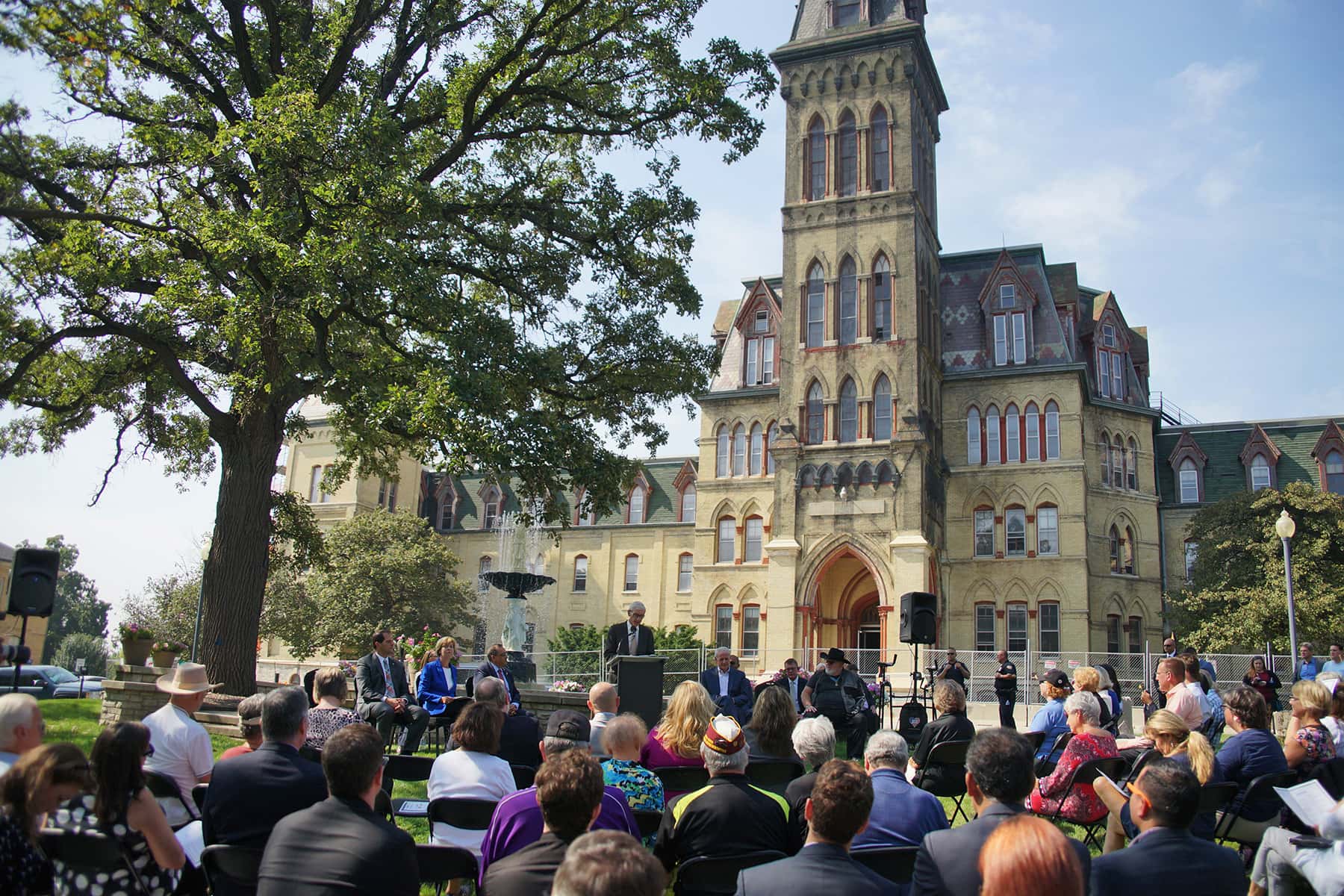 The Clement J. Zablocki VA Medical Center hosted a groundbreaking ceremony on September 20, beginning the long-awaited work of rehabilitating 6 buildings to offer housing for at risk and homeless veterans.
Speakers at the event included Dr. Daniel Zomchek of the Milwaukee VA Medical Center, Aimee Jorjani of the Advisory Council on Historic Preservation, Joe Alexander of The Alexander Company, Joseph Galvan of the U.S. Department of Housing and Urban Development, Matthew Reilein of National Equity Fund, Joaquin Altoro of the Wisconsin Housing and Economic Development Authority, Mayor Tom Barrett, Governor Tony Evers, Senator Tammy Baldwin, and U.S. Army Private First Class Gary Wetzel, a Milwaukee-native Medal of Honor recipient.
"This project entailed a significant collaborative effort, which speaks volumes to our nation's commitment to care for our veterans," said Joseph Alexander, President of The Alexander Company. "We have never taken on something so sacred as Soldiers Home. Our team is honored to have the opportunity to work with these historic buildings and we're proud that through our work we'll be able to return them to the veterans they were built to serve."
The six historic buildings to be rehabilitated include Old Main (Building 2) – the most prominent and recognizable building on the campus, the Administration Building (Building 1), the Catholic Chaplain's Quarters (Building 14), and three duplexes (Buildings 18, 19 and 62). These buildings will be renovated into a total of 101 units of housing with supportive services for veterans and their families who are homeless or at risk of becoming homeless.
"We have a shared responsibility to meet the needs of veterans who have served and sacrificed for us," said Senator Tammy Baldwin. "This project tells an important story about our past and will help write a new chapter about serving homeless, at-risk veteran and improving their quality of life."
The project is made possible through an Enhanced Use Lease (EUL) program with the U.S. Department of Veterans Affairs (VA). Through an EUL, six buildings in the District will be leased long-term to The Alexander Company, who will take on the cost of rehabilitation.
"This project go a long way toward ensuring homelessness is never a worry for veterans in our community," said Governor Evers. "It sets them up with resources to get back to a sustainable lifestyle, offering educational training, counseling, wellness programs, and employment assistance. We must continue this work to ensure our nation's heroes never have to worry about where they have to sleep at night."
The law authorizing EULs requires that the buildings be used to provide housing for veterans who are homeless or at risk of homelessness. The VA selected The Alexander Company and the City of Milwaukee Housing Authority's proposal after a competitive RFP process in 2016.
"I couldn't be more excited about this project," said Dan Zomchek, director of the Milwaukee VA Medical Center. "It's a wonderful partnership between the VA and our community that will enable us to showcase the historical significance of our campus while continuing to advance our mission to care for our nation's heroes."
The redevelopment partnership includes the Housing Authority of the City of Milwaukee (HACM), which will operate the buildings after renovations are complete. Since 2005, HACM has provided housing to homeless veterans on the VA grounds at the historic Surgeon's Quarters building, which HACM remediated and restored into an award-winning single room occupancy facility.
"Once again, it takes a village to raise a village," said Tony Perez, Secretary-Executive Director of HACM. "The intentionality of the VA, the commitment of HUD and WHEDA, and Mayor Barrett's drive in supporting HACM's participation, and the involvement of investors, philanthropic-minded corporations and individuals are why we're here today. We thank all of them and The Alexander Company for envisioning this endeavor."
"Teamwork, coordination, and shared vision have brought us to this important juncture," Milwaukee Mayor Tom Barrett said. "We are honoring both our veterans and our history with this work at the Soldiers Home, and the City of Milwaukee is proud to be a partner in that effort."