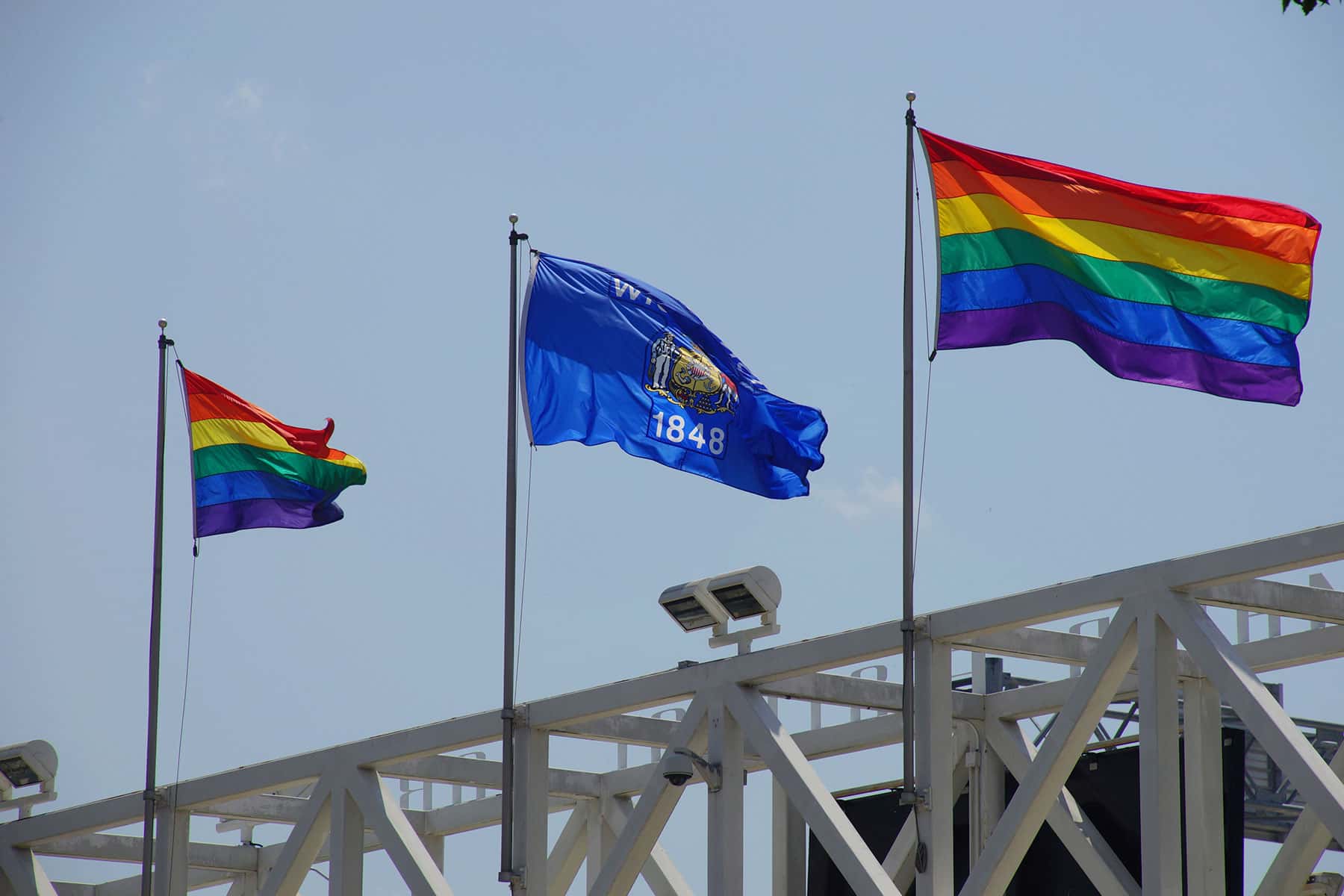 Editor's Note: This feature is a follow-up to our original PrideFest coverage that was produced before the Orlando tragedy, but held for publication until the three-day festival was over. In view of that terrible event, the Milwaukee Independent felt it was important to release those reports as intended. The article and photo essay expressed the inner-light and happiness that visitors had originally experienced at PrideFest. There will be much mourning and sadness in the days and weeks to come. But ultimately, if we give into darkness and fear then we let those who commit terrible acts like in Orlando succeed at robbing us of all our joy. We will not let them win.
Tammy Baldwin, the first openly gay United States Senator, gave an emotional speech that reflected on the achievements of Wisconsin society over the past 30 years at the opening ceremony of PrideFest 2016. In less than 48 hours she issued a statement about the worst mass shooting in American history, a hate crime that targeted the LGBT community in Orlando, Florida.
"As a nation, we have all witnessed a historic tragedy in Orlando. As we offer our thoughts and prayers, we also must come to terms with the fact that they are not enough. This was not only a horrific attack on the LGBT community, it was an attack on the freedoms we all hold dear. The question now for America is are we going to come together and stand united against hate, gun violence and terrorism? I understand it may not be easy, but I know we are better than this and it is past time to act together."
The tragedy took place in the early morning of Sunday, June 12 at a gay night club in Orlando that claimed the lives of 50 people and wounded 53. Shockwaves were felt in the Milwaukee LGBT community, which was celebrating its last day of the three-day event.
"I've shed many tears for those who had the opportunity to live proud ripped from them. But I will always stand with those who fight back against hate. Always." said Jorna Taylor, member of the Milwaukee Pride Board of Directors. "So take a moment to remember why the fight for equality is far from over, and why we still need to come together as a community."
Milwaukee Pride, Inc. expressed its complete sympathy Sunday morning, soon after the heartbreaking hate crime in Orlando. The organization offered love and support for the victims, survivors, their friends and families, and it was with hope that all can find peace in the wake of this horrifying event.
"We are furious about this senseless violence," said Wes Shaver, president elect of Milwaukee Pride, Inc. "This act of terror sought to silence our community during a month of national LGBTQ celebration. We will not and cannot allow ourselves to be silenced."
As the only LGBTQ festival in the world with permanent grounds, PrideFest Milwaukee has enjoyed heightened security since its arrival at the Henry W. Maier Festival Park in 1996. Three levels of security, including Milwaukee Police Department, Summerfest and PrideFest staff, patrol the grounds from open to close each year.
"Unlike some pride festivals, our grounds are open only to ticketed guests who pass through our front gates," said Eric Heinritz, executive director of Milwaukee Pride, Inc. "All personal items are subject to search before entry, and we do not allow carry-ins. While some may find these rules inconvenient, our first and foremost priority must be the safety of our guests."
While there was no threat to PrideFest Milwaukee, the PrideFest production team responded immediately to the Orlando incident. The all-volunteer team met with local, state, and federal agencies to provide the highest level of security possible.
The festival introduced full metal detection at the admission gates and increased security staffing across all areas, for the added safety and peace of mind of all visitors. These measures were put into place for the first time in the event's 30 year history.
The festival held a tribute event at 4:00 p.m. at the Miller Lite Mainstage. Following a short presentation, PrideFest offered a moment of silence the honor the Orlando victims throughout the entire festival grounds.
"Today is a day for LGBTQ community solidarity," said Michail Takach, communications director of Milwaukee Pride, Inc. "While thoughts and prayers are welcome, action is required. Today is a day to come out, to be seen, and to be heard, in honor of those whose day was stolen from them. Today is a day to remember where we started and why we started."
"Come together with our Proud Partners throughout Wisconsin," said Heinritz. "Wherever you are, celebrate your right to live proud."