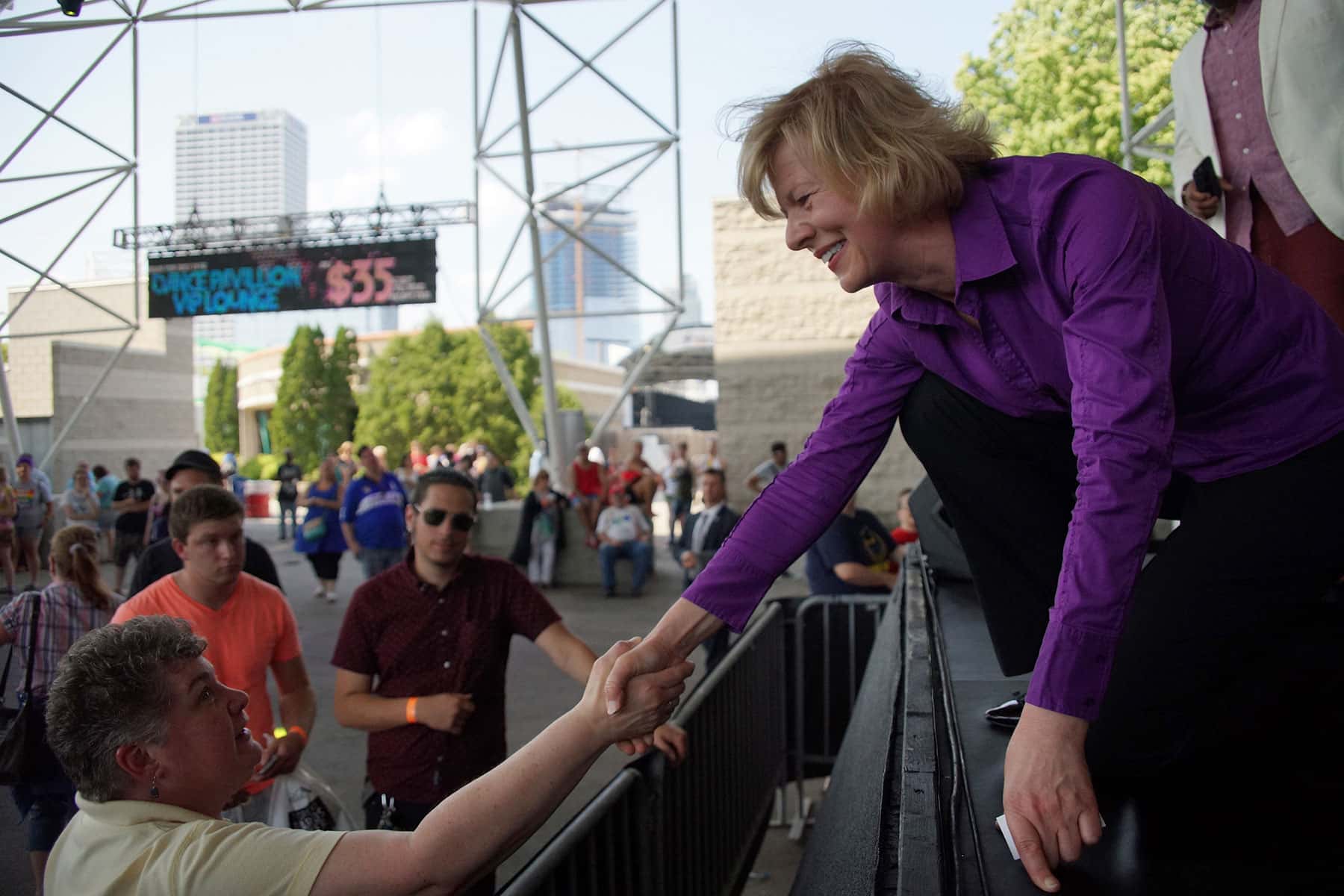 PrideFest 2016 ushered in the 30th consecutive year of Milwaukee's celebration of LGBTQ culture and community, and the 20th anniversary of the event being held at Henry W. Maier Festival Park. It is also the only PrideFest in the world to have a permanent festival location.
"This milestone means so much to us, because the community has come out and supported our effort year after year," said Jorna Taylor, member of the Milwaukee Pride Board of Directors.
The honored distinction was highlighted during the opening ceremony, which featured United States Senator Tammy Baldwin as keynote speaker. Addressing the audience, she said it was a deeply meaningful experience for her, to reflect on what Wisconsin communities were like 30 years ago.
"I remember at that point in my life, fearing that I had to make a choice between pursuing the career of my dreams in public service and being "out" and honest, and having integrity about who I am," said Senator Baldwin. "I didn't see a clear path to do all this. Fortunately, due to some good individuals who came before me, I realized I could run for office, be "out" and visible, and proud."
Senator Baldwin was the first openly gay, or LGBT, Senator in U.S. history. She has long been a champion for LGBTQ people, equality for women, people of color, and historically underrepresented communities.
Serving in elected office since 1986, Senator Baldwin acknowledged the huge contribution that people like Harvey Milk have made in the fight for equality. Milk was the first openly gay person to be elected to public office in California, when he won a seat on the San Francisco Board of Supervisors.
Before Milwaukee County Executive Chris Abele introduced Senator Baldwin at the event, he presented a special award to Susan Seiler of PFLAG Milwaukee. Seiler founded the organization in 1972 with the simple act of a mother publicly supporting her gay son.
"As an ambassador for PrideFest, Susan has been welcoming people outside the gates since the days of violent protesters, and actually once stood her ground against a skinhead group that showed up to threaten PrideFest goers years ago," said Abele. "Susan is receiving a Pride Award for being such a long-standing force for good, and her activism has helped to ensure the linking of communities, generations, and diverse groups all around Milwaukee County."
Abele declared June 10th, 2016 as Susan Seiler Day throughout Milwaukee County in honor and gratitude for her unwavering commitment to rights and dignity of LGBT individuals. One example of the County Executive's support for the LGBTQ community came in 2014, when he kept the Milwaukee County Courthouse open over the weekend for same-sex couples to marry, following the landmark ruling that overturned Wisconsin's ban on marriage equality.
The festival scheduled over 100 artists during its three days, including headliners Sarah Silverman, Blondie, and local music sensation GGOOLLDD. Thirty thousand visitors are expected to attend this year's event, which is open to all people regardless of gender identity or sexual orientation.
Organizers said that it was their wish to make visitors feel welcome and offer everyone an opportunity to design their own experience to have fun. New gender neutral bathroom signage was also featured for the first time.
"It has always been our policy to not be the bathroom police and let folks feel comfortable identifying themselves as they do," said Taylor. "This year we have these great little purple signs posted around the grounds. It shows where transgender folks and anybody is welcome to use that bathroom."
Milwaukee Pride, Inc. has its roots in the Milwaukee Lesbian and Gay Pride Committee, which formed in 1987 to host the city's very first pride picnic. The organization has worked to help educate the public on how to be tolerant of different lifestyles.
"We always want to put a best face forward for the LGBTQ community and our allies," said Taylor. "Who you are is important to us, and that you have a safe space to go. So whether you are gay, straight, transgender, wherever you fall on the spectrum, we want you to have a safe place to celebrate."
Read the article and view the photo essay that was produced as companion features for this news report.