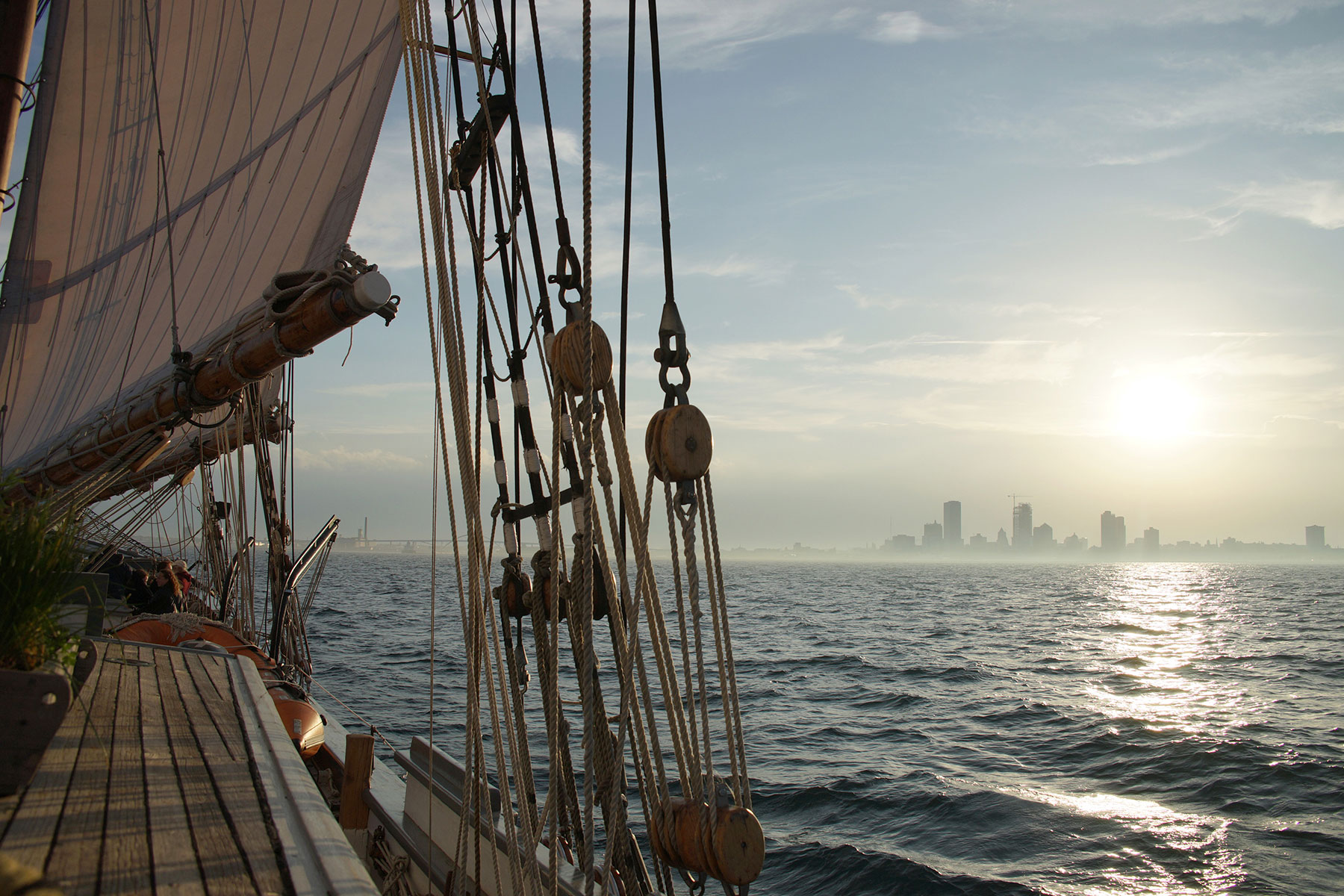 Discovery World and the Sailing Vessel (S/V) Denis Sullivan announced the creation of new "Lazy Day" Sailing program for longer voyages over the summer.
The exciting new maritime experience offers guests the chance to travel with the Sullivan crew between Milwaukee and Port Washington, while learning the history and science of the Great Lakes. The nearly 30 nautical mile excursion aboard Discovery World's tall ship, and the world's only re-creation of a 19th century three-masted Great Lakes schooner, is an expansion of its educational mission.
"These are the perfect sails for anyone looking to spend some time on the water alongside our amazing crew members learning about the Great Lakes," said Tiffany Krihwan, S/V Denis Sullivan Senior Captain. "Our Lazy Day Sails last about two hours longer than our typical Day Sails or Family Sails and will allow interested guests to dive even deeper into some great sailing stories and Great Lakes maritime history."
Set to take place over five separate dates throughout the 2017 sailing season, Lazy Day Sails are open to all ages. The program gives participants the opportunity to help set the sails, take a turn at the helm, or simply sit back and relax, and enjoy the journey.
The inaugural Lazy Day Sail departs from the Milwaukee Lakefront dock of Discovery World June 1, and sails north for five hours. Guests will return by bus, as the Sullivan will lay over in Port Washington for a few days. The vessel will then make its first Lazy Day Sail, departing from Port Washington's Coal Dock Park.
The trip cost is $150 per person and the ticket price includes a box meal aboard the schooner, parking, and bus transportation back to starting port. The full Lazy Day Sail schedule for the 2017 season has two voyages from Milwaukee and three from Port Washington:
Milwaukee to Port Washington – Departs at 10:00 a.m. and returns at 4:00 p.m.
June 1 (Thursday) and September 1 (Friday)
Port Washington to Milwaukee – Departs at 3:00 p.m. and returns at 8:00 p.m.
June 4 (Sunday), Sunday, August 13 (Sunday), and September 4 (Monday)
The S/V Denis Sullivan was built by nearly 1,000 dedicated volunteers who gave more than one million hours over five years to see their big vision become a breathtaking reality. Since her official launch in 2000, Discovery World's tall ship has operated as a floating classroom, United Nations Environment Program flagship, ambassador for the State of Wisconsin, and has offered visitors of all-ages fun and learning on Lake Michigan.
Discovery World annually welcomes over 7,000 students, adults, and families onto the S/V Denis Sullivan deck. Visitors have the opportunity to engage in informative tours, exciting Public Sails, and overnight expeditions. Students participating have access to hands-on, freshwater science curriculum combined with the technical teachings of learning to sail a tall ship.