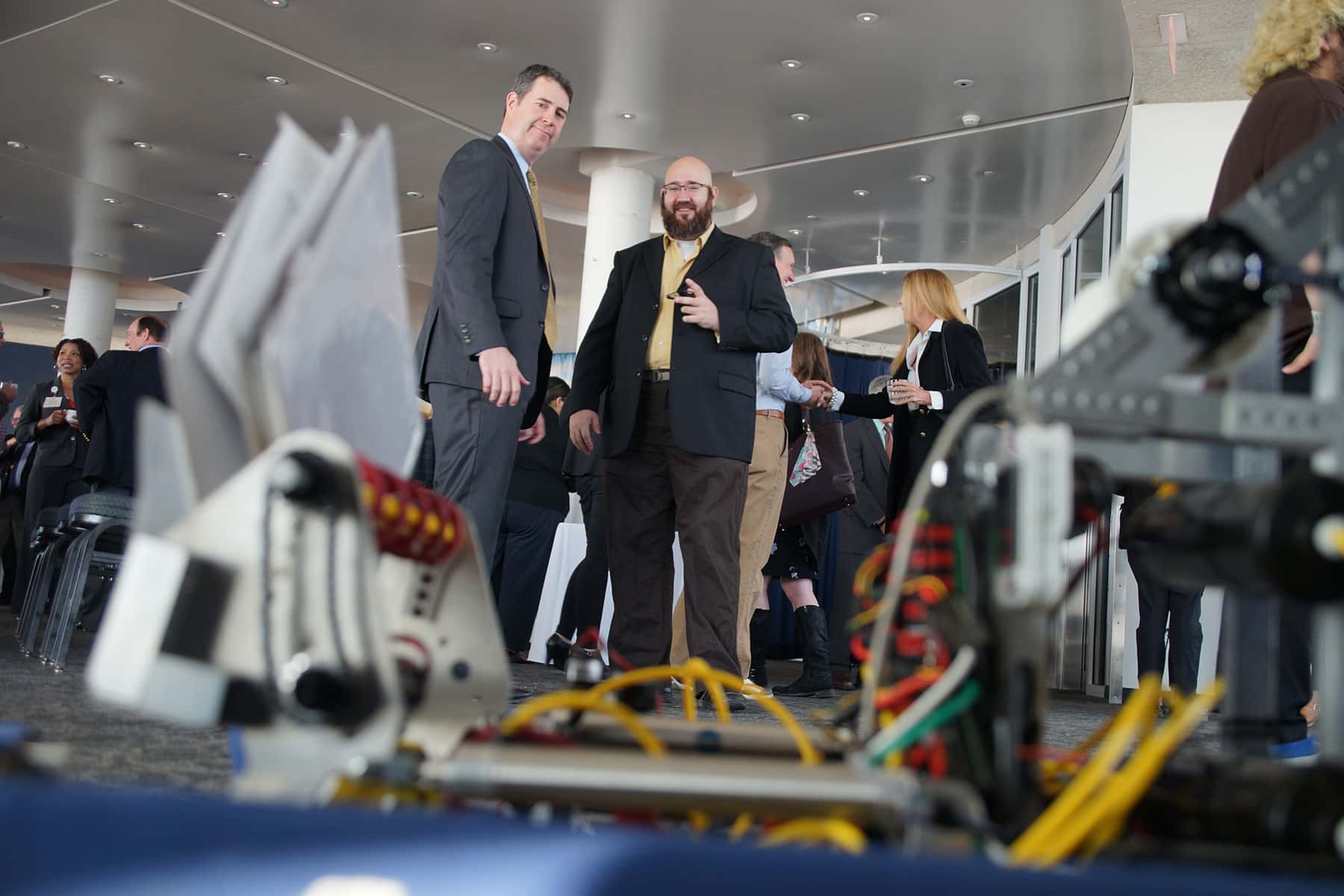 "Working with our community partners, we have formulated a vision for an exciting and transformational project that will help shape our organization's future for the next 20 years, and allow us to have a more significant impact on kids in our community." – Joel Brennan
The winning robot from Team 1675, aka the "Ultimate Protection Squad," kicked off the annual president's breakfast on April 24 by delivering speech notes to Joel Brennan, Discovery World's CEO and President. Brennan introduced the students from Rufus King International High School, who recently won the FIRST Robotics competition and qualified for the World Championships in St. Louis.
"FIRST Robotics is an organization that has students from all ages involved in science and engineering, and in my opinion it is one of the greatest things we can do for a child," said senior and Team 1675 member Fiona Odum. "Before I joined, I had this idea that it was all about robots. But then I was given a family who could show me things that I never thought I'd be able to do."
Team 1675 needed an extra thousand dollars to make the St. Louis trip for the April 26 competition, and made a pitch for funding from the audience in the hope of getting enough contributions during the breakfast. The team's efforts were supported by Discovery World staff and exhibit partner Rockwell Automation.
Discovery World has existed in some fashion for about 35 years. Initially known as the Science, Economics, and Technology Center, its home progressed over time from an old Boys and Girls Club near Brady Street to a space at the Milwaukee Public Museum. In 2007 it moved to the current and purpose built location along the Lakefront.
"Over the course of the last 10 years, we spent a significant amount of time getting ourselves to a sustainable future by doing things like paying off capital debt," said Brennan. "Now we are able to think about making a significant investment that will hopefully springboard into what the next twenty five years look like."
When fully functional, the changes will add more than 20,000 square feet of additional public space for exhibits and student programming, doubling the amount that Discovery World has dedicated to the public in its Technology Building. The increased access will allow the service of up to 100,000 more visitors every year.
Along with the additional teaching space, food logistics was being addressed in the expansion. As demand has grown to have more student education programs for STEM (Science, technology, engineering and mathematics), so has the need for enough cafeteria room to serve meals. When Discover World originally opened, the dining space it had was already inadequate. The last couple years have shown the need for an improved condition, and the floor plan for a new cafeteria was shown during the presentation.
"If we can light that spark, and we can be engaged in a classroom, students can go back to their suburban school district and get involved in the FIRST robotics team, some form of science, or think about how they connect their future job and fresh water science," said Brennan. "And so as we continue to move forward, we want to make sure that we were looking at how we provide the most value in the community."