Photos from the frontlines: Sergi Mykhalchuk documents images of war as civilians evacuate Irpin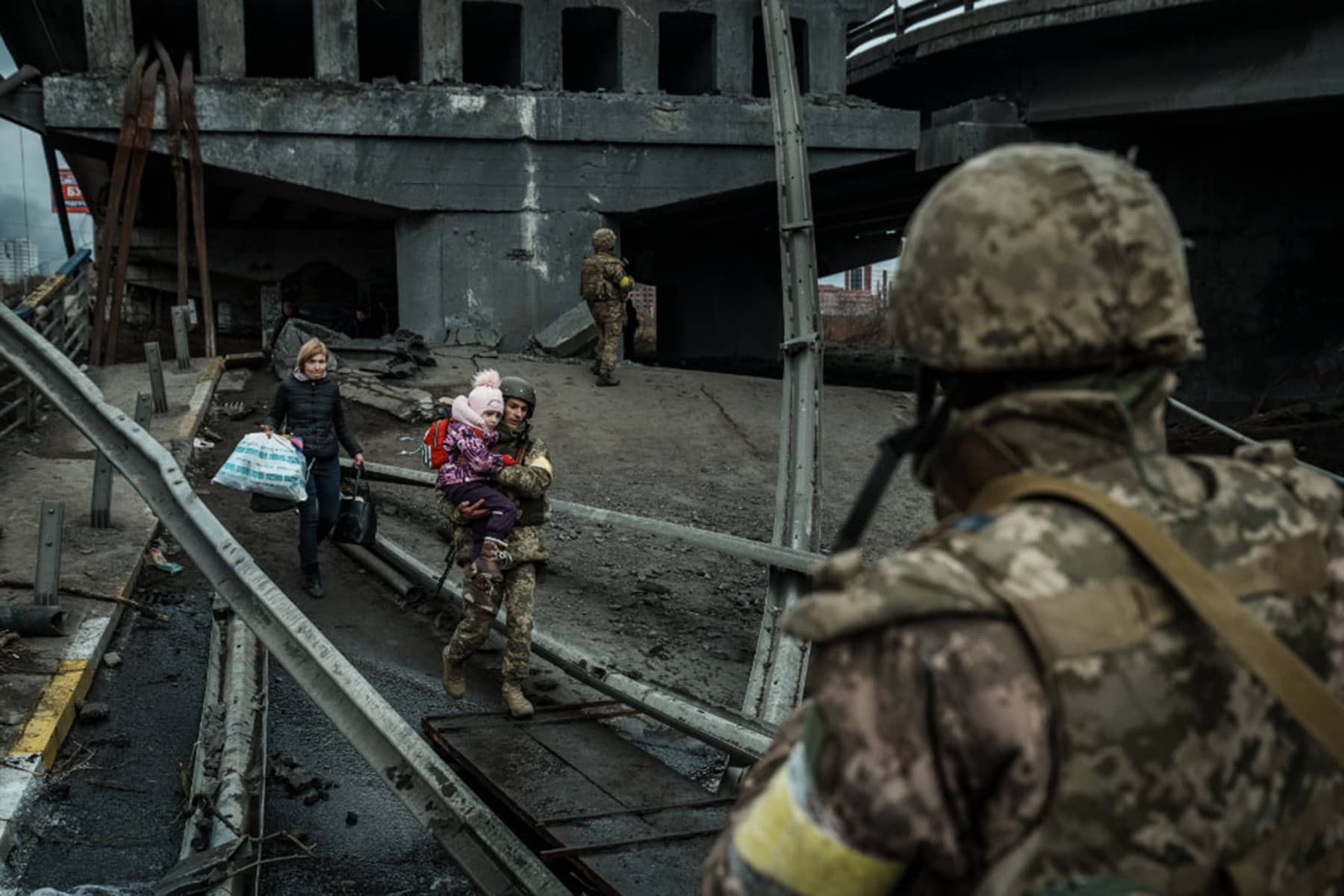 Milwaukee's sister city remains a strategic area as Russian invasion forces push to the capital city of Kyiv. Irpin has been under siege since March 4 and, like many smaller towns, has been targeted with indiscriminate and heavy bombardments.
Lacking the ability to successfully engage the Ukrainian military, Putin's mercenaries have launched artillery into apartment buildings. Considered war crimes, the acts of terror continue to drive innocent civilians from their homes in a desperate attempt to reach safety.
According to local reports as of March 15, roughly 30% of Irpin is occupied by Russian troops. And while a large percentage of the population has escaped, many thousands of Irpin residents are reportedly missing.
"I can categorize it as a humanitarian disaster right now," said Boris Nayflish, an Irpin liaison to Milwaukee. "In the last six days, the city had no water, no electricity, no heat. Residents are either are under the rubble of the fallen buildings or they are unaccounted for. We can't find them or locate them."
After the Irpin delegation visited Milwaukee in 2018, they took back and applied many of the civic lessons from what they observed. The successful results helped expand a lot of developments across the city. But 30 years of economic development was undone in under two weeks by Russian artillery. Sources on the ground report that there is not a building in Irpin that has escaped damage.
Kyiv-based photojournalist and cinematographer Sergi Mykhalchuk, has been on the ground and capturing images of Russia's brutal invasion of Ukraine since February 24. In Irpin, Mykhalchuk has documented Ukrainian Armed Forces and the ongoing humanitarian catastrophe of civilian evacuations.
"The scenes are heart-wrenching. Set against the backdrop of devastation, the civilians make their way through the rubble to escape the war-torn city. Men, women, and children carry whatever belongings they could – even beloved pets. They meet with soldiers waiting to bring them to safety." – Jоy Cеlіnе Аstо
As Russian snipers continue to victimize noncombatants, and focus on members of the news media, Mykhalchuk continues to take photos of developments from the frontlines. He remains in constant danger, and his work has been used to report incidents to the Metropolitan Police War Crimes Unit.
Mykhalchuk's website hosts selections of his war photography. Viewers should be aware that some of his images are too graphic for mainstream media organizations to publish, specifically the Kyiv TV tower casualties that were hit in the opening days of Putin's surprise attack.
Editor's Note: Publishing images from Irpin was deliberately delayed as a security precaution for both the Territorial Defense forces and civilian population.