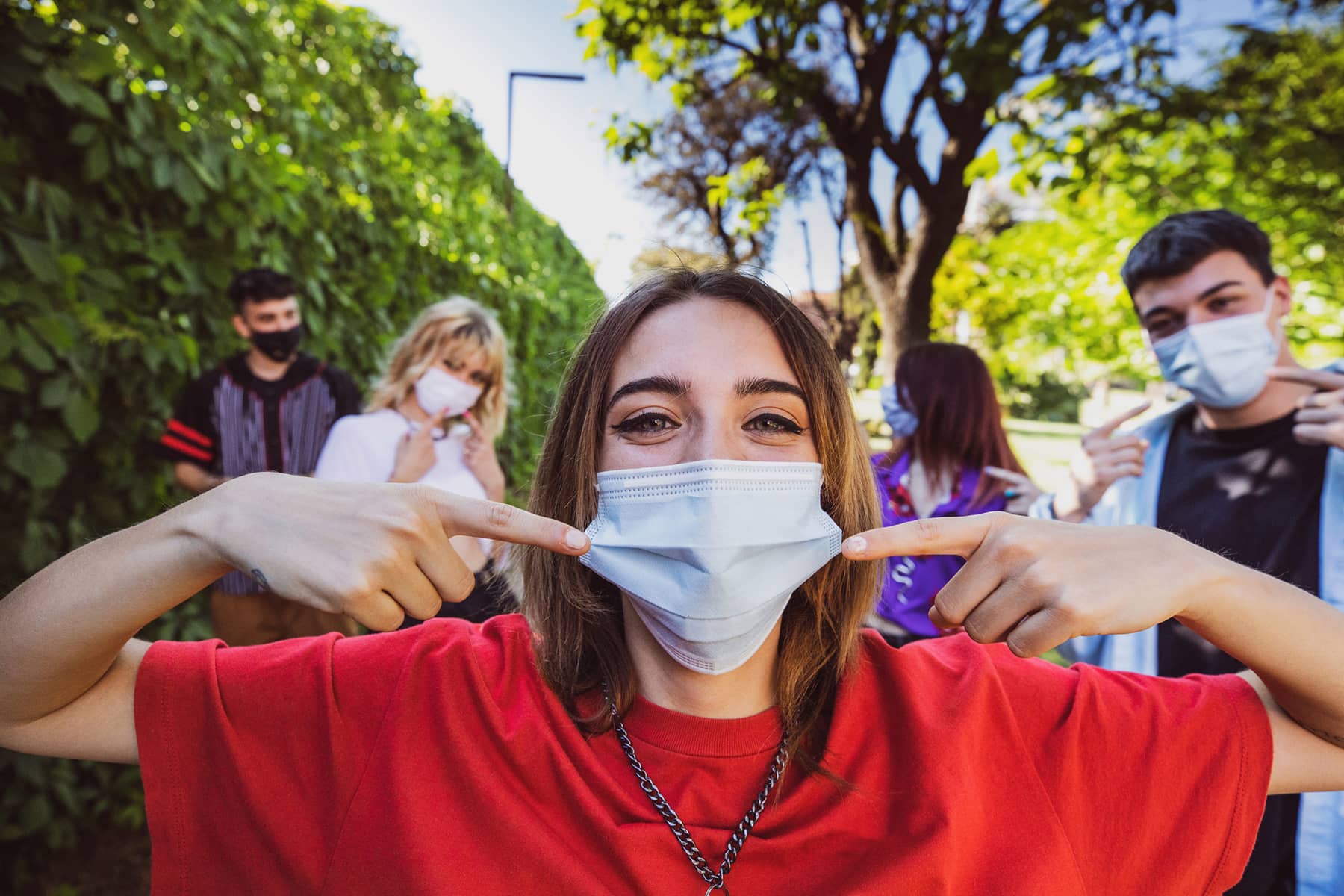 Before the pandemic, Margaret Wilkins of Oconomowoc was a kindergarten teacher. But in November 2020, she contracted COVID-19. The weakness, dizziness, fatigue, and heart issues, from her symptoms were scary.
"I tried to go back to teach in January, but I couldn't make it," she said. "I was so exhausted, I barely made it a couple of hours."
Wilkins never went back to school, deciding to take an early retirement. Now, she is fully vaccinated and boosted, but will never forget how difficult her bout with COVID-19 was. She says she's scared to get it again, so she always wears a mask indoors.
"Basically, every place I go, I wear a mask," she said.
And she'll continue to wear a mask, in some form or fashion, for a long time. Maybe forever. Before March 2020, face masks were a rare sight outside of medical settings. In the two years since, they've become charged political symbols. Now, even as the Centers for Disease Control and Prevention has relaxed guidance on when to wear them, many people will continue to wear masks well into the future.
Though new statewide cases continue to decline from the spike earlier this year, the state is still recording a seven-day average of 341 new COVID cases each day. The last mask mandates in the state have expired, but many people including Wilkins, some with high-risk health conditions, and some with children too young to be vaccinated still consider masks a crucial safety measure.
"It makes me feel better if I wear it, and I also feel that we're protecting each other," Wilkins said. "I just wish that more people would feel the same way."
For Heidi Steeno of Milwaukee, masking is a business matter as well as a health matter. Steeno and her husband run a small art business, where they travel to various art fairs and events. They simply can't afford to get COVID-19, she said.
"One of us getting sick or even having to quarantine would mean we could not be out selling artwork, and paying our mortgage or buying groceries," she said.
Masks have been important for Steeno's family in more ways than one. In 2020, they began making fabric masks as a way to keep the business afloat while many of the art fairs were canceled. Steeno, her husband and her daughter formed an assembly line to sew the pieces together.
"We kind of stopped counting after like 5,000," she said.
Now, they mostly wear N95 respirators instead of fabric masks. Even though she had never worn a mask before the pandemic, Steeno thinks she'll continue to mask up in public for a long time to come, especially during cold and flu season.
Ajay Sethi, a professor of population health sciences at the University of Wisconsin-Madison, said he expects to see plenty of people continuing to wear masks long into the future. In addition to COVID-19, masks can help protect against other respiratory pathogens like rhinovirus, enterovirus and RSV, Sethi said.
"If you're around somebody who's coughing or sneezing, it may not be SARS-CoV-2," he said. "So wearing a mask protects against all those things that spread by large droplets and to some degree, the aerosolized pathogens too."
Sethi also expects to see people wearing masks in certain situations where people are in close contact with each other, like airplanes.
"We've always understood that some situations did make us sick before," he said. "Now we've got this extra tool. Masks are available, people know how to source them, and it's a good idea to use them."
Patricia Téllez-Girón, professor of family medicine at UW-Madison, remembers occasionally seeing people wearing masks before 2020, especially while traveling. She remembers thinking that was unusual, and wondering if those people were really sick. Now, she has changed her perspective.
"No, they were smart!" she said. "They already have learned what we just learned."
Two years into the COVID-19 pandemic, it is still hard to know what the future looks like. But for some, that future will include wearing masks.
Donate: Wisconsin Public Radio
The
Milwaukee Independent
began reporting on what was then referred to as the mysterious "Wuhan Virus" in January 2020. Other local media did not picked-up on the story until many weeks later. Our early features focused on the economic impact, social issues, and health concerns long before other Milwaukee news organizations even mentioned the coronavirus. Over the following year, we have published hundreds of articles about the pandemic and how it has affected the lives of Milwaukee residents. This extensive body of work can be found on our
COVID-19 Special Report
page, a chronological index of links by month. Our editorial voice remains dedicated to informing the public about this health crisis for as long as it persists.
For medical resources, please visit the
CDC's COVID-19 page
or the
Wisconsin Department of Health Services
. All editorial content published by
Milwaukee Independent
can be found at
mkeind.com/COVID19
. With a mission of transformative journalism, our staff is free from commercial bias and are not influenced by corporate interests, political affiliations, or a public preferences that rewards clicks with revenue. As an influential publication that provides Milwaukee with quality journalism, our award-winning photojournalism and features have helped to achieve a range of positive social impact that enriches our community. Please join our effort by entrusting us with your contribution. Your Support Matters -
Donate Now