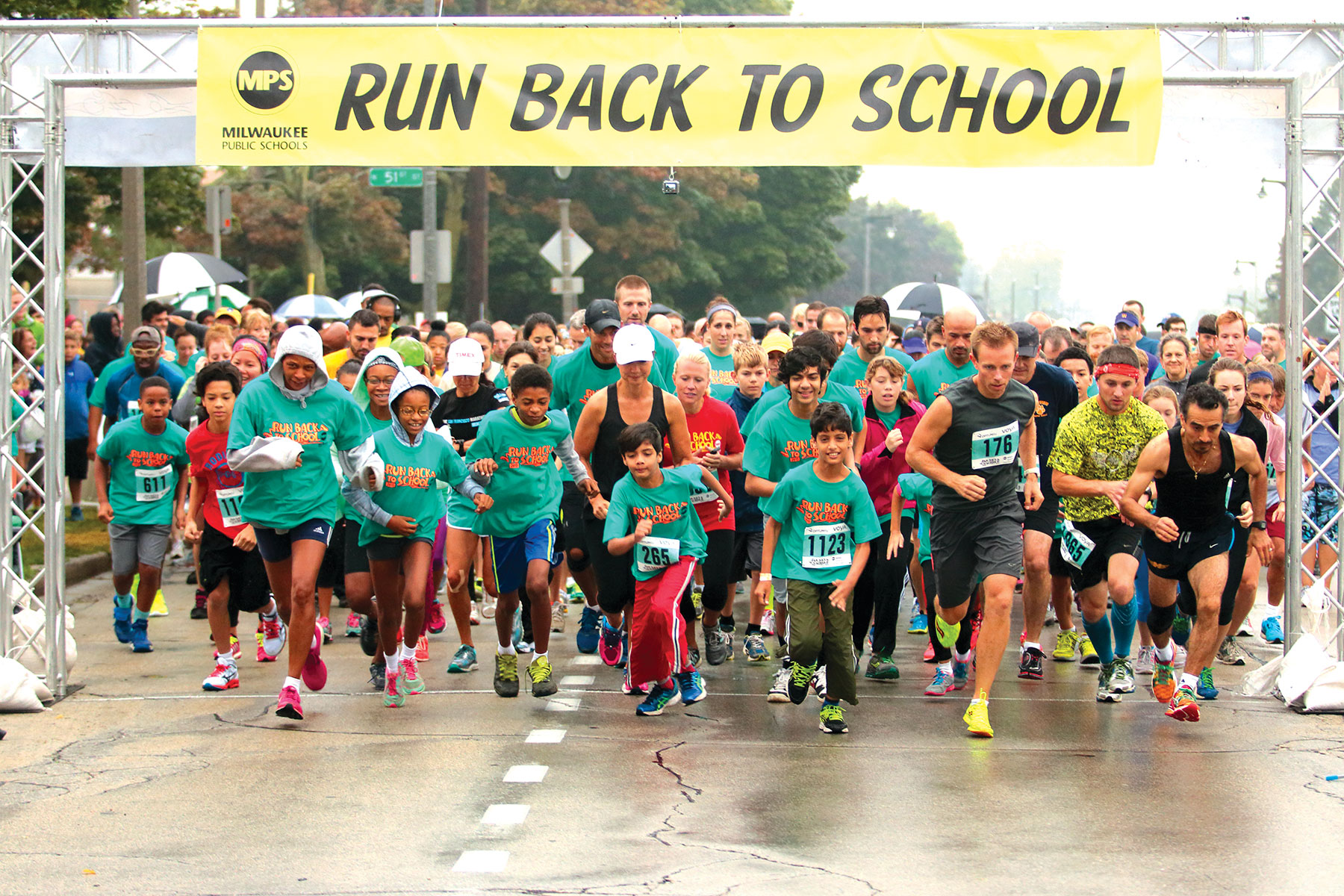 Milwaukee Public Schools will host its 10th Annual Run Back to School event on August 26 at Wick Play field.
Participants can enjoy a 5K run or 1.5 mile walk through Washington Park, in what has become a pre-school year kick-off activity. The goal has been to promote the importance of regular exercise while raising funds for MPS youth recreation programs. In addition to the run/walk, the event will feature a school mascot race, exhibit booths, activities for kids, and a live DJ.
"The Run Back to School is a great opportunity for students, staff, and the community to come together in support of the health and well-being of our young people, and ourselves," says Lynn A. Greb, Milwaukee Recreation's senior director. "We encourage the public to team up, get moving, and have some fun to help promote healthy habits that can last a lifetime."
Proceeds from the previous years have been used to purchase youth sports equipment and offset team entry fees so schools could expand recreation programs. The funds also helped purchase uniforms, soccer goals, yoga mats, and physical education equipment.
This year, the money raised will help expand student participation in basketball leagues, and support a once in a lifetime opportunity for an adaptive student athlete to attend the Special Olympics UNITY Sports Weekend in Orlando, Florida during the NBA All Star Game.
In addition to coordinating the Run Back to School, MPS offers a variety of physical fitness programs, holistic employee wellness programming for free to staff, and actively participates in the Well City Milwaukee Initiative.
Milwaukee Recreation, the Milwaukee Public Schools Department of Recreation & Community Services, works to strengthen the bond between public education and the community. Founded in 1911 by legislation that was reportedly the first of its kind to assign a local public school system the responsibility for conducting recreation programs, Milwaukee Recreation has maintained a leadership position throughout its history.
Multiple use of public school facilities for community services, especially in the evenings, has also earned Milwaukee Recreation the distinction of being recognized nationally as the City of the Lighted Schoolhouse.
"When you think about MPS, I want you to think about our unwavering commitment to accelerating student achievement, building positive relationships between youth and adults, and cultivating leadership at all levels," said Superintendent of Schools Darienne B. Driver, Ed.D. in a statement. "Let's meet at the start line on August 26 and never stop running on the path to excellence."