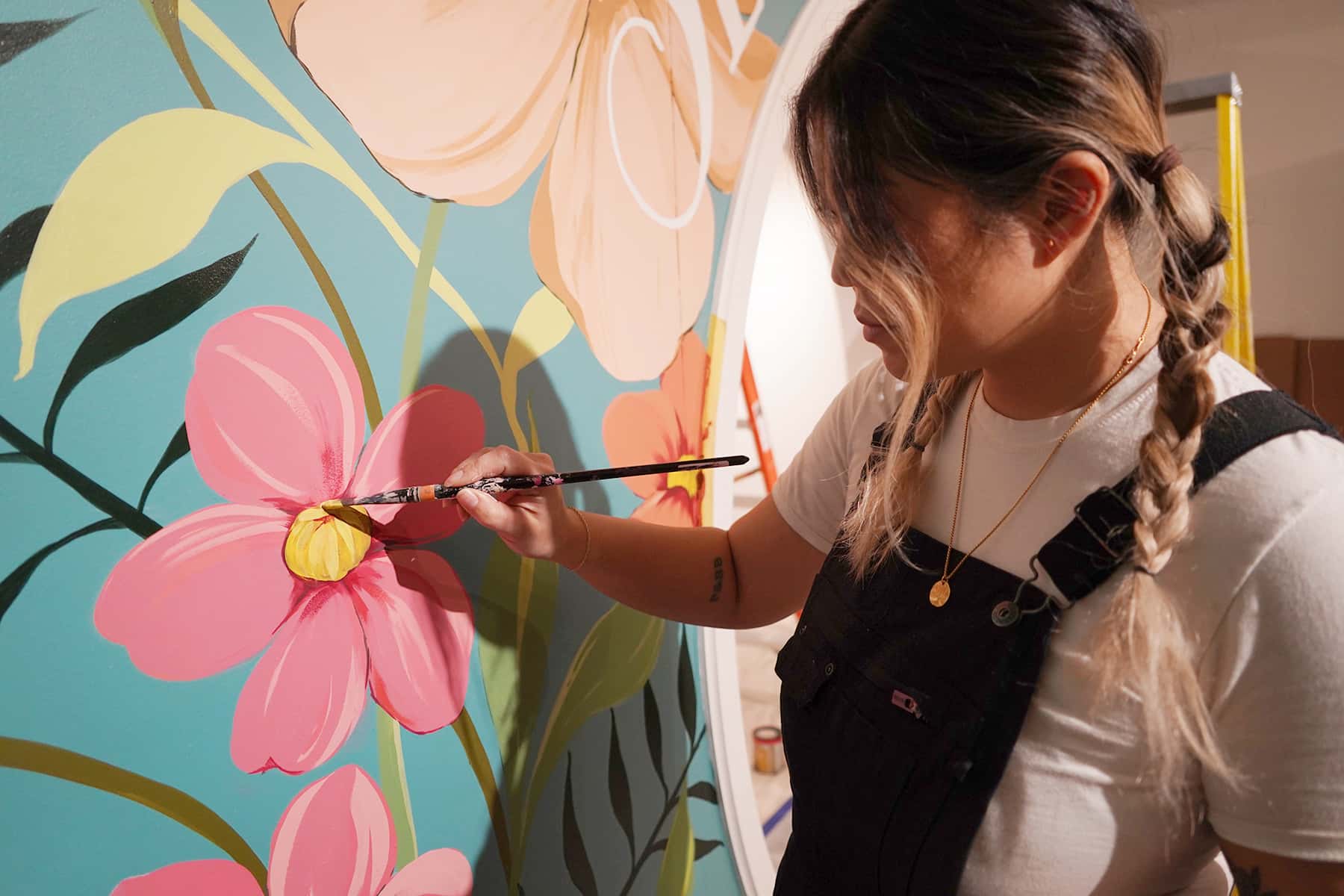 Loosely inspired by the 1911 book "The Secret Garden" by Francis Hodgson Burnett, The Warehouse Art Museum opens its new exhibition of the same name on February 18.
Presented as an "anti-pandemic exhibition" that brings color to the faceless mask of COVID, "The Secret Garden" was timed to offer visitors a tropical oasis and much needed refuge during Milwaukee's harsh winter months.
Featured will be more than 100 works by 80 artists spanning 20 countries and 5 continents, curated from The Warehouse Art Museum's international permanent collection and newly commissioned art by local artists.
"The Secret Garden is an explosion of color, fantasy, and whimsy waiting to be explored through a myriad of interdisciplinary works, monumental murals, and interactive elements," said Danielle L. Paswaters, Curator and Director of Exhibitions and Collections. "By tapping into nature's organic ability to stimulate serenity and healing, we hope to provide a space for our visitors to be surrounded by spectacular and uplifting works by a wide variety of internationally recognized artists."
With every turn through the garden's secret passageways, visitors will encounter magical expressions, nature-filled corridors, and fairy-tale installations. Guests can expect to experience never-before-exhibited works by artists such as Klaus Fussman, Toyokuni Utagawa, Della Wells, and many more.
Whether visitors imagine themselves barefoot walking through William Kentridge's garden stream, sifting through a field of Faith Ringgold's aromatic sunflowers, or singing along to the spring-time chirps of Pablo Picasso's small chick, there will be a journey through every work of the restorative exhibition.
"The Secret Garden is very personal, coming from our collection, yet it's intentionally global. Our spiritual booster shot during the pandemic. We wanted the exhibit to be light, bright, colorful, surprising, novel, hopeful, and healing," said John Shannon, managing director of The Warehouse. "Where else but The Warehouse would you find a full-size Charleston water fountain, with water gushing out of a topmost pineapple? The pineapple is a symbol of hospitality in America and the Caribbean, it's a sweet fruit that is cut up and shared."
Shannon and Jan Serr have collected these works over the last fifty years, for their own edification and study. They live with these works in their home, where they are appreciated for their craftsmanship, refinement, line, spontaneity, invention, and pure aesthetics.
Milwaukee artist Emma Daisy Gertel was commissioned to paint murals within the exhibition space, based on "The Secret Garden" theme. Her main work will be double sided, serving as the entrance on one side and a flower gateway on the other.
"I love exploring the in-between spaces and the places where worlds overlap and connect. Again, I find myself in this space and I'm honored to be a part of this show," said Gertel. "There is such an incredible range of artists represented from all over the world. There's something that feels very intimate and precious and simultaneously very playful, bold and hopeful, perhaps even magical."
She said that her hope was to add an immersive experience with moments of discovery for viewers exploring the exhibit. She wanted it to be a reminder of the sun's warmth, and the smell of fresh lilac in the air as they wander through "The Secret Garden" environment at the museum.
"What I love about the classic childhood novel is the story of transformation and nurturing. It reminds me of walks through the botanical gardens with my own child, and how ephemeral but important those moments truly are," added Gertel. "The reality is that these past few years have been very difficult for many – a hazy period of gray days. But the idea of flowers blooming in the middle of winter brings a sense of wonderment and beauty that we could all use to nurture our own mental health."
The
Milwaukee Independent
began reporting on what was then referred to as the mysterious "Wuhan Virus" in January 2020. Other local media did not picked-up on the story until many weeks later. Our early features focused on the economic impact, social issues, and health concerns long before other Milwaukee news organizations even mentioned the coronavirus. Over the following year, we have published hundreds of articles about the pandemic and how it has affected the lives of Milwaukee residents. This extensive body of work can be found on our
COVID-19 Special Report
page, a chronological index of links by month. Our editorial voice remains dedicated to informing the public about this health crisis for as long as it persists.
For medical resources, please visit the
CDC's COVID-19 page
or the
Wisconsin Department of Health Services
. All editorial content published by
Milwaukee Independent
can be found at
mkeind.com/COVID19
. With a mission of transformative journalism, our staff is free from commercial bias and are not influenced by corporate interests, political affiliations, or a public preferences that rewards clicks with revenue. As an influential publication that provides Milwaukee with quality journalism, our award-winning photojournalism and features have helped to achieve a range of positive social impact that enriches our community. Please join our effort by entrusting us with your contribution. Your Support Matters -
Donate Now