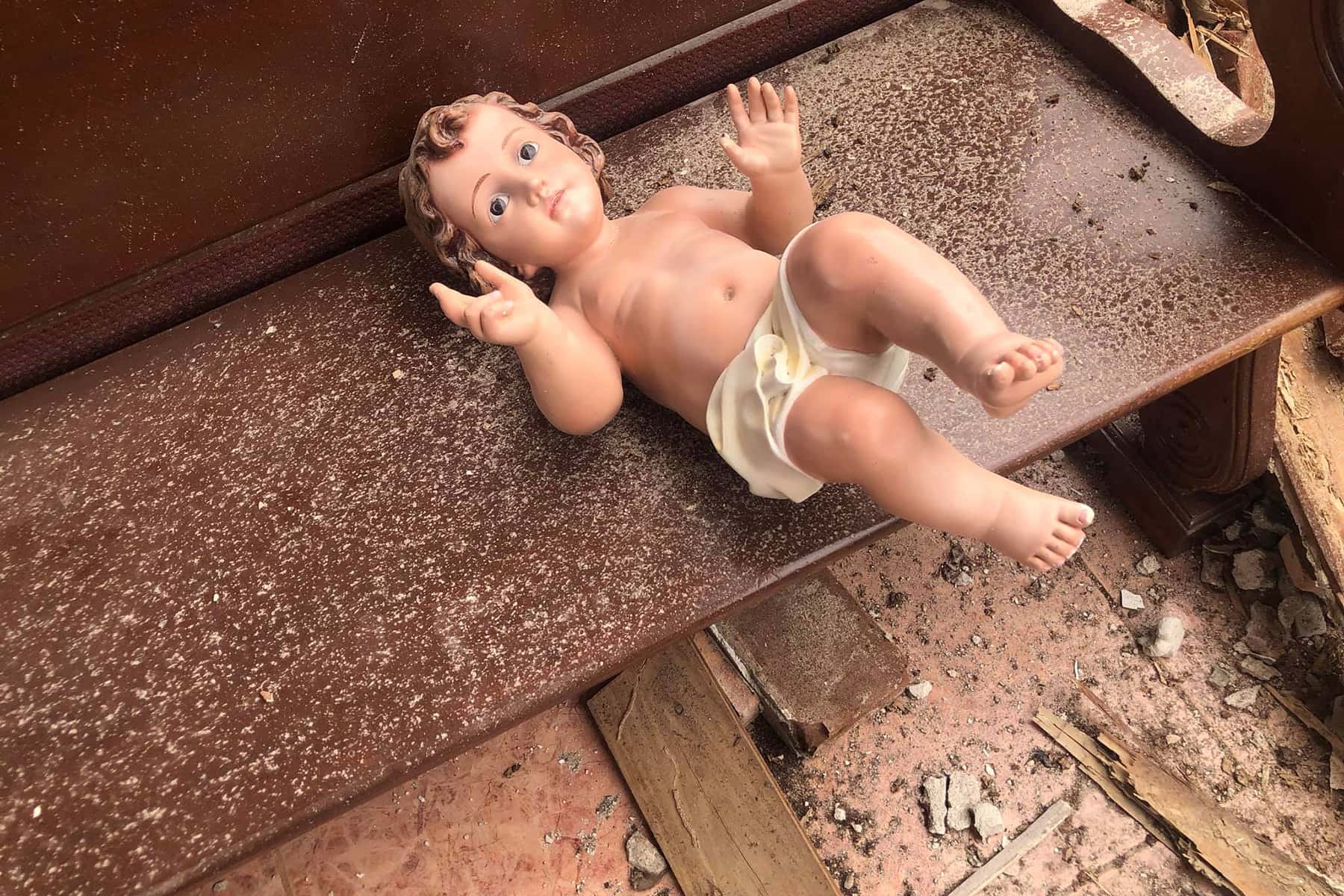 As Puerto Rico dealt with the fallout from a series of devastating earthquakes in recent days, the Trump administration continued to block the release of $18 billion in disaster aid to the island, more than two years after the money was appropriated by Congress.
Two years after hurricanes annihilated the island, it was hit by a devastating 6.4-magnitude earthquake on January 7, followed by a series of aftershocks. Puerto Rico is not a 'Sh*thole' country, but an unincorporated territory of the United States. Its population are American citizens. Yet yet its recovery has been sabotaged by blatantly racist policies dictated from the White House.
Its local communities had already endured long-term trauma in their attempt to rebuild, before the latest catastrophe. Many feel that they have been abandoned in their suffering by mainland America in a way that would never have happened to a city like Charleston, or even the Hawaiian islands.
Federal funds were meant to go to the U.S. territory after Hurricanes Irma and Maria caused nearly $150 billion in damage in September 2017. Maria killed nearly 3,000 people and left 1.5 million Puerto Ricans without power, many of who went without electricity for nearly a year before it was restored. On January 9, about two-thirds of the island once again had no power, and hundreds of thousands of people were without running water.
Milwaukee-based nonprofit Forward Latino joined with national voices in asking the government to help Puerto Rico. Darryl D. Morin, National President of Forward Latino, sent letters on January 8 to the Speaker of the U.S. House of Representatives and the Majority Leader of the U.S. Senate, requesting emergency assistance for Puerto Rico and the release of Hurricane Maria recovery funds, following the two weeks of earthquakes experienced by the island.
"Our thoughts and prayers are with our fellow United States Citizens on the island of Puerto Rico. Over the last two weeks they have suffered greatly as they experienced dozens of earthquakes with the strongest reaching 6.4 in the Richter Scale," said Morin. "The damage we are seeing from images being sent from the island show the degree of devastation as entire buildings have collapsed, power has been lost, and people are searching desperately for their loved ones. This hardship is made even worse as Puerto Rico is still struggling to recover from Hurricanes Irma and Maria."
On May 11, 2018, Morin was invited by then Secretary of State for Puerto Rico Luis G. Rivera Marin to attend the funeral of nine Airmen of the Air National Guard at the Muñiz Air National Guard Base just outside of San Juan. He toured the island 8 months after Hurricane Maria and saw the devastation that remained. The damaged structures, the street and billboard signs bent over, the trees uprooted, unreliable power when it was available, and the "techos azules," roofs of blue tarp.
"Our brothers and sister on the island have and continue to give their greatest measure to defend our freedoms and our government," added Morin. "It is beyond time that we provide the assistance that we are obliged to provide them, for their sacrifice."
At least one person was killed in the latest disaster, with more than 2,000 people have been displaced and are staying in temporary shelters. Puerto Rico has had access to just $1.5 billion in disaster aid since Congress approved a $19.9 billion grant after the hurricanes.
The Trump administration missed a deadline last September to release another $8 billion. It was later reported that the delay was an intentional obstruction by the White House to sabotage the distribution of the relief funds.
President Donald Trump refused to make more funds available to Puerto Rico last year, citing the island's history of financial difficulties. After the Senate blocked a disaster aid package for Midwestern states last April, because Democrats wanted more money to be included for Puerto Rico, the president lashed out at the territory's government.
At the time, Trump falsely claimed his administration had already given $91 billion to Puerto Rico for disaster relief, a confirmed lie that the Office of Management and Budget also repeated. In fact, $91 billion is the amount of money Puerto Rico is projected to need for disaster relief over the next two decades.
While Trump has accused the Puerto Rican government of mismanaging funds and corruption as justification for his refusal to release aid, many of the territory's financial problems are rooted in a decision by the U.S. to phase out tax breaks for companies on the island. That policy change triggered a recession, and a debt crisis made worse by Wall Street banks which stepped in to sell Puerto Rico's debt in exchange for fees.
Puerto Ricans have not lived through a devastating earthquake in more than 100 years. But the memories of the post-Maria scenario are still very fresh, with many residents still suffering from PTSD after two years. According to the American Psychological Association, a survey conducted one year after the hurricane revealed that over one-fifth of the island's residents reported needing or receiving mental health services. Thirteen percent said they started a new or a higher dose of prescription medications to treat emotional problems. More than seven percent of all children in Puerto Rico meet clinical standards for PTSD, a rate twice than that of the general population.