Fundraising campaign seeks to restore Juneau Park statues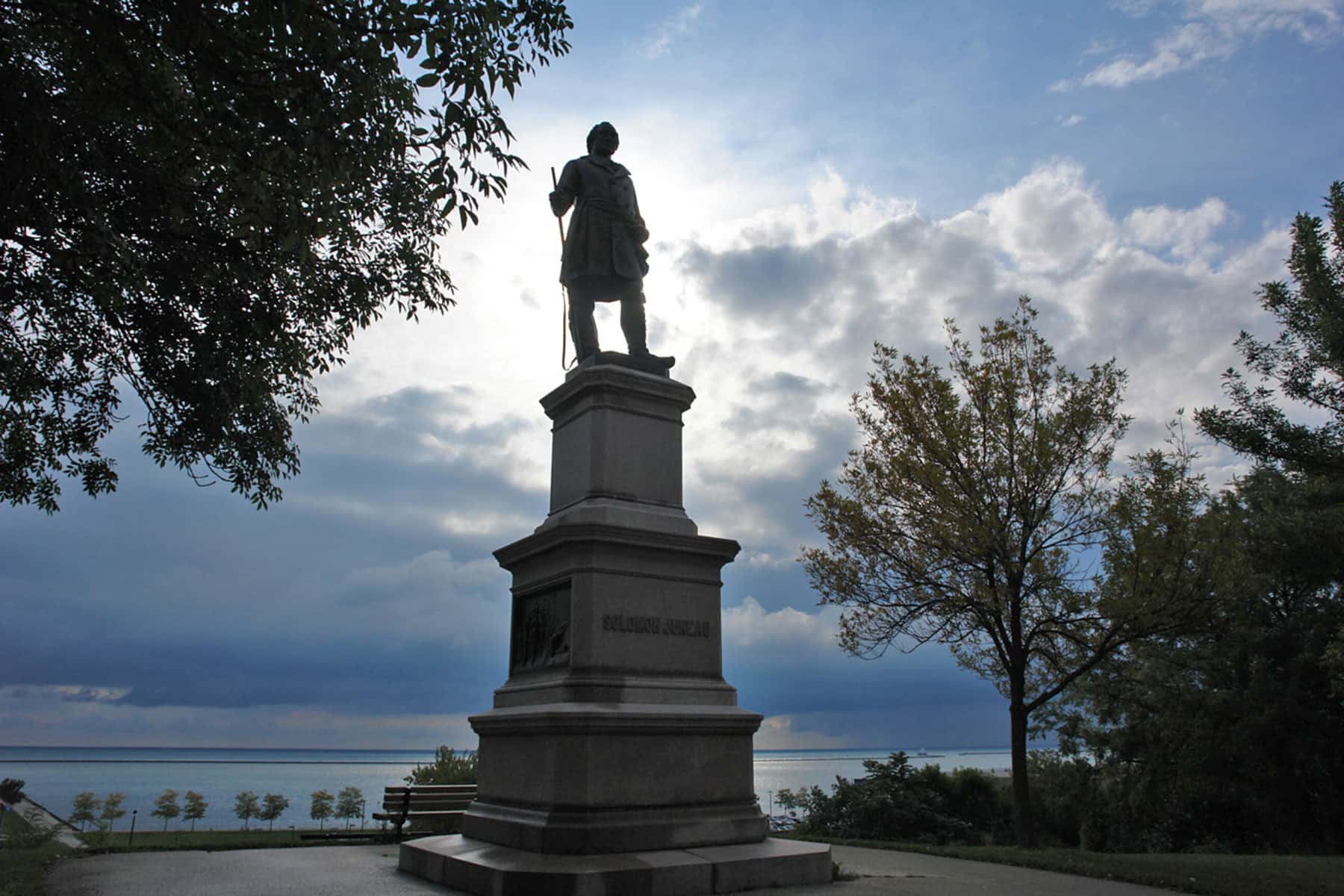 The Friends of Juneau Park launched a fundraising campaign in May to restore two historic statues in the park, Milwaukee's first mayor and its first postmaster Solomon Juneau and the young Viking Leif the Discoverer.
The organization is aiming to raise $150,000 to cover the costs of cleaning, applying new coating and patina and repairing damage from ice and water. As of July 11, $109,173.64 of the needed $150,000 has been raised from government agencies, private foundations, corporations, and individuals.
Delayed maintenance and neglect of many kinds of art work, architectural features and other structures in Milwaukee's parks have put many unique features in danger of permanently disappearing from our public spaces.
Juneau Park and its historic, irreplaceable statues of Solomon Juneau and Leif, the Discover are owned by Milwaukee County, but there is no County funding or plan to maintain them. Private funding can save their historic heritage.
Restoration and cleaning are needed. The statues were last restored over 20 years ago, years longer than the customary time between treatments, especially in the harsh environment of Lake Michigan's lakeshore. They need old coating removed and new coating and patina applied. Water and ice have damaged Juneau's rifle and the stone bases of both statues. Lead pointing has pulled away from stone joints, and rosettes securing irreplaceable plaques to the Juneau base are missing. Delayed treatment would make future care much more expensive, if at all possible.
Conservation of Sculpture & Objects Studio, Inc. (CSOS) has been chosen to clean and restore the statues. CSOS cleaned and restored Leif, the Discoverer in 1994 and is currently restoring George Washington from Milwaukee's Court of Honor on W. Wisconsin Avenue.
SOLOMON JUNEAU
The statue of Solomon Juneau, Milwaukee's first mayor and its first postmaster, was commissioned by Milwaukee entrepreneurs, William Metcalf and Charles Bradley, who knew and admired Juneau from their early years in Milwaukee. Sculptor Richard H. Park was commissioned to create the statue specifically for placement in Juneau Park, Milwaukee's first planned park. Dressed in buckskin and carrying a rifle in one hand, the figure looks westward over the City of Milwaukee. Two bronze bas-relief plaques show Juneau trading with Menomonee Indians and in the city council chamber at the time of his installation as Mayor. The statue, which stands atop a granite pedestal, was dedicated in July, 1887, and it is still in its original location. It was last restored in 1996.
LEIF ERIKSON
The statue of Leif, the Discoverer depicts the young Viking in a suit of mail on the prow of his ship around 1002. Its sculptor, Anne Whitney, was notable as a successful sculptor of public art at a time when few other female artists enjoyed similar success. On one side of the carved red sandstone pedestal is the inscription "Leif, son of Erik the Red" in runic characters. On the pedestal's west side is a Celtic cross and the inscription "Leif the discoverer son of Erik who sailed from Iceland and landed on this continent." A gift of Mr. and Mrs. Joseph Thorp Gilbert, the statue was installed in Juneau Park in October, 1887. It was moved away from the bluff's unstable edge in 1994, when it was last restored.
The Juneau site will be illuminated for the 1st time ever by 2 in ground, energy saving lights. At the Leif site, 2 more of the same fixtures will replace an outdated, pole-mounted light. Power lines to both sites will be buried, and a photocell will control the lights. Milwaukee's Staff Electric Co. has been chosen for the job.
The newly applied patina and coating for the statues will protect the artwork longer with regular care. A maintenance fund to pay for future cleaning and waxing on a regular schedule will be established.