Thanks a Million: Milwaukee's streetcar celebrates its 1,000,000th rider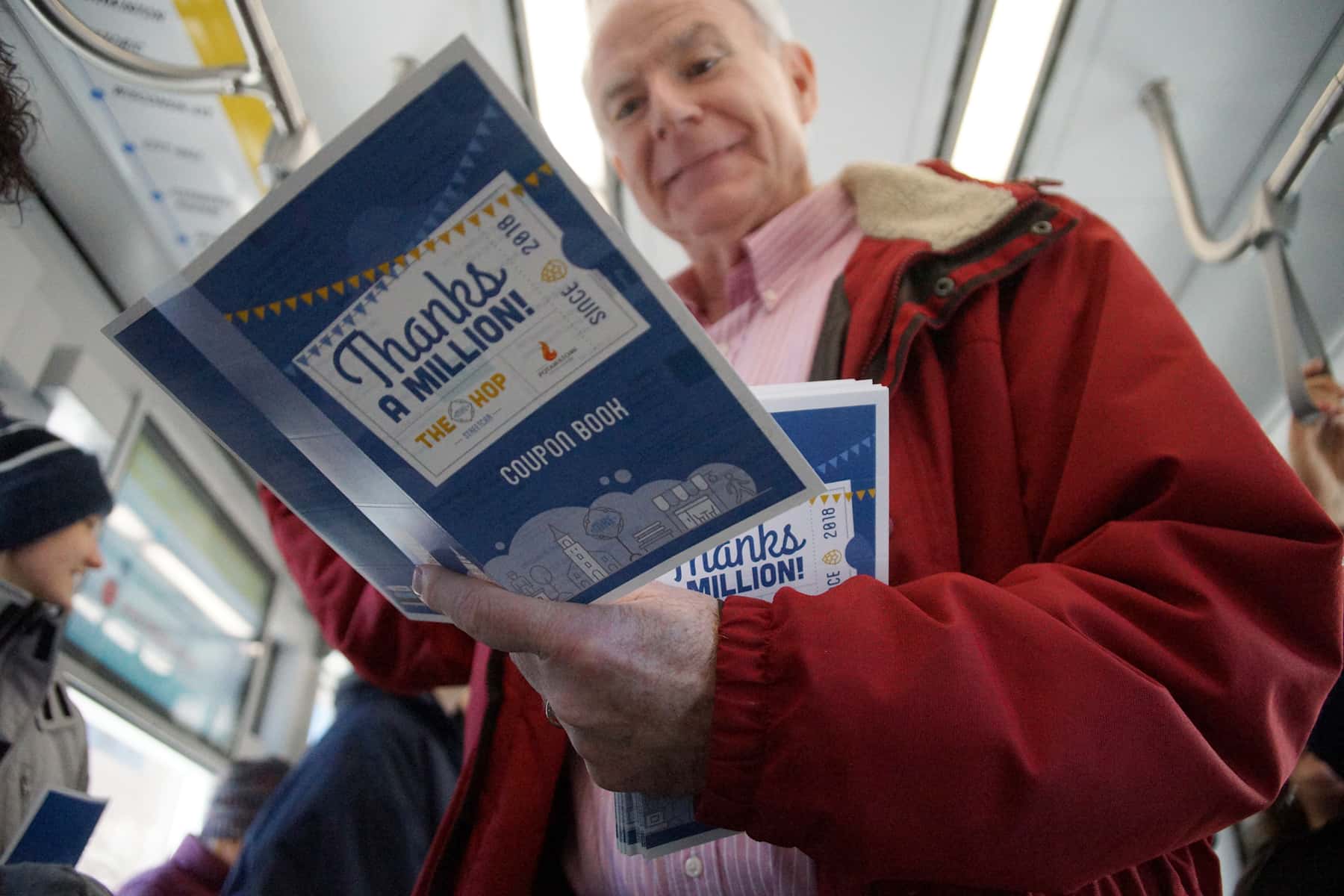 Mayor Tom Barrett and Alderman Robert Bauman rode The Hop on February 21 during the lunch hour to celebrate the transit system's milestone of reaching one million riders. Along with Public Service Ambassadors from Milwaukee Downtown BID #21, they also distributed free "Thanks A Million" coupon books to streetcar riders.
After launching passenger service on November 2, 2018 with a projected daily ridership of around 1,800, The Hop, presented by Potawatomi Hotel & Casino, welcomed 802,541 riders during the first year of service, with 2,205 rides per day.
"It's incredible that we reached this historic milestone in such a short period of time, and a true testament to how Milwaukee residents and visitors have quickly embraced the streetcar as a viable and valuable transit option creating a more connected city," said Mayor Barrett. "These coupon books are our way of saying 'thank you!' to the riders who have made the system so successful and a great way for us to strengthen our partnerships with many of the great businesses along the route that contribute to the vibrancy of our city."
The total passenger ridership stood at 967,257 at the beginning of this month. The system was projected to welcome its 1,000,000th rider on Friday, February 21. The Hop partnered with a variety of downtown businesses on or near the route to produce and distribute a free "Thanks A Million" coupon books, which collectively contained over $1,000,000 worth of deals.
Each of the 5,000 coupon books contained over $200 in value from supporting partners that included Brew City Brand, Brunch, Eleven Pilates Studio, Freshii, Geromove Physical Therapy, Grohmann Museum, iPrint, My Office, Oak & Shield Gaming Pub, P'Dia, Planet Bead, Powers Jewelry, The Spice House, Ticket King, Urban Milwaukee: The Store, Wahlburgers, The Wicked Hop, and Zoup.