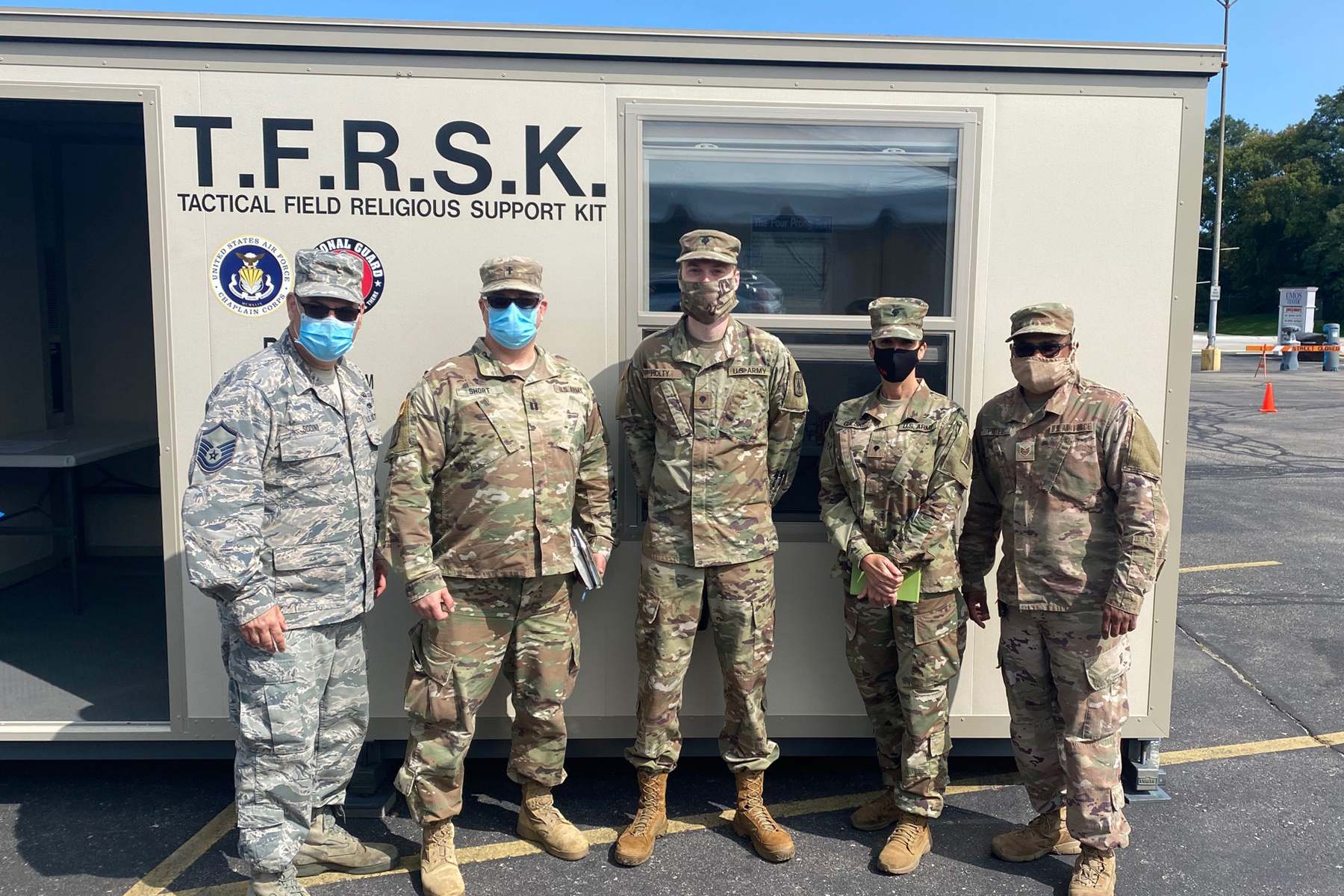 For the past year, the Wisconsin National Guard has found new ways to apply its assets and capabilities to support Wisconsin's response effort to the COVID-19 pandemic. Along the way, Guard members also found challenges to overcome.
Tech. Sgt. Tyler Schmitz, a command and control battle management operator with the 128th Air Control Squadron at Volk Field has been supporting the state's COVID response effort since May 1 last year. He serves in the role of a mobile vaccination team leader, but previously he worked with the mobile specimen collection teams.
"I think the biggest change is just the morale," Schmitz said. "The swab teams, just swabbing people, nobody wanted to be there. Like, none of the people wanted to really be swabbed."
"Swabbing" refers to the technique of using a long cotton swab to collect a specimen from the back of a person's throat, usually through the nasal passages. In addition to the minor discomfort the process could cause, and the potential apprehension of the people being tested, much of the specimen collection took place outside. Guard members would work for hours subject to whatever weather conditions were occurring. Even though the work was important to the response effort, it could tax Guard members' morale.
Wisconsin National Guard chaplains have been hard at work alongside the troops helping to keep spirits up. For several weeks last year, for example, Guard members from the chaplain's office at the 128th Air Refueling Wing did their best to improve the morale of their fellow Soldiers and Airmen working at the specimen collection site at the United Migrant Opportunity Services (UMOS) center in Milwaukee. Part of this effort was to set up the Tactical Field Religious Support Kit, or TFRSK.
"It is used as a respite center for any type of FEMA emergency," said Master Sgt. Peter Sodini, religious affairs noncommissioned officer with the 128th Air Refueling Wing. "It can be used in multiple ways, but the main intent is respite for people who are responding for a state mission, anybody responding to a state emergency or catastrophe … it can be used in war, too."
The TFRSK is a three-room mobile facility with heat and air conditioning, and a generator which not only powers the TFRSK but can support other equipment.
"Since we were there, we were able to support the electric coolers that held the samples," Sodini said. "We provided power to the equipment liaison on those sites so he can run his computer and provide reports to the task force. We were also able to provide a private space for the officer in charge and noncommissioned officer in charge so they could conduct their business as well as have power to produce their reports."
Guard members could recharge their phones in the TFRSK, and also use the facility to access the Defense Department network used to process travel expenses. The TFRSK also had a microwave oven, which allowed Guard members to reheat coffee or heat up their lunches. One of the simplest benefits of the TFRSK was also one of the strongest — simply providing a respite from the outside conditions. Another strong benefit was that it was manned by the chaplain corps.
"It provides an opportunity for us to help in terms of de-stress," Sodini said. "We can see if someone is in stress or crisis and visit with them." He added that sometimes the chaplain corps would finish the shift of a Guard member not having a good day. We exhibit servant leadership. The most important thing is to provide hope and encouragement so the service members can sustain the mission. We're here for everybody's spiritual welfare, but if we can help anyone in any way to make their life easier that's a win, too."
Tech. Sgt. Gauthambi Patel, a chaplain's assistant with the 128th Air Refueling Wing, said being there allowed them to address not just spiritual or emotional needs, but physical needs as well. For example, after noticing that many Guard members were ordering delivery food for lunch, Patel and Sodini fired up a grill and made food.
"If I only see them once in a while, I can't gain their trust," Patel said. "If I'm there side by side, I know them, talk to them every day. They get to know us and we get to know them — then they finally open up and talk to us. That's where we can bridge the gap and tell them what the chaplain corps does."
Spc. Daniel Rowley, who was assigned to the UMOS specimen collection site since it opened, appreciated the presence of the TFRSK and the chaplain corps. Before the site consolidated into a single Milwaukee testing site, the UMOS site tested thousands of people each day at its peak.
"They bring an energy and an attitude that lifts everybody's spirits," Rowley said. "Every day they come in, they know everybody by name, they're ready to help people — it starts off your day on a good note. We're happy to get a fresh burger and brat off the grill. We're happy to talk with somebody who's happy to be here."
"As part of a traveling team, I had gone to other sites," Sondini said. "UMOS had a great setup, but I knew in the winter these guys were going to be freezing." So he informed the officer of the availability of the TFRSK.
The 128th Air Refueling Wing was initially one of only two National Guard units to field the TFRSK, though it is now available in other states.
"We're kind of considered subject matter experts for the National Guard for that asset," Sondini said. "We wrote a manual on how to set it up and tear it down."
Once the specimen collection moved from UMOS to American Family Field — formerly known as Miller Park — the TFRSK returned to the 128th Air Refueling Wing. Bob Fiksch, a representative from the city of Milwaukee's health department, said the TFRSK was helpful at the UMOS site.
"From my viewpoint, everything has been working beautifully," Fiksch said. "From the business side, it gives them a place to do this where they can interact with people and have a little privacy. That's the critical thing."
Vaughn R. Larson, with Katie Theusch
The
Milwaukee Independent
began reporting on what was then referred to as the mysterious "Wuhan Virus" in January 2020. Other local media did not picked-up on the story until many weeks later. Our early features focused on the economic impact, social issues, and health concerns long before other Milwaukee news organizations even mentioned the coronavirus. Over the following year, we have published hundreds of articles about the pandemic and how it has affected the lives of Milwaukee residents. This extensive body of work can be found on our
COVID-19 Special Report
page, a chronological index of links by month. Our editorial voice remains dedicated to informing the public about this health crisis for as long as it persists.
For medical resources, please visit the
CDC's COVID-19 page
or the
Wisconsin Department of Health Services
. All editorial content published by
Milwaukee Independent
can be found at
mkeind.com/COVID19
. With a mission of transformative journalism, our staff is free from commercial bias and are not influenced by corporate interests, political affiliations, or a public preferences that rewards clicks with revenue. As an influential publication that provides Milwaukee with quality journalism, our award-winning photojournalism and features have helped to achieve a range of positive social impact that enriches our community. Please join our effort by entrusting us with your contribution. Your Support Matters -
Donate Now