A Spiritual Journey: Milwaukee women celebrate Black freedom on Juneteenth Day with Emancipation protest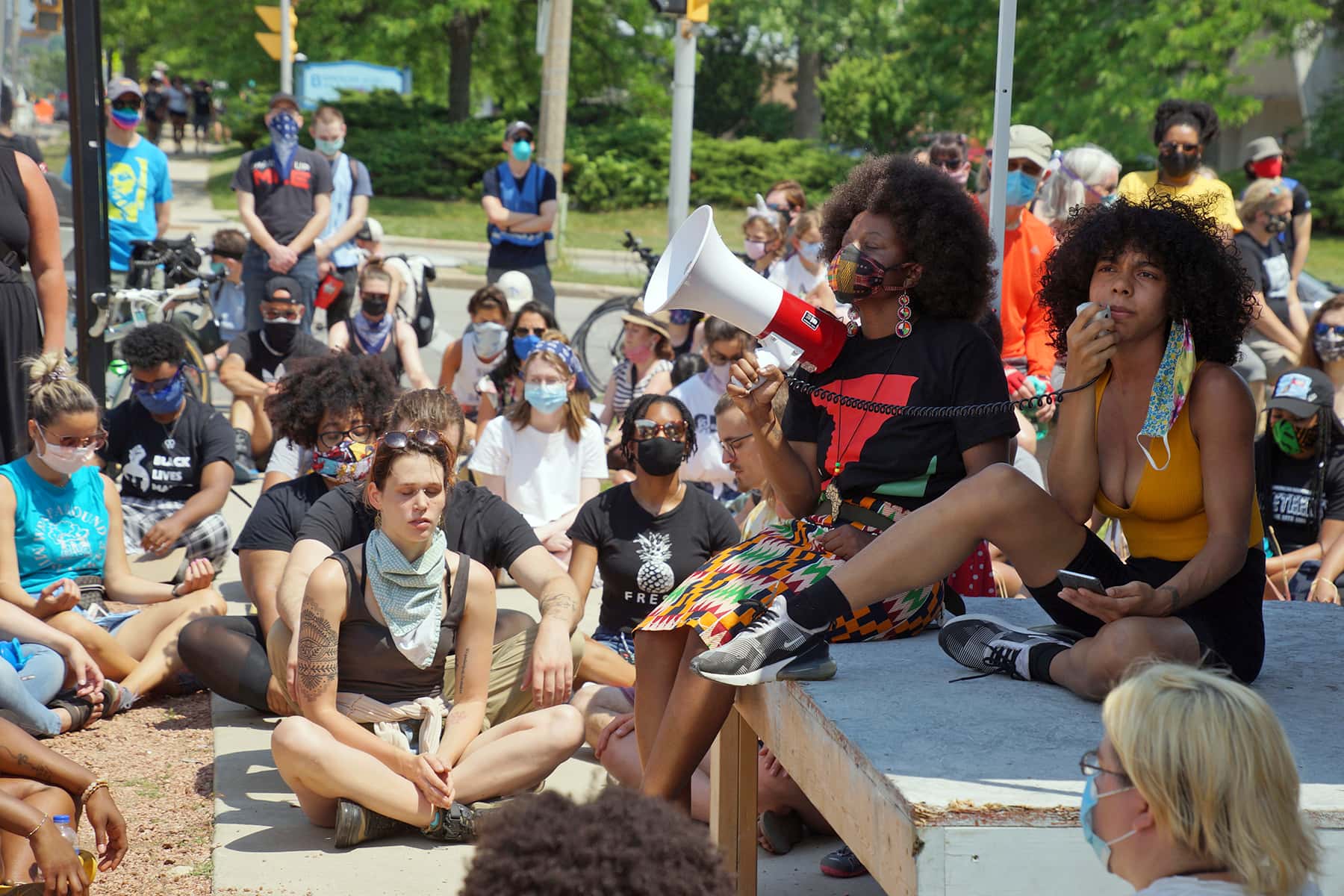 The local community group Renaissance Bxtches helped organize a "BLACK WMNZ Emancipation Protest" and Juneteenth block party in Milwaukee on June 19, to celebrate the anniversary of the end of slavery and call for the fulfillment of the 155 year old promise of racial equality.
Known as Juneteenth, Emancipation Day, or Black Independence Day, June 19 has a long history of celebrating freedom, Black ancestry, Black resilience, and the fight against racial injustice. Milwaukee has the distinction of hosting one of the oldest and largest Juneteenth celebrations in the country, and was the first northern city to hold official festivities in 1971.
Due to the COVID-19 pandemic this year, which has had a disproportionate impact on the health and financial stability of Black residents, the traditional parade and street market on MLK Drive was cancelled for 2020.
In observance of the Emancipation Proclamation, the BLACK WMNZ Emancipation Protest celebrated several mothers of the freedom movement. The event was a collaboration between Kamila Ahmed, Noga Salomon, Lashawndra Vernon, Connie Sille, Desi Roberts, Cree Myles, Jaqui Tavares, Elle Halo, Vanessa Johnson, Lauren B., Marie Kelly, Sasha Leona, Venice Willams, Angela Mallet, Antonia Drew Vann, Joanna Sabir, Dayzhane Anderson, U.S. Congresswoman Gwen Moore, and Milwaukee Alderwoman Milele Coggs.
Led by Ahmed, the march took place on the 22nd consecutive day of peaceful protests in Milwaukee against police brutality. The rally also had a special focus to call attention to the injustices that Black women, trans women, and non-binary women face because of racism.
Starting at the Sojourner Family Peace Center in honor of Sojourner Truth, a Black female activist and abolitionist, the march was designed to uplift Black lives, Black culture, and Black history – but it was also as a spiritual journey to connect with Black ancestors.
Demonstrators marched on Vel Phillips Drive to honor Milwaukee's first Black Alderwoman who fought for open housing during the Civil Rights era, then down Brown Street to follow in the steps of Caroline Quarlls. Quarlls was a Black woman who passed as white, and was the first enslaved person to travel through Wisconsin using the Underground Railroad. The march route followed her path to the old Samuel Brown Farm in Milwaukee, which served as a stop on that journey. The final destination was Alice's Garden, home to community and spiritual leader Venice Williams.
U.S. General Gordon Granger entered Galveston, Texas, on June 19, 1865 to announce the defeat of the Confederacy. The news that Black people could not be owned as property came more than two years after President Abraham Lincoln issued his Emancipation Proclamation. The question regarding if white America has fully delivered its promise of freedom still echoes 155 years after Granger's announcement, as nationwide protests continue daily against systematic racism in the wake of the May 25 police killing of George Floyd.