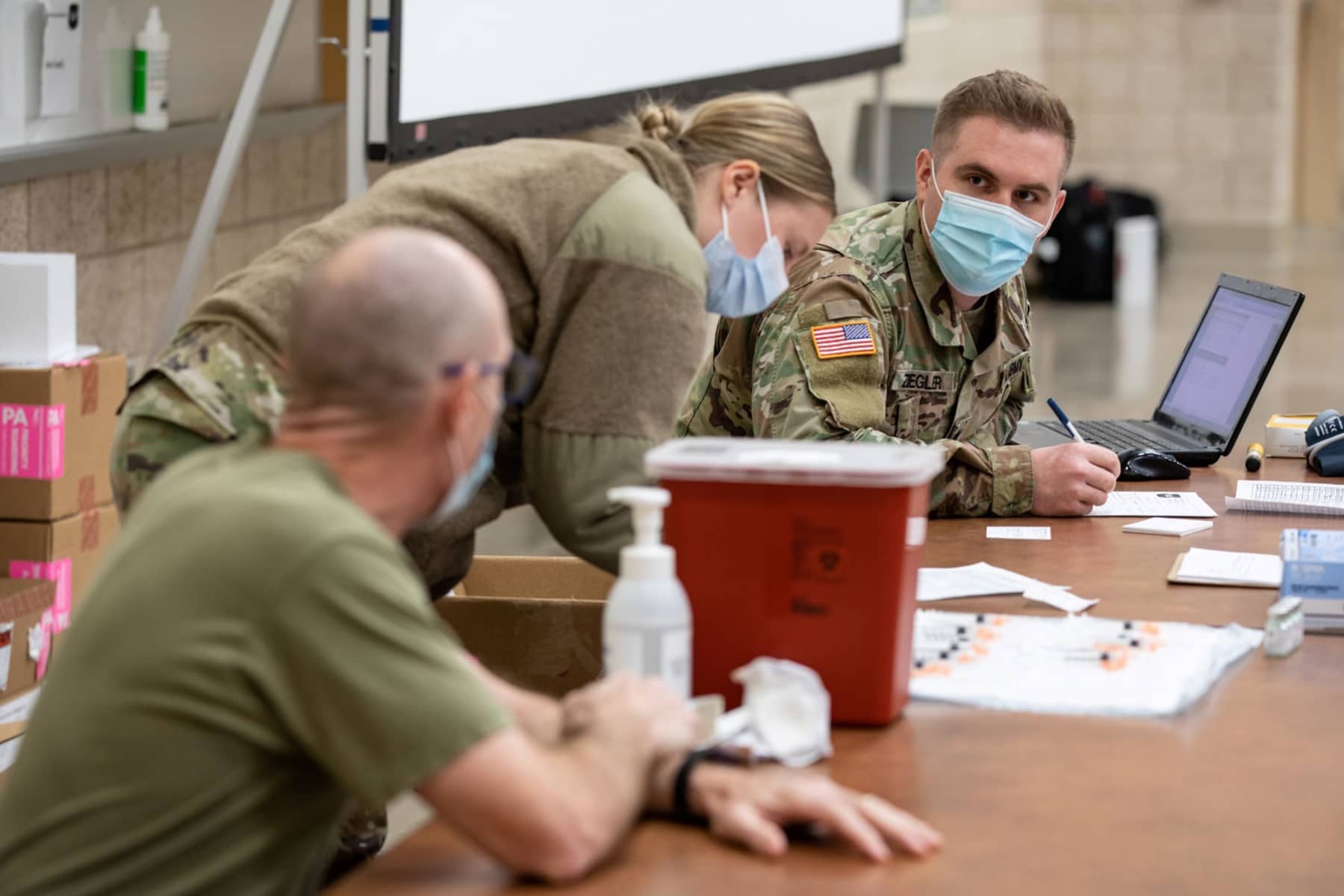 When Amanda Hierstetter of Prairie du Chien enlisted in the Wisconsin National Guard in February 2021, she was not expecting to find a career that she loved.
But after completing a certified nursing assistant training program through the Guard, she wants to continue in that line of work, maybe eventually becoming a nurse.
"It was life-changing," she said. "It didn't feel like a job to me, it actually felt natural, like this is where I was supposed to be."
Earlier this year, Gov. Tony Evers announced an effort for the Wisconsin National Guard to support Wisconsin's hospitals and nursing homes by training Guard members as certified nursing assistants.
Now, more than 160 Guard members have graduated from the two-week training program facilitated by Madison College and Bellin College, with another 64 expected to graduate later this month.
The CNA program helped open up 268 post-acute care beds at nursing homes and hospitals across the state, according to Deb Standridge, deputy secretary of the Wisconsin Department of Health Services.
With the mission now winding down, many of the Guard members who took part in the training will be transitioning back to part-time National Guard status or re-entering the civilian workforce, according to a statement from Major Joe Trovato, a spokesperson for the Guard.
The Wisconsin National Guard held a career fair in Madison on May 4 with dozens of employers present, many from the health care field.
Kelton Heinemann of Sun Prairie enlisted in the Guard in 2013, and never expected to be doing health care work, he said.
"I joined for aviation reasons, so I could fly," he said.
Heinemann went through an early-stage version of the CNA training program last November. Since then, he has worked his way up, starting at the Wisconsin Veterans Home at King in Waupaca and now managing about 60 people at three different sites. Although he had worked on medevac flights in the past, he had never done hands-on health care work before, he said.
Now, Heinemann is thinking about getting a master's degree or a civilian job in some sort of leadership role. But, he says the perspective he gained through the CNA program will stick with him.
"It helps you understand some of the tougher manual jobs out there and gives you a perspective on being a unit and working towards goals," he said.
In addition to the CNA program, Wisconsin National Guard members have administered more than 230,000 COVID-19 vaccines and more than 1.2 million COVID-19 tests since the pandemic began.
Donate: Wisconsin Public Radio