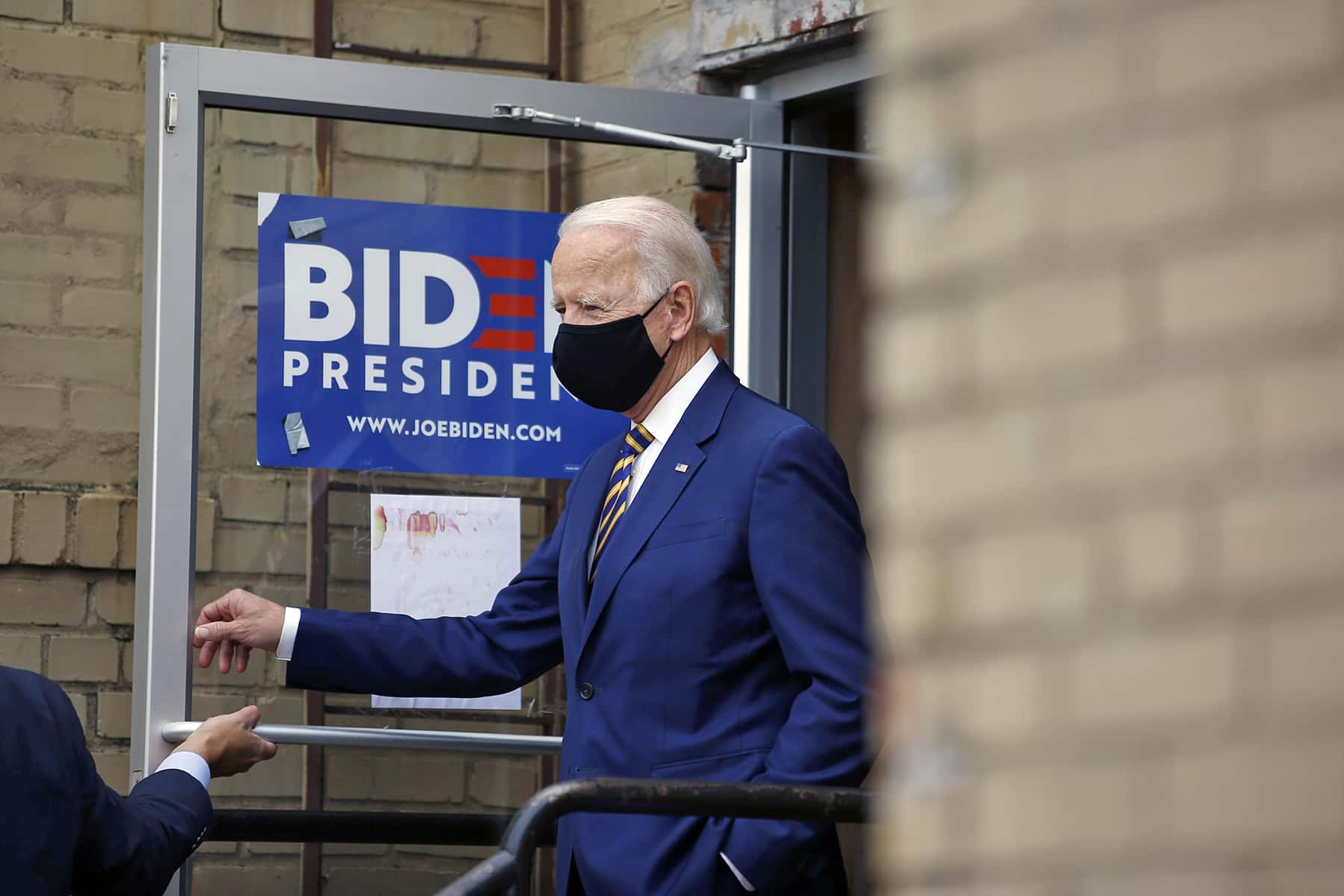 Democrats will hold an almost entirely virtual presidential nominating convention August 17 to 20 in Milwaukee using live broadcasts and online streaming, party officials said on June 24.
Joe Biden plans to accept the presidential nomination in person, but it remains unknown whether there will be a significant in-person audience there to see it. The Democratic National Committee said in a statement that official business, including the votes to nominate Biden and his yet-to-be-named running mate, will take place virtually, with delegates being asked not to travel to Milwaukee.
The DNCC reiterated the Democratic Party's commitment to holding a convention that would protect public health while transforming the convention experience for delegates and viewers. Convention planners said that host city Milwaukee would anchor the events for the week, and that programming would include both live broadcasts and curated content from Milwaukee and other satellite cities, locations and landmarks across the country.
"Vice President Biden intends to proudly accept his party's nomination in Milwaukee and take the next step forward towards making Donald Trump a one-term president," said Jen O'Malley Dillon, Campaign Manager, Biden for President. "The city of Milwaukee has been an incredible partner and we are committed to highlighting Wisconsin as a key battleground state at our convention this August. This will be a convention for all Americans who wish to join our mission to win the battle for the soul of this nation and build a fairer, more united country for us all."
It is the latest sign of how much the COVID-19 pandemic has upended American life and the 2020 presidential election, leading Biden and the party to abandon the usual trappings of an event that draws tens of thousands of people to the host city to mark the start of the general election campaign. Not even during the Civil War or World War II did the two major parties abandon in-person conventions with crowded arenas.
Party Chairman Tom Perez said scaling back Democrats' festivities is a matter of public health. He sought to draw a contrast with Trump's push for a traditional convention in North Carolina, clashing with the state's Democratic governor, Roy Cooper, and public health officials over the details amid the pandemic.
"Unlike this president, Joe Biden and Democrats are committed to protecting the health and safety of the American people," Perez said.
Democrats had offered strong signals before the June 24 announcement that they would curtail convention activities, including when Perez pushed back the original convention dates in mid-July. Besides events in Wisconsin, Democrats plan other events in satellite locations around the country to broadcast as part of the convention.
A process is being developed to ensure all delegates can cast their votes on all convention matters, including the presidential nomination, remotely during the convention. DNC standing committee meetings will take place virtually as well, with the meetings tentatively set for the last week of July.
The new details were released the same day that Biden's team announced its leadership team in Wisconsin, one of three key states that helped propel Trump to an Electoral College victory four years ago. He won Wisconsin by fewer than 23,000 votes — less than 1 percentage point.
Convention planners are also developing new ways to organize and engage online with more voters than ever before during this critical election year. Later this week, convention organizers will launch the first of a series of engagement campaigns that will allow Americans across the country to share their ideas and add their voice to convention programming.
At the convention, Democrats will officially nominate Vice President Joe Biden as the Democratic nominee for president. Through multiple formats and mediums, it will also celebrate the promise of America by featuring the people and their stories that represent the strength and collective humanity of our nation and demonstrate that Vice President Biden is the leader the country needs right now — with the experience, steady hand, and compassion to lead us out of the crisis of the last four years, and strengthen our nation for all Americans.
"Leadership means being able to adapt to any situation," added Perez. "That's exactly what we've done with our convention. Unlike this president, Joe Biden and Democrats are committed to protecting the health and safety of the American people. I couldn't be prouder of the way our team has organized and mobilized to get out the vote and ensure a successful convention anchored in Wisconsin, and I'm grateful for the extraordinary leadership of our partners in the city of Milwaukee. Donald Trump's days in the Oval Office are numbered."
With fewer people gathering in person at this year's event, convention planners are modifying the convention campus. All convention proceedings will move from Fiserv Forum to the Wisconsin Center, the convention center located in downtown Milwaukee. Specifics regarding delegation representation on the convention floor will be provided after public health officials complete their assessment of the trajectory and impact of the coronavirus pandemic and determine how many people can safely gather in person later this summer.
Previous conventions have included several large-scale events attended by thousands of people, such as a welcome reception for media and delegates as well as an event for volunteers. In keeping with the commitment to deliver a convention that poses no unnecessary risk to public health, convention organizers will no longer proceed with hosting these in-person parties.
"Everything is on the line this November, which is why we must find creative and forward-looking ways to organize, mobilize, and unite our party around our shared values at the convention so that we can launch Joe Biden to victory this fall," said Joe Solmonese, CEO of the Democratic National Convention.
As convention planners continue to monitor the coronavirus health crisis and its impact across the nation, they will continue to examine all options for the success of the convention that ensure the safety of any participants and the host city.
The Republican National Committee has confirmed its official business will be conducted in Charlotte. But Trump has said he plans to accept his nomination in Jacksonville, Florida, because Cooper would not guarantee Republicans the ability to host a large-scale event in Charlotte's NBA arena.
The
Milwaukee Independent
began reporting on what was then referred to as the mysterious "Wuhan Virus" in January 2020. Other local media did not picked-up on the story until many weeks later. Our early features focused on the economic impact, social issues, and health concerns long before other Milwaukee news organizations even mentioned the coronavirus. Over the following year, we have published hundreds of articles about the pandemic and how it has affected the lives of Milwaukee residents. This extensive body of work can be found on our
COVID-19 Special Report
page, a chronological index of links by month. Our editorial voice remains dedicated to informing the public about this health crisis for as long as it persists.
For medical resources, please visit the
CDC's COVID-19 page
or the
Wisconsin Department of Health Services
. All editorial content published by
Milwaukee Independent
can be found at
mkeind.com/COVID19
. With a mission of transformative journalism, our staff is free from commercial bias and are not influenced by corporate interests, political affiliations, or a public preferences that rewards clicks with revenue. As an influential publication that provides Milwaukee with quality journalism, our award-winning photojournalism and features have helped to achieve a range of positive social impact that enriches our community. Please join our effort by entrusting us with your contribution. Your Support Matters -
Donate Now