Community stakeholders hold voting rallies to "Light Up" Milwaukee and cause "Good Trouble"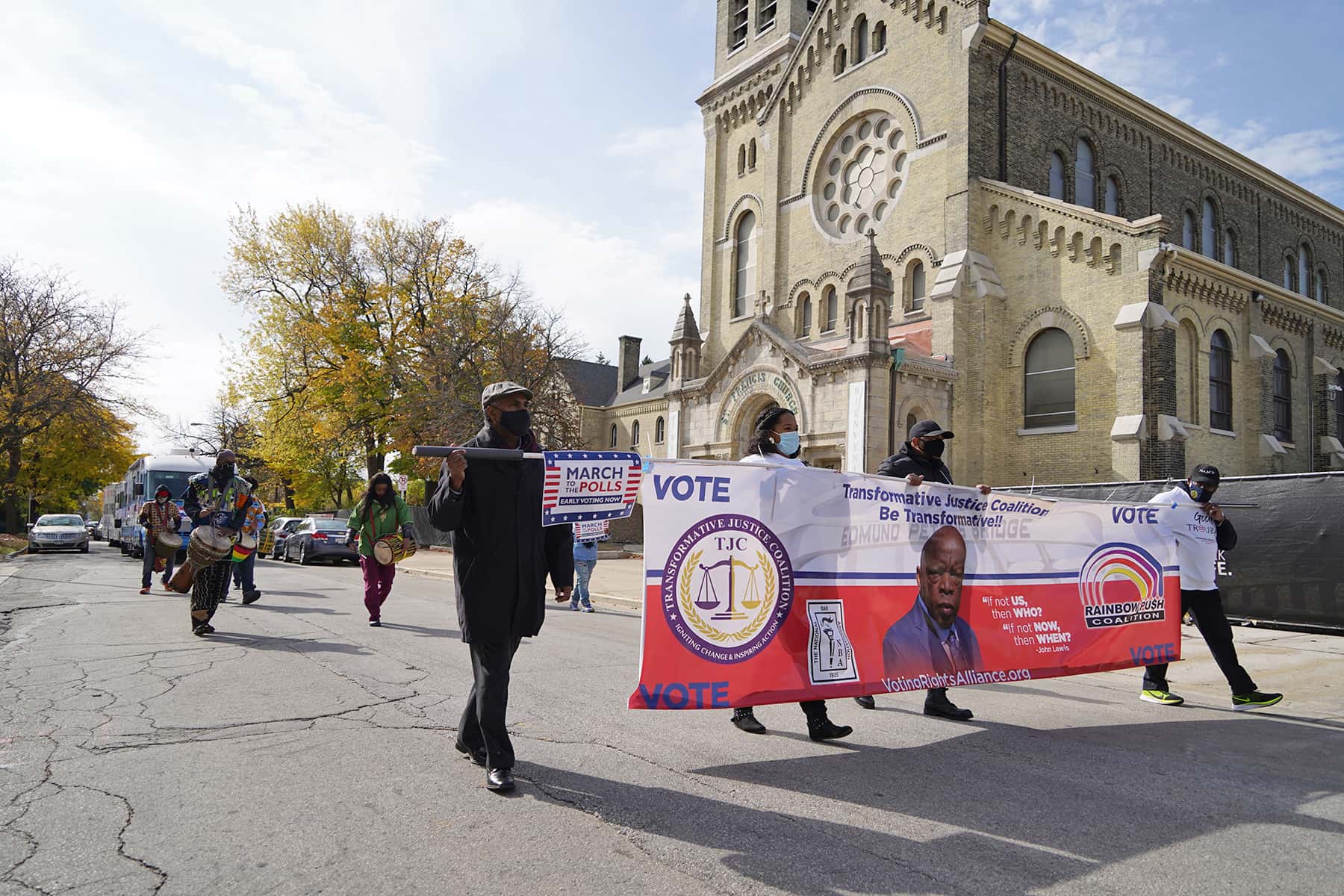 Baptist Ministers, Buddhist priests, Mexican immigrants, leaders from the Hmong, Jewish, Muslim and Hindu communities, as well as unions and youth groups, came together on October 19 to light up Milwaukee and mobilize city residents for early voting.
The candlelight rally included speakers from diverse partners, united in the commitment to bring every eligible voter to the polls. The event followed strict COVID-19 prevention protocols, providing masks and markers for social distancing.
"This election is a matter of life and death to all of our people. Early voting is a safe and secure way to make sure our voices are heard in deciding who will lead our country in this time of crisis," said Rev. Greg Lewis, Associate Pastor at St. Gabriel's Baptist Church and Director of Souls to the Polls.
The start of in-person early voting in Wisconsin began on October 20 and runs through November 1. There are 14 early voting sites in Milwaukee this year, and polling hours differ by location.
"We are all apart of a human community that is being torn apart by hate and conflict. This event is a tribute to our unity around the democratic principle of universal voting rights to choose our leaders," said Pardeep Kaleka, Executive Director of the Interfaith Conference of Greater Milwaukee
The rally was followed by a motorcade and march from Milwaukee's Martin Luther King Statute on MLK Drive an early voting site at the Bernice Rose Center on October 20.
The second event was designed to restore African American voter turnout to the historic highs of 2008 and 2012 levels. Voter education, voter awareness, and voter mobilization are foundational to an unprecedented level of voter participation in Milwaukee.
The John Lewis "Good Trouble" Voter Awareness March was organized by the Transformative Justice Coalition, Rainbow PUSH Coalition, and Milwaukee community leaders.
In the 1970s, John Lewis led the Voter Education Project, traveling throughout the South to register Black voters and help elect Black officials to office for the first time since Reconstruction.
"Hands that pick cotton now can pick our public officials," was the group's slogan. It was in his spirit and in honor of his legacy that participants gathered on the first day of early voting.
A coalition of local and national Black leaders, including the Rev. Jesse Jackson and Justin Blake, the uncle of Jacob Blake who was shot by Kenosha police in August, began a 33-mile march early on October 20 from Kenosha to Milwaukee. The rally was to mark the first day of early voting along with calls for justice against police violence.