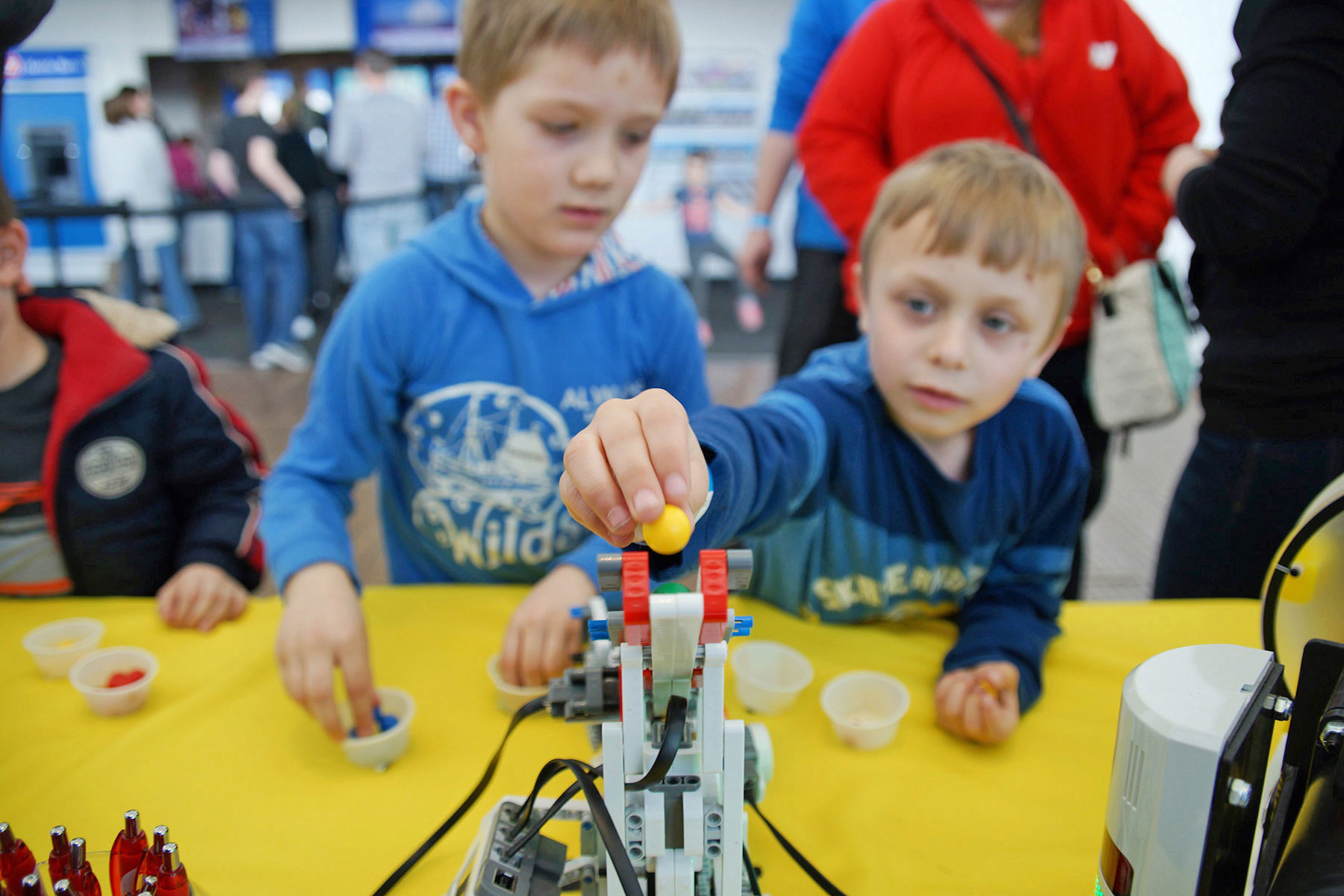 Coinciding with Spring Break for many area schools, Discover World participated in the National Robotics Week by hosting a four day technology festival from March 28 to 31.
The week of events featured robots of all shapes, sizes, and uses with a chance to meet their makers. Local FIRST Robotics Teams showcased their engineering skills along with robots built for competition, industry, and entertainment. Robots operated on the promenade all week, along with educational labs that were filled with students.
Rockwell Automation sponsored Robotics Week as part of the company's commitment to developing STEM (Science, Technology, Engineering, and Math) education, careers, and future leaders in the community. Jay Flores, Global STEM Ambassador for Rockwell Automation, spent opening day of Robotics Week working with young boys and girls, inspiring them to think about a future in STEM.
"When I was growing up in Milwaukee I didn't really know what an engineer was. But my teachers kept telling me, since I was good at math and science and I enjoyed it, I might be a good engineer," said Flores. "I'm very excited about how connected kids are to technology nowadays, so I encourage parents to get kids interested in technology and help them understand that they can be part of creating it."
Nearly one hundred 3rd to 8th grade students spent the week gaining skills in areas like industrial design, freshwater science, or adhesive chemistry. More than 2/3 of them were from partner programs at Milwaukee Public Schools, giving the students new skills during the time off from classes.
"It is very challenging to convince students that manufacturing is the most exciting thing in the world, and how they can make a career out of those skills," said Flores. "We're doing more to make sure that kids are getting excited about engineering, so they're aware of the opportunities and how their math and science classes can connect to real life applications."
Teams from FIRST Robotics shared their automated mechanical creations, and provided the young visitors with mentors, equipment, and tools to create a robot for a specific task. The students then mixed ingenuity and innovation with hard work to come up with a robot that could compete in local and potentially national contests.
Other technology participants included remote-controlled meeperBOTS, demonstrations from Lego Mindstorms, modular cube-shaped robots from Cubelets, and hands-on projects with Maker Faire Milwaukee.
"No matter what a kid is passionate about, if they can find understanding behind uses for STEM – whether it's serial, or candy, or cars, or space – they can have a very rewarding careers and have a whole lot of fun along the way," added Flores.