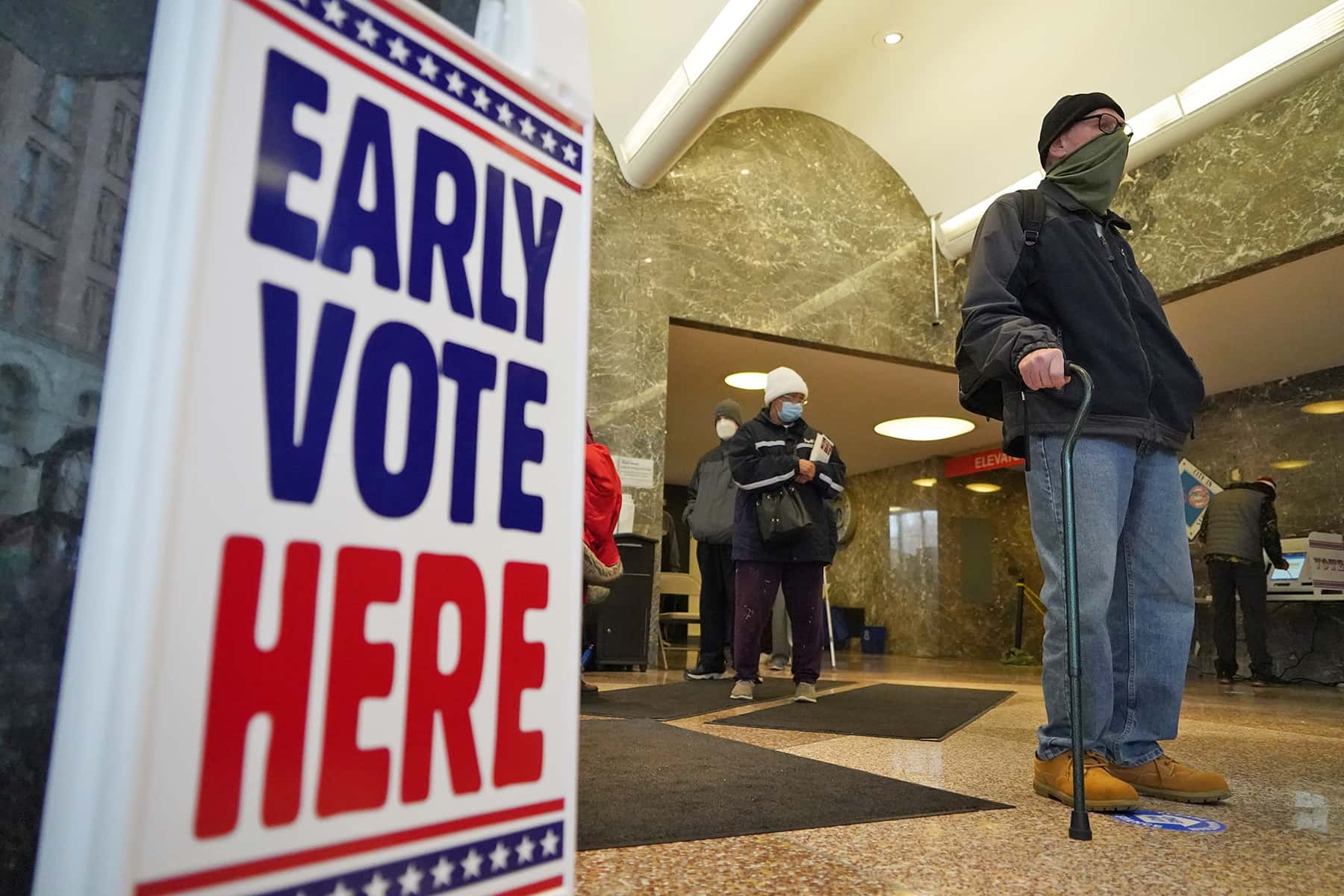 Across Wisconsin on October 20 residents lined up to cast their ballots on the first day of early in-person voting in the presidential battleground state, marking the beginning of the final push to Election Day in two weeks.
With the coronavirus surging in Wisconsin, many people have been seeking alternate ways to vote than having to deal with crowded polling stations on November 3. As of October 20, more than 915,000 voters had returned absentee ballots. That was 30% of the total votes cast in the 2016 presidential election.
In-person absentee voting runs until Sunday, November 1. The City of Milwaukee has expanded its early voting locations from three sites in 2016 to 14 sites this year. Milwaukee's early voting schedule offers 1,092 hours of operations over the course of the next 12 days.
All early voting sites will practice physical distancing, require mask compliance and practice frequent disinfection. The measures were put into place so that voters could feel confident that they will have a safe and healthy early voting experience.
Mayor Barrett, Election Commission Executive Director Claire Woodall-Vogg and Common Council President Cavalier Johnson also highlighted the importance of early voting in the 2020 presidential election.
"We are working hard to make sure that people exercise their fundamental right to be involved in our democracy," said Mayor Tom Barrett. "We have twin objectives: we want to have an election that is beyond reproach in terms of the integrity of the election, but we also want all the individuals who are standing in line to vote to be safe. We want this to be an election where people will look at the results of the election, not how the election is conducted."
Early voting provides access to voting for citizens that have historically been presented with barriers to casting a ballot: working families, individuals with multiple jobs, students, parents with limited childcare and seniors with limited transportation.
The pandemic has created even more challenges for voters who are experiencing economic hardships, instability and uncertainty. The City of Milwaukee is taking the unprecedented step to expand early voting sites and provide evening and weekend hours despite the pandemic to provide fair access to voting for all residents.
"We encourage residents, whether you are voting by mail, early in-person or on Election Day, make sure that you have a plan to vote. Make sure that you have a plan for your voice to be heard in this critical election," said Common Council President Cavalier Johnson.
Voters must bring a photo ID with them to their early voting location. Important to note, the ID does not need to have a current address. If a voter would like to make an address change, they have until October 30 to early vote. Voters who are worried about voting early in-person still have the option to request an absentee ballot by mail.
"We've had over a third of our registered voters request absentee ballots by mail, which I think is a very promising statistic, but until early voting gets underway we won't have a clear idea of whether we will start to break records like we are seeing in other states with voter turnout," said Election Commission Executive Director Claire Woodall-Vogg, "I'm very hopeful. Our registration statistics in the month of September were just overwhelming: We had over 38,000 registrations submitted after we sent out a SafeVote postcard with the Common Council to encourage voters to register in advance."
Early voting sites were selected based on geographic diversity and include Midtown, the Zeidler Municipal Building, eight neighborhood libraries and new additions such as the Clinton Rose Senior Center and Cannon Park Pavilion. Voters are encouraged to visit the myvote.wi.gov for more information.
The
Milwaukee Independent
began reporting on what was then referred to as the mysterious "Wuhan Virus" in January 2020. Other local media did not picked-up on the story until many weeks later. Our early features focused on the economic impact, social issues, and health concerns long before other Milwaukee news organizations even mentioned the coronavirus. Over the following year, we have published hundreds of articles about the pandemic and how it has affected the lives of Milwaukee residents. This extensive body of work can be found on our
COVID-19 Special Report
page, a chronological index of links by month. Our editorial voice remains dedicated to informing the public about this health crisis for as long as it persists.
For medical resources, please visit the
CDC's COVID-19 page
or the
Wisconsin Department of Health Services
. All editorial content published by
Milwaukee Independent
can be found at
mkeind.com/COVID19
. With a mission of transformative journalism, our staff is free from commercial bias and are not influenced by corporate interests, political affiliations, or a public preferences that rewards clicks with revenue. As an influential publication that provides Milwaukee with quality journalism, our award-winning photojournalism and features have helped to achieve a range of positive social impact that enriches our community. Please join our effort by entrusting us with your contribution. Your Support Matters -
Donate Now