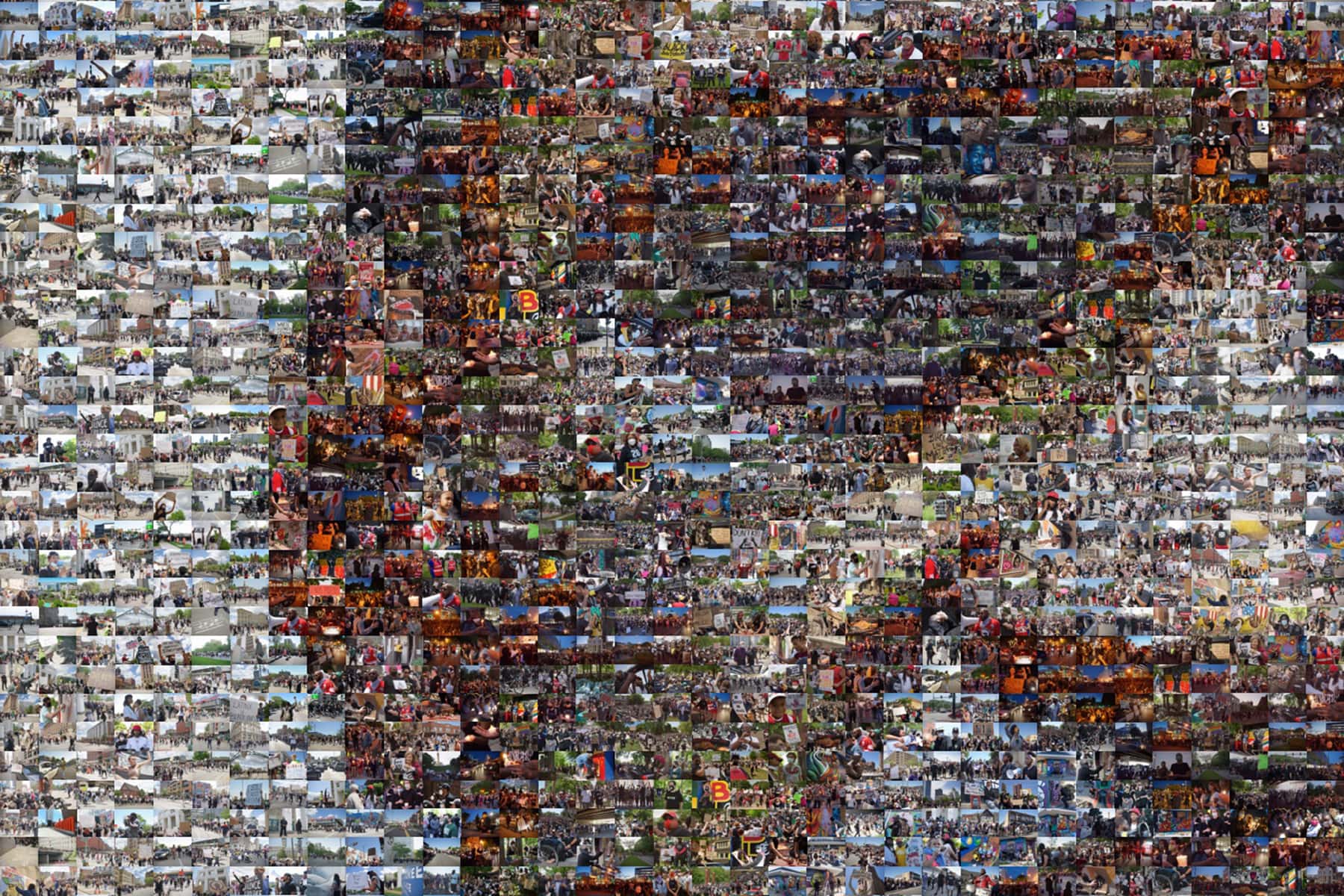 As community murals get installed in Milwaukee to honor Civil Rights leaders and people of color who have been killed by police, social media platforms have been flooded with livestream videos from protest marches and pictures documenting nearly a month of demonstrations.
These moments from local street protests, chronicled in powerful still images, flow in a linear stream each day from numerous sources like an online river. The illustrated portrait of George Floyd, who was killed by Minneapolis police, has become the memorable and historic icon of a movement seeking reforms to law enforcement and racial justice for people of color.
With the idea of producing an artistic statement to honor George Floyd and by gathering together elements from the historic visual record, the Milwaukee Independent compiled 1,966 of its published editorial images taken over 16 days to create a photographic mosaic. The work weaves a pictorial history into the latest face to represent the Black Lives Matter movement.
It is presented here as a public tribute to the dedication of so many, representing different spectrums of the community, who came together in a voice of unity. Perhaps it can be an inspiration for the future, from a city long condemned for its racial divisions.






In memory of George Perry Floyd Jr. (October 14, 1973 – May 25, 2020)
This mosaic used images taken by 5 photojournalists from 12 editorial photo essays published between May 29 and June 8, based on artwork created by Lukas Carlson.
© Photo
Lee Matz, Claudio Martinez, Joe Brusky, Dominic Inouye, and Dan Barrett
These headline links feature the daily news reports published by Milwaukee Independent about the George Floyd protests, the revival of the Black Lives Matter movement that followed, and their impact on the local community in for 8 months from May to December of 2020.