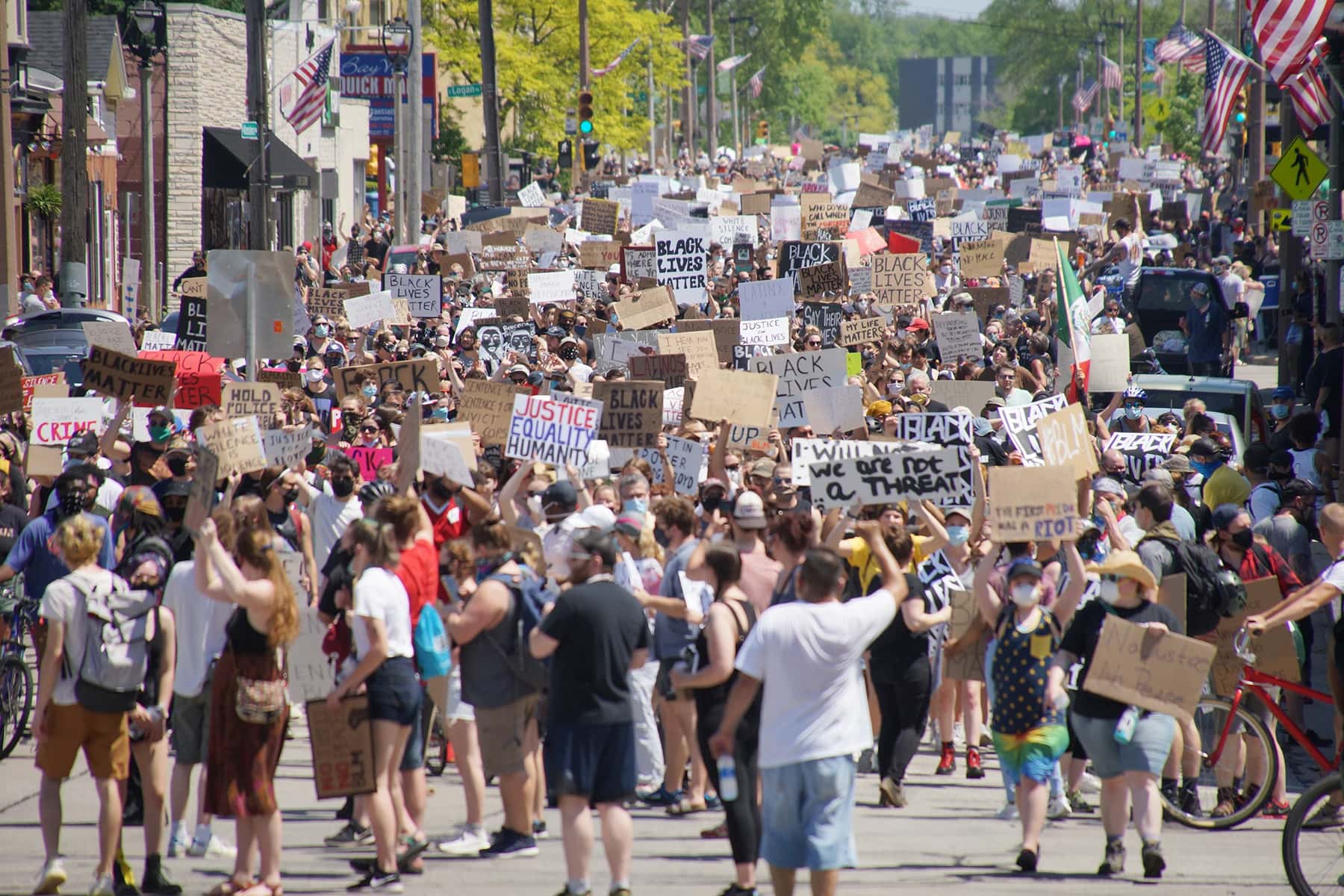 For a fifth day Black Lives Matter demonstrators marched in Milwaukee on Tuesday, June 2 demanding justice for George Floyd, a Minneapolis man killed by police while in custody, and Milwaukee resident Joel Acevedo, who died following a fight with an off-duty Milwaukee police officer.
Protests have been held nationwide and across Wisconsin, beginning Friday in Milwaukee and in Madison, Racine, Green Bay, Janesville, Eau Claire and other cities since May 29. While Floyd's death sparked the movement, organizers and participants said that centuries of systemic racism and continued instances of unarmed black people being harassed or victimized by law enforcement is what has prompted both sadness and outrage.
"Justice for George Floyd Peaceful Protest" lasted for hours, with marchers starting in Bay View's Humboldt Park then winding their way for several miles through the city's streets. The demonstration was reserved and peaceful until around 7:30 p.m. when police reportedly used tear gas and rubber bullets to disperse a crowd downtown.
Milwaukee Marchers Move Through The City
At 11:30 a.m. on June 2, a couple thousand demonstrators met at Humboldt Park in Milwaukee's predominately white Bay View neighborhood on the southeast side of the city for a "Justice for George Floyd Peaceful Protest." The group made signs until 1:00 p.m. when the speeches began, and the more than 6-mile march north to Milwaukee's Police Department headquarters building downtown kicked off.
Thousands joined in the march along the way, including Milwaukee Mayor Tom Barrett, which kept growing in size as people made their way closer to police headquarters.
"I think people are rightfully upset. I mean I'm rightfully upset at what I saw," said Mayor Barret.
People chanted several phrases including "No justice, no peace," "Say his name: George Floyd," and "Black Lives Matter," as they walked. Protesters have marched across the city for hours each of the last four days. The peaceful demonstrations have been unfairly blamed for incidents of looting and vandalism on multiple nights, which happened hours later and had no connection to the events.
Numerous supporters on the June 2 march were positioned along the route, cheering and handed out snacks and water. Hoses were even used to spray demonstrators in an effort to keep them cool on a day when the temperature hit 92° with humidity.
At about 2:45 p.m. the massive group arrived in Milwaukee's Walker's Point neighborhood, about 2 miles from police headquarters. There, people took a knee, chanting "George Floyd" and "Justice now." As they entered the Third Ward around 3:30 p.m., people chanted, "Hey, hey, ho, ho, Donald Trump has got to go."
By 3:45 p.m., thousands of protesters arrived outside Milwaukee City Hall, chanting "I want to go home," and holding signs that said "Black lives matter," "No justice, no peace," and "I can't breathe," Floyd's final words to the Minneapolis police officer before he died.
A little after 4:00 p.m. — after more than three hours of walking — protesters arrived at Milwaukee Police Department headquarters, where officers were waiting. The crowd chanted for the officers to join them to take a knee. Five white officers did, posing for photos with two women of color. Protesters chanted for the rest of the department to kneel, but other officers did not.
Nicole Amos, who has participated in all of the protests since Friday, said the kneeling officers were "performative."
"I've seen this in Minneapolis," she said. "They'll take a knee and the next minute they'll shoot teargas at someone. If they are out all day, cool. But taking a knee isn't really doing anything for us. I want them to realize they are participating in a system that is killing black people and that is killing our press people. Period."
Meanwhile during the afternoon, Mayor Barrett announced via press release there would not be a citywide curfew Tuesday night in Milwaukee.
"Last night we saw a notable reduction in illegal activity associated with public protests. I'm optimistic reduction will continue this evening," Barrett wrote. "At this time, I'm not ordering a curfew for tonight, June 2. However, if conditions warrant, I will, on short notice, institute one."
Shortly after 6:00 p.m. protesters marched onto the on-ramp of Interstate 794 and shut down the Hoan Bridge for a time as they returned to Bay View. What had been an uneventful and peacefyl march erupted in chaos at that time, as Milwaukee police deployed tear gas to push the protestors off the highway access.
One of the event organizers, Frank Nitty II, was livestreaming the confrontation. He was complying with Police instructions and walking away, while trying to diffuse the situation so marchers would join in leaving and not provoke a confrontation, when an officer tackled him to the ground without warning. The surprise blindsided aggression had been used on Milwaukee County Supervisor Ryan Clancy the previous night as he observed a Shorewood protest on behalf of his constituents.
Milwaukee County executive David Crowley thanked the protesters for making their voices heard, but local officials also asked them to be as careful as possible while exercising their Constitutional right to assemble in protest.
"While demonstration and expression and protest are a necessary and encouraged aspect of our democracy, it's as important as ever to be safe and mindful of our ongoing pandemic," said Dr. Ben Weston, director of medical services for the Milwaukee County Office of Emergency Management.
He said it was possible to protest safely by staying outside, continuously moving, wearing masks, and social distancing when possible.
In Milwaukee, nearly 1,000 people were tested for COVID-19 at community testing sites on June 1. Dr. Jeanette Kowalik, commissioner of the city's public health department, encouraged protesters to get tested at those sites if they start to feel sick, noting people of color have been disproportionately affected by the virus in Milwaukee County.
Donate: Wisconsin Public Radio
These headline links feature the daily news reports published by Milwaukee Independent about the George Floyd protests, the revival of the Black Lives Matter movement that followed, and their impact on the local community in for 8 months from May to December of 2020.