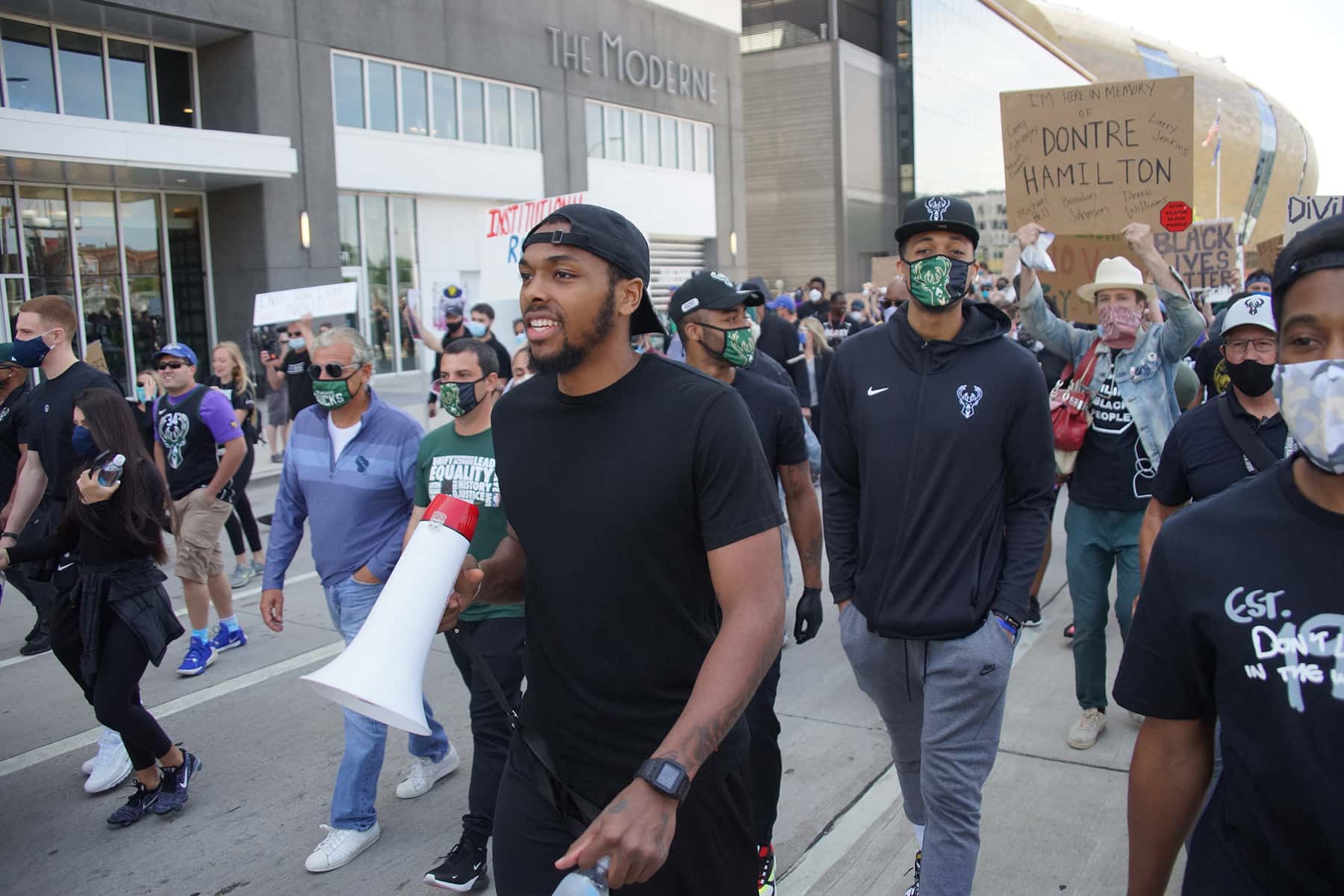 The Milwaukee Bucks basketball team held an "Undivided" public march in support of social justice on June 6, attracting an estimated 7,500 participants to the plaza in front of the Fiserv Forum before Sterling Brown led the group to Veterans Park. It was the second time in two days that players have spoken out against inequality and police brutality.
Bucks fans, and social justice advocates who have taken to the streets in protest for the ninth day in response to the death of George Floyd on May 25, attended the community event in a show of support for the Black Lives Matter movement.
"Y'all see how we're all here together, and we're here as one. We're making something great happen. We're making something positive happen that is heard around the world. You've got different countries coming together and fighting, and standing for something. As we march today, let's be loud, let's be heard, let's be known," Bucks guard Sterling Brown said to the massive crowd.
Before the 1.5 mile march kicked off from the intersection of Juneau and Vel R. Phillips Avenues, Brown led the crowd in 9 seconds of silence to honor George Floyd. Brown has a pending civil rights lawsuit against the City of Milwaukee from his encounter with police in which he was repeatedly tased.
On January 26, 2018, Brown was wrongfully arrested in a Walgreens parking lot on Milwaukee's predominately white eastside by a group of police officers. In what amounted to a black man being in a place where he was not welcome, the officers arrested Brown using excessive force to tackle him to the ground. The incident brought another round of national attention to how Milwaukee police target people of color.
As the crowd moved east on Juneau Avenue, then to the Milwaukee County War Memorial, and finally Veterans Park along the Lakefront, participants echoed the chants from days of previous marching that included "Black Lives Matter" and "No Justice, No Peace." Joining the demonstrators were also Bucks president Peter Feigin, co-owner Marc Lasry, senior vice president Alex Lasry, and many players.
"This is our city," Giannis Antetokounmpo said the previous day, while passing out water at a June 6 rally for George Floyd. "As players, we have to come out here and support. This is not about the Bucks, this is about the community. We want peace. We want justice. And that's why I'm marching."
Protesting along with U.S. Congresswoman Gwen Moore was Maria Hamilton, mother of Dontre Hamilton who was slain in a 2014 encounter with a Milwaukee police officer at Red Arrow Park downtown. Her other son, Nate Hamilton, also participated in the march and has been actively involved in the daily protests across the city. Photos of Police Chief Alfonso Morales speaking with Nate Hamilton at Veterans Park quickly appeared on social media. No details about the discussion were provided, but commentators noting the context of their meeting during the event. Soon afterwards, the crowd let Chief Morales know that he was not welcome at the event and he departed.
Activist Frank Nitty continued livestreaming his thoughts to the public during the march, and once it concluded he led the majority of the participants to continue the peaceful protest. The crowd headed east back into downtown and eventually intersected with another group on "Social Justice Sunday."
"Today in Milwaukee, my teammates, my community, and the incredible people of Milwaukee will march in protest of the murder of yet another unarmed Black person in America. Ahmaud Arbery, Breonna Taylor, and George Floyd are just the latest victims in a long, dark history of police brutality and racism in this country… To achieve justice we must use our voices to demand accountability from those sworn to protect us. We must use our platform to call out and dismantle systematic racism in this country. And in November, we must use our vote to remove those working against us." – Khris Middleton, All-Star forward via Twitter
© Photo
Lee Matz, Claudio Martinez, and Maria Hamilton
These headline links feature the daily news reports published by Milwaukee Independent about the George Floyd protests, the revival of the Black Lives Matter movement that followed, and their impact on the local community in for 8 months from May to December of 2020.