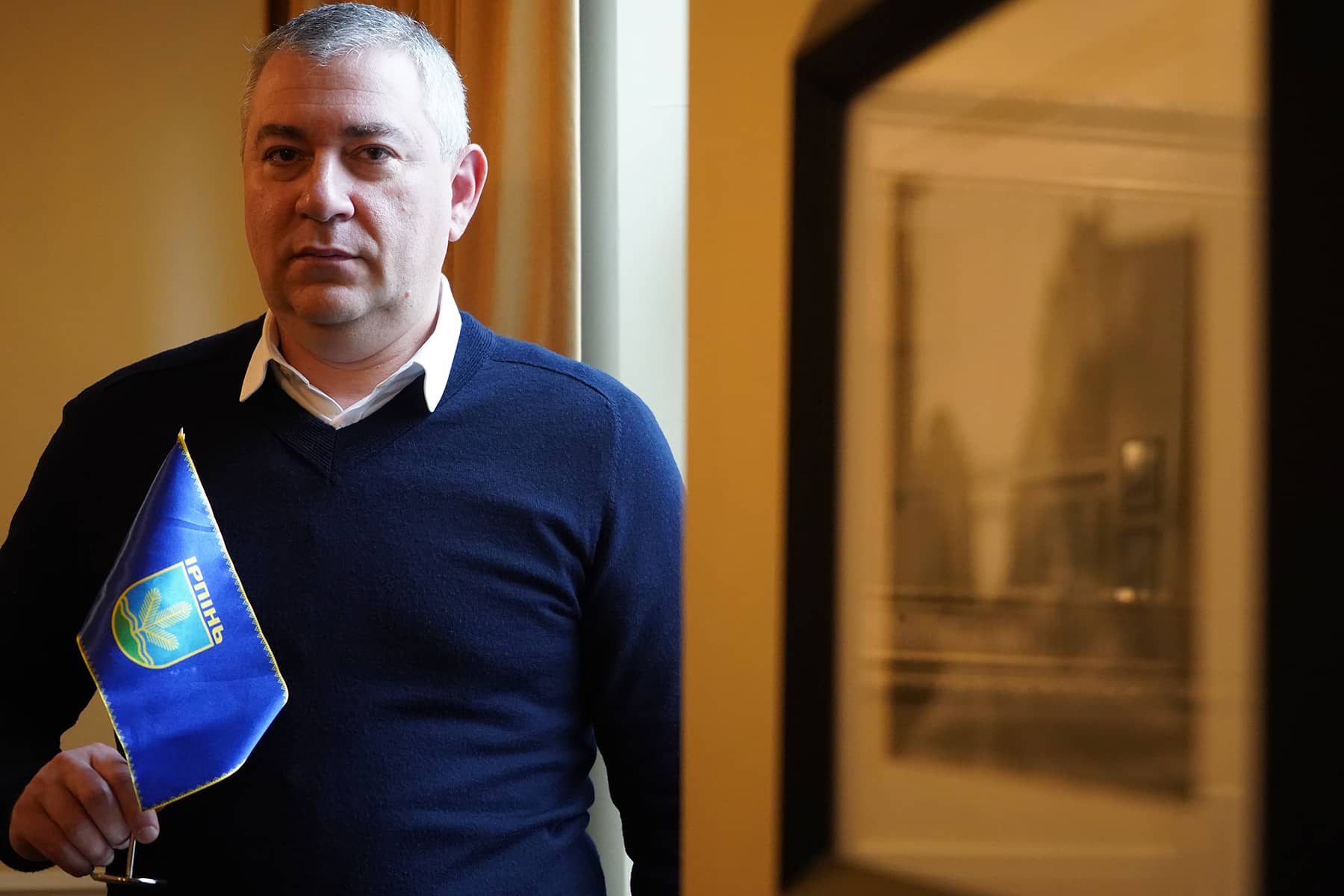 Milwaukee was founded as a city of immigrants, with traditions embedded into the culture and passed down for generations. The population grew in 19th century, as industrious people from predominately European nations sought better economic opportunities. But by the 20th century, the influx of immigrants came as a matter of survival for many who sought refuge after being displaced by a war.
With each ethnic wave to arrive, Milwaukee neighborhoods took on the distinct flavor of a distant homeland that had been left behind. Industry first made Milwaukee an international city, while its later economic loss exposed entrenched racial fault lines.
As Milwaukee's cultural vitality faded, so did many of its connections to the larger world. And with political polarization came further social divisions from residents who increasingly felt alienated from each other.
If making friends in Milwaukee from one neighborhood to another had became a challenge, then reaching across the world to forge a relationship with the citizens of a foreign city may have seemed impossible.
But while most people would not dare to dream, one person helped to bring the idea into reality. That remarkable story begins with Boris Nayflish, and his vision to build a friendship between his adopted cities of Milwauke in America and Irpin in Ukraine.
Nayflish's journey has been one of personal determination, economic success, cultural connections, and the gut punching devastation of war. Yet even with an uncertain future, his hope remains. It is an optimism not only because of relationships between governments, but because of person-to-person contact and exchanges.
The city of Milwaukee has formal relations with Daegu, South Korea; Tarime District, Tanzania; Bomet County, Kenya; Zadar, Croatia; Galway, Ireland, and Irpin, Ukraine.
Through the international sister city program, Milwaukee shares a deep and special relationship with Ukraine that most local residents were previously unaware of, or did not completely understand. Being a sister city is a commitment to cultural exchanges, and a way to strengthen community partnerships.
Since the unprovoked invasion by Russian dictator Vladimir Putin, Milwaukee residents have shown their solidarity for the independent nation of Ukraine. There has been an outpouring of support to the local Ukrainian American community, with rallies and prayer vigils. Local families have held fundraisers to send supplies to their relatives in communities across Ukraine, in an effort to help with the national defense.
In the early days of the Russian invasion, the capital city of Kyiv was Putin's prime target. His military goal was to decapitate the legitimate government of Ukraine and install a puppet regime. He could then effectively annex the democratic nation and transform it into a vassal territory of his new Russian Empire.
However, for his army to reach Kyiv it first had to pass through the suburban city of Irpin, which was strategically located along the Irpin River.
The Battle of Irpin began on February 27, when Russian ground units entered the area. It was one of the first cities to experience the brunt of the large-scale invasion. It was also where Putin's goal of capturing Kyiv was halted. On March 27, after a month of intense resistance, the Ukrainian Defense Ministry awarded Irpin with the rare national honor of being designated as a hero city.
For the acts of mass heroism and resilience by the residents and defenders of Irpin for repelling Russia's armed aggression, the Presidential Decree awarded the town with the honorific title of "Hero City of Ukraine."
To have perspective on the extraordinary history of Irpin, and its special relationship with Milwaukee, requires an understanding of how an immigrant fled the Soviet Union and brought his family to a new city of opportunity in America. It is also an inspiring example of when a personal interest can transform into a higher calling to help others.
Boris Nayflish sat down with Milwaukee Independent during a snow storm on April 2 to talk about his life, and his mission as a conduit for two partner cities before and during a terrible war.
"I did not grow up in Ukraine at all, but my parents were both was born in Ukraine. My mother was born in 1943 in a Nazi concentration camp near Odesa, Ukraine. Back then, when my grandma was a young girl. She just turned 20-years-old and was pregnant with my mother. She was detained by the Nazis and ended up in a concentration camp. The Ukrainian Jewish community in the same concentration camp was able to protect and support her. So she could give birth safely to my mother, despite the horrible open farm field conditions. Because of stress and the lack of good nutrition, my grandmother could not produce milk to feed the baby. So everybody chipped in and the baby survived. My mom survived."
About a year later, the camp was liberated by the Soviet army. Nayflish's grandfather was still fighting in the army against the Germans, his location and condition were unknown. When his grandmother returned to her village in Ukraine, she found it destroyed and her home burned by the Nazis. With no documents, no money, and no way to support herself or her baby daughter, Nayflish's grandmother decided to move as far away as she could from the war and its aftermath.
That began a four month journey across more than 4,000 miles to Tashkent, the capital of then Soviet Uzbekistan, which was the fourth-largest city in the Soviet Union at the time after Moscow, Leningrad, and Kyiv.
Nayflish was born and raised in Tashkent, and graduated with an electrical engineering degree from Tashkent University. While in school, however, he was drafted into the Soviet Air Force and sent to Afghanistan in 1989. Nayflish was part of the ground crew removing equipment, as the Soviet Union prepared to withdraw and end the war.
"After my service and graduation, I worked in Moscow for one of the big firms. Then the Soviet Union fell apart and I came back to Uzbekistan. I decided to move out to somewhere that my family could feel safer and have more stability. It was mostly for economical reasons, but also for some political reasons. In Soviet Uzbekistan we were deprived the freedom of speech, and other basic freedoms that we enjoy here in America. I wanted my children grow up in the free world. So in 1997, I moved to United States."
Like his grandmother decades earlier, Nayflish began his journey as a first generation immigrant, escaping from an unstable homeland in search of a place to build a comfortable life for his family.
"The plane landed in Chicago at O'Hare Airport. I declared my family as refugees from Uzbekistan as we were passing immigration and passport control. The Immigration Services Officer asked me where we were going, and did we know anybody. When they asked me where we wanted to go, I asked them to tell me what was a good place to raise a family. They said Wisconsin, a bus was leaving in 20 minutes, and helped me to obtain the transportation tickets. That was how my family ended up in Milwaukee."
The unexpected departure from his homeland meant that he traveled with his family to America with only $800 in his pocket. Without citizenship he was unable to qualify for any social programs for support.
When Nayflish arrived in Milwaukee he did not speak any English, because he never expected to move to the United States. But when his situation changed so rapidly, he was determined to take care of his family and keep them safe. The key to accomplishing that was language. So Nayflish setup a program to teach himself English.
"I realized that language was a key that unlocks possibilities if you can explain your thoughts. Your education does not matter. You need to be able to communicate, so I started learning English. I did not have time back then to learn it while trying to support my family. So I built my own system, how to learn the language, because I had this four-year-old child and wife to provide for."
Nayflish saw in America the opportunity to fulfill his dreams. Growing up at the end of the Cold War, he was fascinated by American culture. He wore blue jeans and had a baseball cap, and loved American music. He also had friends who had moved there to follow the "American Dream." But it was not a dream he expected for himself, until the Soviet Union's collapse left him with little choice.
It took time, but Nayflish was able to establish a circle of friends in Milwaukee, a successful career, and after saving for years he could finally afford to bring over his parents to live in Milwaukee. Once the economic necessities were fulfilled to take care of his family, he had more time to invest in volunteer work and explore hobbies of interest. One of them was travel.
"I wanted to see the world. I wanted to see the land where my parents and grandparents were from, where the roots of my family started. So I traveled to Ukraine. And I was just blown away by people of Ukraine. They were so hungry for freedoms that we all enjoy here in the United States. It was a very young society, very young political system. They were experimenting with many things, trying out what worked for them and adopting the best practices."
It was on one of those trips that took Nayflish through Irpin, where he felt a strong connection the spiritual city. That experience sparked his idea to approach Irpin's Mayor to explore the possibility of developing a formal city-to-city relationship with Milwaukee.
As a western suburb of Kyiv, Irpin was historically known as a place of culture where old writers and famous painters in Ukraine lived. It was renowned for its museums and green spaces, which was how it earned the nickname "City of Parks." Irpin also had the advantage of a close proximity to Kyiv, but its air quality was much better than the dense metropolitan area.
"I went there once and I saw that it was a little bit different than rest of the Ukraine. The whole administration was very young, the mayor was in 30s, half of the city government was younger than me. The population of the Irpin was also very young as well, because they were building and expanding rapidly. The city was expanding. In the last five years the city doubled in residence, mostly young families moved in who have or want children. Irpin positioned itself as a place for a good quality of life, a place where you could feel safe. There are parks in walking distance, good infrastructure, good kindergartens, good schools, and access to higher education. Very low crime problem, with almost no violent crime at all. And those benefits were the things people of Ukraine wanted."
Nayflish was eager to help forge a sister city relationship between Milwaukee and a Ukrainian city, but bigger cities also came with more layers of bureaucracy and administrative red tape.
Conditions in Irpin, particularly with the municipal government, were much more favorable. They were willing to adopt new ideas far more quickly, and in a friendly atmosphere. So Nayflish took on the role of liaison to help fascinate a formal relationship with the city of Milwaukee.
Irpin became an example of why the sister city program was so vital. When then-Irpin Mayor Volodymyr Karplyuk came to America to meet with then-Milwaukee Mayor Tom Barrett in March of 2018, he came with an entire team of his top experts.
"He brought a group of ten people with him from the municipalities, waterworks, police commissioners, fire department representatives, and educational representatives. The delegation was very committed. I am thankful to the city of Milwaukee, especially Oscar Tovar and Mayor Barrett, for organizing all the meetings and arranging so many opportunities for where they could visit."
The Irpin delegation had an appetite to learn all they could from Milwaukee, like how to maintain a clean water supply, and how to improve public education, public safety, public transportation, and public health. They spent a week in the city, engaging in at least three formal meetings each day. The effort not only established a platform for professional communications from city-to-city, but also between local residents and communities.
From 2018 to 2021, Nayflish saw the hard work from the sister city program produce amazing results. So much of Irpin's infrastructure was re-modeled after Milwaukee's. Public works in Irpin had improved dramatically, adopting how Milwaukee organized garbage collecting and waste management. Even details like Milwaukee's iconic trash bins were incorporated into Irpin's new system.
Another example was the queue system at municipal offices, which Milwaukee residents take for granted. While the structure of interacting with the DMV in Milwaukee is not often thought of fondly, it can be a stellar experience compared to other systems. Visiting a municipal office in different countries can be a first-come first-serve experience of waiting for hours and then bribing middlemen for accesses to public servants. Irpin adopted a check-in system, where citizens no longer waited in lines but instead were given a number and called in order. The process became far more efficient and transparent, making life for residents and the community better.
During his many visits to Irpin, with a population of about 60,000, residents there often asked Nayflish about the people of Milwaukee. During its annual City Day celebration, very similar to 414 Day, he would make public presentations about Milwaukee. The volume of questions he was always asked showed their interest, and Nayflish said he explained in as much detail as he could without sugarcoating the truth.
Nayflish also used documentaries about Milwaukee to help explain the city's history, and the evolution of its immigrant-based culture. He felt that understanding both the good and the bad was important for fostering a healthy partnership, promoting honest understanding, and creating opportunities to learn. Sister cities had an obligation to be honest about all their issues.
But the years of hard work nearly came to an end on February 27, when Putin decided to erase Ukraine's national identity by seizing it with a brutal sneak attack from 150,000 Russian troops.
Putin invoked the need to liberate Ukrainians from a fictitious Nazi influence, as he assumed the role previously held by Adolf Hitler in targeting the civilian population when his inept military strategy failed against fierce Ukrainian resistance.
For their defiance of his colonial intentions, cities like Mariupol with a population of 430,000 – equal to that of Miami – were flattened by long range missiles. Ukrainian citizens were not allowed to escape, and families were used as hostages in a bloody campaign to terrorize the nation into capitulation.
The war and its outcome remain undecided as of April 8. What has become more clear are the extensive war crimes and acts of genocide that Russian troops have committed in occupied areas like Irpin, Bucha, and across the Kyiv region.
Confirmed reports detail how retreating Russian soldiers boobytrapped hundreds of corpses left to rot in Irpin's streets with explosives. Likewise, doors of residential homes were rigged with grenades for when families returned. Random personal items were also mined, like packages disguised as food or toys for children.
Rescuers deactivated more than 640 explosive devices in a single day on April 2, after Irpin was officially liberated. Varying accounts estimated that between 25% to 75% of Milwaukee's sister city had been under Russian occupation. The bombing of civilian structures continued for days after Russian forces fled, which added to the risk of letting residents return too soon. Preliminary estimates found that half of Irpin's civilian structures had been damaged, with a quarter of them possibly beyond repair.
Because Irpin's cemeteries could not be accessed for weeks, due to the danger of being targeted by artillery and mortar fire, the innocent victims of Putin's terror campaign were buried in city parks and public spaces. The Russians turned portions of the vibrant city into graveyards. Citizens of Irpin paid in blood to protect their homes and nation. It was an unimaginable cost to keep their freedoms, and a way of life that Milwaukee had helped to inspire.
Irpin is known for hosting many sports competitions, along with producing famous boxers and MMA (Mixed Martial Arts) fighters. It was an unexpected resource when the war arrived.
"I think that is one of the main reasons why Irpin put up such a strong resistance, because of its history with sports and the fighting spirit of its young men. They grew up as fighters, physically training and enduring hardships, and learned at an early age what it meant to defend the land of their family. They had already experienced sustained physical and emotional distress from athletic competitions. It made them perfect soldiers, but it was something they never expected."
The small city of Irpin prevented the second-largest army in the world, with all its modern weapons of mass destruction, from moving forward. The Ukrainian Army and Territorial Defense had no path for retreat, and had to stand their ground.
"Why is Irpin a 'City of Heroes?' Because no one expected a small regiment of local men and women to hold out for 30 days against an overwhelming Russian force, who stopped a 40-mile-long convoy from getting through the city to the capital. They defended their homes despite multiple attacks from 3 different sides, daily artillery shelling, rocket and arial bombardments that resembled hell. Finally, the Irpin Territorial Defense Force and Ukrainian military counterattacked and was able to clear Irpin from Russian Invaders."
Nayflish said how proud he was of the people of Irpin for their defense of the city. He explained how Mayor Oleksandr Markushyn helped to organize the resistance and mobilize the Territorial Defense Forces. Most everyone who joined were just ordinary people who had never held a gun before in their life. But they had no choice in order to keep their loved ones safe.
Unlike Russian cities where Mayors are appointed from a distant political bureaucracy, in Irpin and other Ukrainian cities the position of Mayor is elected by a vote from the local population. The democratic representation was modeled after the United States.
Nayflish said that having a local connection was why Mayor Markushyn stayed to fight for his city, because being elected made him obligated to the community. Nayflish also knew many of the residents who joined the Territorial Defense Forces from his numerous trips to Irpin. They included teachers, doctors, civil engineers, IT professionals, and people from all types of professions.
"I knew a city accountant, a guy who had a job sitting in the office and working with paper. He became a sniper. It was amazing that the community transformed so rapidly in the face of the threat to life and personal safety. They had the choice to leave, and many did. Nobody forced these brave residents to stay, it was their conscious choice to become a soldier and defender of Irpin. And for that, I'm really grateful to them."
Many who were unable to meet the demands of combat still volunteered. They were part of the defense that stayed behind to organize humanitarian aid and help find missing residents, buried under the rubble of bombed apartment buildings. Not everyone fought on the front lines, but all who remained behind were in constant danger. For that, they were nationally acknowledged as heroes.
Municipal authorities estimate that up to 300 civilians and close to 50 defenders were killed by the Russian army in the Battle for Irpin. Nayflish knew many of them.
Ukraine's president, Volodymyr Zelenskiy, said on April 3 that the Kremlin-ordered attack on his country amounted to genocide. The declaration came after local officials reported that scores of civilians had been killed in the towns of Bucha, Irpin, and Hostomel. A wave of cities across world have already severed or are in the process of cutting their sister city ties with Russian governments. For Milwaukee, its ties to Irpin can only become stronger.
Newly elected Mayor of Milwaukee Cavalier Johnson inherited the city's relationship with Irpin, which remains important for the future of both cities. For a damaged Irpin, Milwaukee can assist the city as it faces a host of challenges to rebuild. For a segregated Milwaukee, Irpin serves as not only an economic opportunity but a community example of unity.
"On the first day of this war, I started focusing on what could be done to help my friends in Ukraine. One of the things was to bring awareness of the situation in Irpin. So I started organizing in the Milwaukee community. I also reached out to our city government, and invoked our sister city relationship. I reminded everyone what it meant to be a sister city. Not on paper, but in action. And how those actions were urgently needed."
Every time there is a national disaster or crisis, people get disconnected. Ukraine remains in a state of crisis. Because so many people have been displaced, they have lost contact with their loved ones. And in occupied areas, there is no way to communicate.
"Critical infrastructure was badly damaged or destroyed. Even in liberated areas there is no water, no electricity, no heat from natural gas. It is hard for people to stay connected, there is no mobile cell coverage or internet. Thousands of city residents are still hiding in shelters, recovering in hospitals, or they became refugee. There are multiple reports of Uranian people being forcibly abducted and moved to concentration camps in Russian territories. Reports that Russian soldiers are putting Ukrainian citizens on their military vehicles to prevent being fired on."
Milwaukee residents and members of the local Ukrainian community have been working with Nayflish for weeks to locate friends and family in Ukraine. He is also trying to keep track of Irpin residents who have dispersed around the country, and working with Irpin's administration to provide people with a way to post their status and reconnect.
Milwaukee has already hosted Ukrainian refugees, but only individuals who had an entry visa. Efforts are being made to help process what is expected to be larger groups and families. The Biden administration has plans to make it easier for some Ukrainians fleeing the Russian invasion to come to the United States. The initiative would allocate more staff to handle applications for a temporary status known as "humanitarian parole."
Nayflish has helped sponsor the Milwaukee-based program through the local Ukrainian Churches to welcome refugees. The plan establishes funds to assist with relocation, and creates employment opportunities.
But the displacement of millions across Ukraine is an issue that continues to unfold. Even after six weeks there remains long term implications ahead. Possibly 4.5 million refugees have already left Ukraine, with an estimated 6.5 million being displaced within the country.
Looking ahead to a still uncertain future, Nayflish said that one of his biggest concerns for Ukraine and Irpin after the war was the ability and willingness for people to return home. Planning has already started for how to maintain stability, so that local people can find a way to return to something that feels like a normal life.
A "Marshal Plan" for Ukraine has been proposed to help the nation rebuild. However, the effort cannot be implemented until Russia agrees to end hostilities, which could drag on for at least another month.
"Removing explosive objects, restoring roads, working bridges, and critical infrastructure are the main goals right now. The focus is to bring normality back to the citizens of Irpin who have been dispersed literally around the world. There are concerns that some people will not come back, because they were evacuated to neighboring countries like Poland, Czechoslovakia, and Germany, as well as across the world. The government of Ukraine declared that every damaged home or apartment will be repaired without cost to the owners. All Critical infrastructure will be fixed without an increase of the tax burden. Irpin needs its people to come back. The city needs doctors, teachers, municipal workers. Irpin needs ordinary residents to revive the community and help rebuild it into an even better Irpin."
Part of why Milwaukee suffers from being a segregated community is because residents have forgotten about the rest of the world, as they work to remain disconnected from each other. Not understanding how global economies are interdependent also leads to making wrong decisions.
"As a representative of Irpin, I welcome everyone to travel to Ukraine once the crisis is over. I invite anyone in Milwaukee to see our sister city, to establish a friendship and relationship with Irpin's residents. I invite them to take any part in the city's revival. There will be many opportunities for volunteer work, as well as business opportunities upon the end of the war. The more we know about the world, the smarter we can become in our local election decisions."
For Milwaukee businesses, Irpin can serve as an untapped economic hub. Before the war it had a thriving IT industry and strong manufacturing capabilities, with direct proximity to other vital resources. One of the largest airpots in the world is also nearby to support export logistics. To accelerate redevelopment, the city government of Irpin has expressed interest in offering tax breaks for foreign investment.
"Human Resources and convenient proximity to the Ukrainian capital are probably the biggest advantage in Irpin. We have such a motivated young population that are organized, educated, and dedicated. They really want to work for American companies, because of the perception that they are well organized and properly managed businesses. Ukrainian people do not ask for welfare, they are asking for stable jobs."
There are no experts with crystal balls to foresee the next few weeks in Ukraine. There are a great many uncertainties, and resources are stretched in many directions at once. While it is still too early to begin rebuilding Irpin, the fact that the city has been liberated offers tremendous hope. A future of peace, while still out of focus, is less blurry than just a few weeks ago.
Milwaukee has had a major impact on the direction of Irpin in a time of peace. As a sister city, it can offer an even deeper and longer lasting influence in a time after war. And for all of Milwaukee's internal rivalry and ethnic divisions, the residents who have descended from a diverse population of immigrants could learn a few things about the value of democracy and community cooperation from a city of heroes.