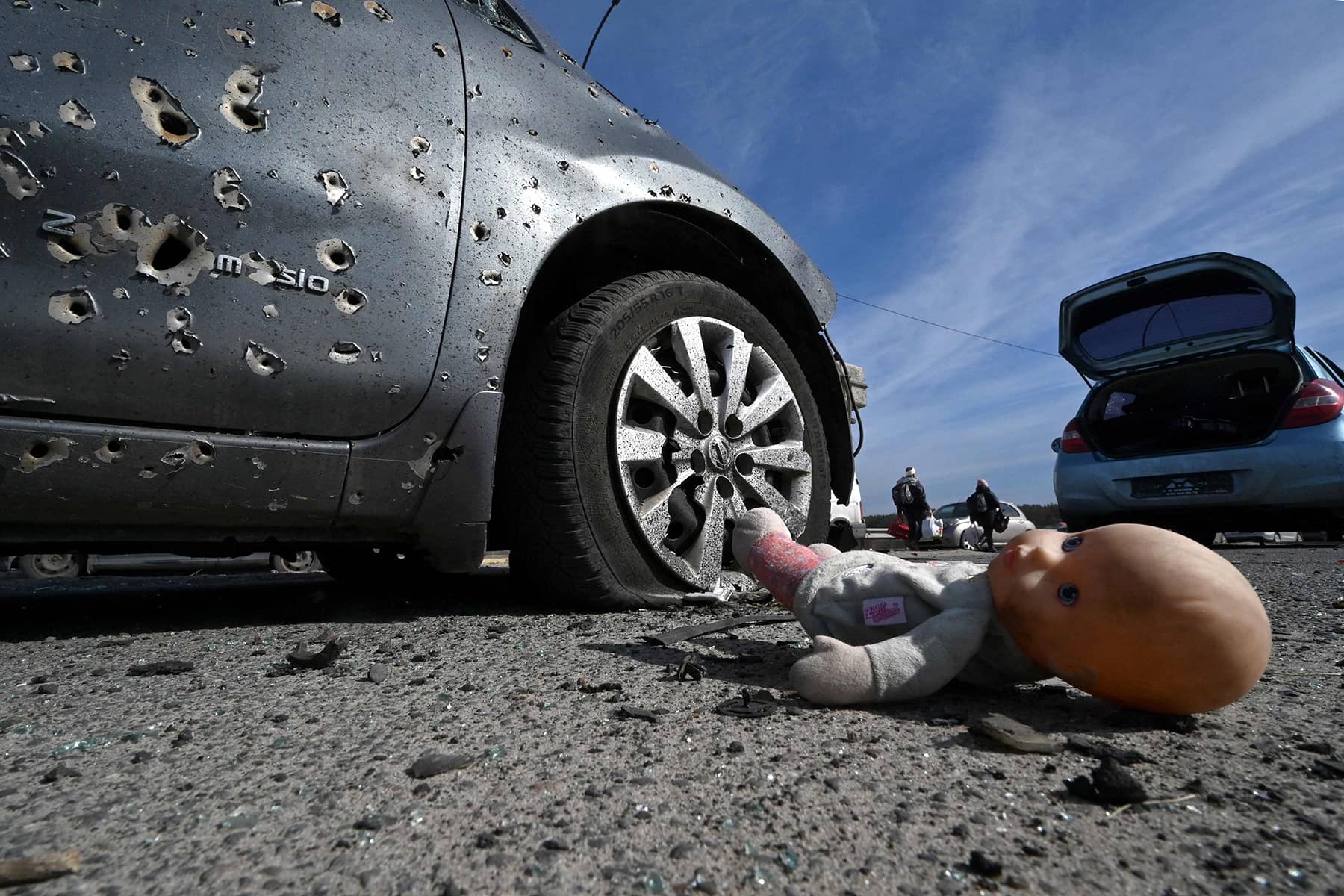 The Instagram page War. Stories from Ukraine has been collecting stories of Ukrainian people who detail how they live during the ongoing Russo-Ukrainian war. Milwaukee's sister city Irpin faced the brunt of Russia's fierce invasion, because its location was a key corridor to the Capital City of Kyiv.
Of the many personal stories being documented in the crowdsourced social media project, each reflects an individual condition of heartbreak from the war. Four residents from Irpin share their loss, struggle to survive, efforts to care for pets, and attempts to escape from the invading Russian forces. Their eyewitness accounts details the repeated rape of local women, and the indiscriminate killing of innocent families.
"Evacuation was the scariest thing these days."
Karina is 25-years-old. She said residents of the surrounded Irpin, where there have been fierce battles since the beginning of the full-scale Russian invasion, had to leave the city by crossing a blown-up road bridge and hiding next to its pillars during air raid sirens.
"We went out and down under the ruined bridge where there were like 300 people. When the guys from the Territorial Defense shouted, 'Air! All run under the bridge, to the bases!' within a second all the people huddled at the concrete pillars. There were three air raid sirens, and three times we waited for a strike. Then we were transferred across the bridge, through a checkpoint into the forest and towards volunteers on the road."
In peacetime, Karina was a photographer and trained as a psychotherapist. She and her husband had lived in Irpin for nine months, the last nine days of which became a real hell.
There was no safe evacuation from the city of Irpin, which was actually blocked by the invaders from the first day. Karina recalls that the worst part was under the bridge.
"There are no words to describe that fear. This is not comparable to any panic attacks or any other kind of fear. I didn't think about death at the time, I was scared so much that there was a vacuum in my head. When it got quieter, I only had one thought: I wanted my husband to be with me. I was very afraid that he would not be taken onto the bus because there were many women and children. I am still ashamed of these thoughts, but I knew that I would not go without him."
The volunteers helped the couple to get to Kyiv. Karina recalls that she prayed all the way from Irpin to the capital, although she was never a religious person.
"In these nine days I kind of lived a lifetime. On the third day we stood in line to the pharmacy under the sound of explosions, but none of the people fled because their place in the queue was much more important."
In the early days of the war, Karina's husband dislocated his ankle, and the couple had to go to a hospital in nearby Bucha, where the fighting was already going on.
"When we came out and tried to call a taxi or catch a car, it was the moment when a bomb blew up behind the building. It is difficult to describe what you feel at such a moment. No thoughts, just a wild fear for your life."
At home, Karina and her husband slept on the floor and then "moved" to the bathroom.
"We learned from the news that the fighters that flew over our heads bombed the houses near the military hospital in Irpin. I had a meltdown after this. When I heard a fighter jet, I just layed on the floor, prayed and waited."
Now the couple are staying in Obukhiv, a city in the Kyiv Region, where Karina's mother lives. They are not planning to move on yet. Karina says that she recovered from a sense of numbness the day after the evacuation.
"I can at least talk, even smile, react somehow. Before that, there was only fear. I just have been surviving all these days."
Karina wants to restore her strength and help Ukraine and Ukrainians with everything she can. The spouses have a common dream: to go to Crimea.
"My husband spent every summer there as a child and I was there only once and that was in winter."
Documented by Oksana Pavlenko
"Irpin is Hell. There are plenty of Russian soldiers out there who just shoot people who enter private homes and, at best, just kick people out of their homes. They rape women and the dead are just being dumped. They open the basements where people are hiding and shoot them,"
Anastasia Taran worked as a waitress until recently, and currently writes tips on Instagram on how to get out of the occupied city.
Russian troops entered Irpin in the first days of Russia's full-scale invasion of Ukraine and the first locals were able to flee only several days later, on 5 March, on foot since all the bridges connecting the city to the area of Kyiv were destroyed.
"Our checkpoint is in front of the bridge, you have to be very careful there, because the occupiers shoot at it. We came under mortar fire, the explosions were 50-100 meters from us. You have to listen carefully to the instructions of our soldiers: if they shout 'sky,' it means that you have to hide, if they shout 'run,' it means that you have to flee to the next shelter."
The 30-year-old is from Enerhodar, she had lived in Irpin for the last four years. It was there the war caught her. The girl and her husband spent a week without communication, access to the internet, electricity, heating or water in the Russian-occupied city.
"A guy from Luhansk lived in our house, he had already experienced it. He gathered all the remaining neighbors and said that it would only get worse. He argued that it was the right time to leave. We packed things at our own risk. Everyone took what they could. We only had our papers and cats."
Anastasia recalls that she put her two cats in one carrier and the third one was in her backpack. The couple also took the documents for their apartment, for the cats, and their passports. None of the neighbors knew what the situation was and where the checkpoints were located, but they took a risk and left the place. And they were lucky. They got out. Many of the citizens could not get out.
At this point she, her husband and three cats are in Lviv.
"I feel calmer, but I'm still anxious. I am afraid of silence, because you are constantly expecting something bad from it. I still dread going outside: I always look for shelter."
The girl says her biggest fear is not being able to return home. Anastasia's only dream is about the victory of Ukraine.
Documented by Anastasiia Kovalenko
"My husband and I evacuated together with a bunch of cats and dogs. It took us three hours to walk three kilometers. Nineteen dogs all pulled us in different directions. They walked in a pack. It was impossible! If it weren't for the evacuation, I wouldn't have acted this way. I am still regaining my senses. I am all bruised, I have a broken finger. I don't want this to happen again."
On March 9, 20-year-old Anastasia Tykha and her husband left home in Irpin with 19 dogs and five cats. Some of the animals are their own, some of them were picked up, and half of the pets are living out – the owners give the animals away but pay for their accommodation. Almost half of the dogs are disabled and in wheelchairs.
"However, there was no thought of leaving even one of them," Nastia said. She does not understand how owners can leave a small dog or cat at home. With large and aggressive dogs it is harder.
Within the first three days of shelling in Irpin, the animals reacted sharply, shivered, and constantly looked up at the noise. Some of them wanted to be held in human arms. After a while, the animals calmed down and even walked in the yard during shelling. Nastia and her husband work remotely, so there was no need to leave the house except to go outside to the yard.
Nastia's husband is a foreigner, and in the first days of the war he invited everyone to go to his parents' place in the Czech Republic. But they made the decision to stay in Ukraine because the animals needed help here. During the war, the number of animals that were not taken out by their owners increased significantly, so the couple started to help bring dogs and cats to charitable foundations in Germany and Spain.
The family decided to leave the city only when a missile fell into the next yard and did not explode. By that time, Nastia's house had no gas, electricity or running water. It was very cold in the house. The girl and her husband gathered all the animals and left the house on foot.
"When we went out, there was shelling and explosions. During our march, surprisingly, there was only one explosion somewhere far away. We got lucky, because in an hour they started firing at people on the bridge."
The girl is very grateful to the Ukrainian Territorial Defense. Its fighters helped carry the animals across the bridge and put all pets in a car. During the evacuation, four dogs escaped and fled. However, Nastia came for them to Irpin in a week. Two dogs returned home, she picked up three more homeless ones on the way to Kyiv. Again, everything happened to the sounds of explosions and shelling. The house rented by the couple was not demolished, but the streets are empty: everyone has left.
When Nastia was returning for the dogs, she saw a pack of purebred animals on the streets of Irpin. And there are hundreds of homeless animals who have escaped or been released from shelters that were shelled. Volunteers are aware of this problem and are trying to take the animals they find to shelters abroad. There is also a problem with animal feed, especially for cats. It is almost impossible to buy it, and everyone lacks humanitarian aid.
Nastia and her husband, dogs and cats were placed in a house near Kyiv. There they are looking for families for animals found by volunteers. The couple treats the animals, takes care of them, feeds them, and gives them away when they find a new family. Volunteers foster some of the pets.
The family dreams of moving to their own house, which is still at the last stages of construction. The couple hopes that it will survive and there will be more room and opportunities to help animals.
Nastia appeals to cat and dog owners who cannot take their pets with them.
"If you leave a dog, please do not lock it at home, in the apartment. It is better to release it, otherwise the animal will die a horrible death. If this is not possible, leave the animal enough water and food supplies. And I want to tell all the volunteers: hang in there and carry on, because there is plenty of work now."
Documented by Daryna Trunova
"I woke up to an explosion. Here I am still asleep, and then through the eyelids, I see a bright light, I hear a very loud sound—and the window explodes. I wake up and scream in horror."
Sofia Bachyla described one morning in Irpin. She had moved from Kyiv to her relatives in Irpin in the early days of Russia's full-scale invasion. The blast frightened her dog named Rozrada. The animal ran out of the house and got lost in the streets.
For several hours, the 23-year-old was searching for Rozrada.
"I could hear explosions in the town but was much more afraid of losing my dog …"
Sofia walked the streets and called for her pet, and finally, she found it in one of the alleys.
"Again, I heard explosions. I took Rozrada in my arms. She was afraid and tried to escape. It was the first time I felt how strong she was."
On the same day, Sofia and her relatives left Irpin. The road to safety was long and exhausting. They heard shots and explosions, so they had to take detours, which were jammed by cars.
People with suitcases stood along the road holding pieces of cardboard with inscriptions: Vinnytsia, Zhytomyr, Rivne. But no one picked them up because all the cars were already full of people and things. Already on the road, Sofia noticed that her dog was injured.
Now Sofia lives with her brother in Rivne. With every air raid alarm, she goes down to the bomb shelter together with her dog.
"Rozrada trembles every time. The animal cannot overcome fear."
In Kyiv, Sofia was a photographer, but now she is looking for any options for a part-time job. She wants to help and transfer funds to support the Ukrainian army.
"I feel very grateful, and I love the people who protect us. I want the people I know to stay alive. I was so happy when my loved ones got in touch! And yesterday I imagined hugging a guy I have just met. Right now, I want some peace. That is why I imagine a hug."
Documented by Tonia Andriichuk
Ukraine has been fighting against the latest armed aggression from Russia for a month. Almost from the beginning of its invasion, the Kremlin switched strategies and began targeting civilians as its prime tactic of warfare because conventional forces failed to achieve any military objectives.
The Biden administration on March 23 made a formal determination that Russian troops have committed war crimes in Ukraine and said it would work with others to prosecute offenders.
"I can announce that, based on information currently available, the United States government assesses that members of Russia's forces have committed war crimes in Ukraine." – Secretary of State Antony Blinken
Numerous credible reports have detailed indiscriminate attacks, and attacks deliberately targeting civilians, as well as other atrocities. Russia's forces have destroyed apartment buildings, schools, hospitals, critical infrastructure, civilian vehicles, shopping centers, and ambulances, leaving thousands of innocent civilians killed or wounded.
The Russian Federation and its leaders have previously escaped responsibility for war crimes in Chechnia, Moldova, Georgia, Syria, and Africa.
To break the circle of impunity, the Ukrainian Helsinki Human Rights Union, the Kharkiv Human Rights Protection Group, and the Center for Civil Liberties announced on March 24 that they were establishing a global initiative to bring to justice the perpetrators of war crimes committed during the armed aggression against Ukraine.
GRAPHIC PHOTO WARNING: This gallery contains news images from war that some viewers may find disturbing.
Oksana Pavlenko, Anastasiia Kovalenko, Daryna Trunova, and Tonia Andriichuk
Chrіs McGrаth, Fеlіpе Dаnа, Оlеksаndr Rаtushnіаk, Аrіs Mеssіnіs, Dіmіtаr Dіlkоff, Аndrіy Dubchаk, Sеrhіі Nuzhnеnkо, Sеrgеі Supіnsky, Аlеx Lоurіе, and Chrіstоphеr Оcchіcоnе