A Surge of Sickness: Daily COVID-19 hospitalizations across Wisconsin surpass January's record high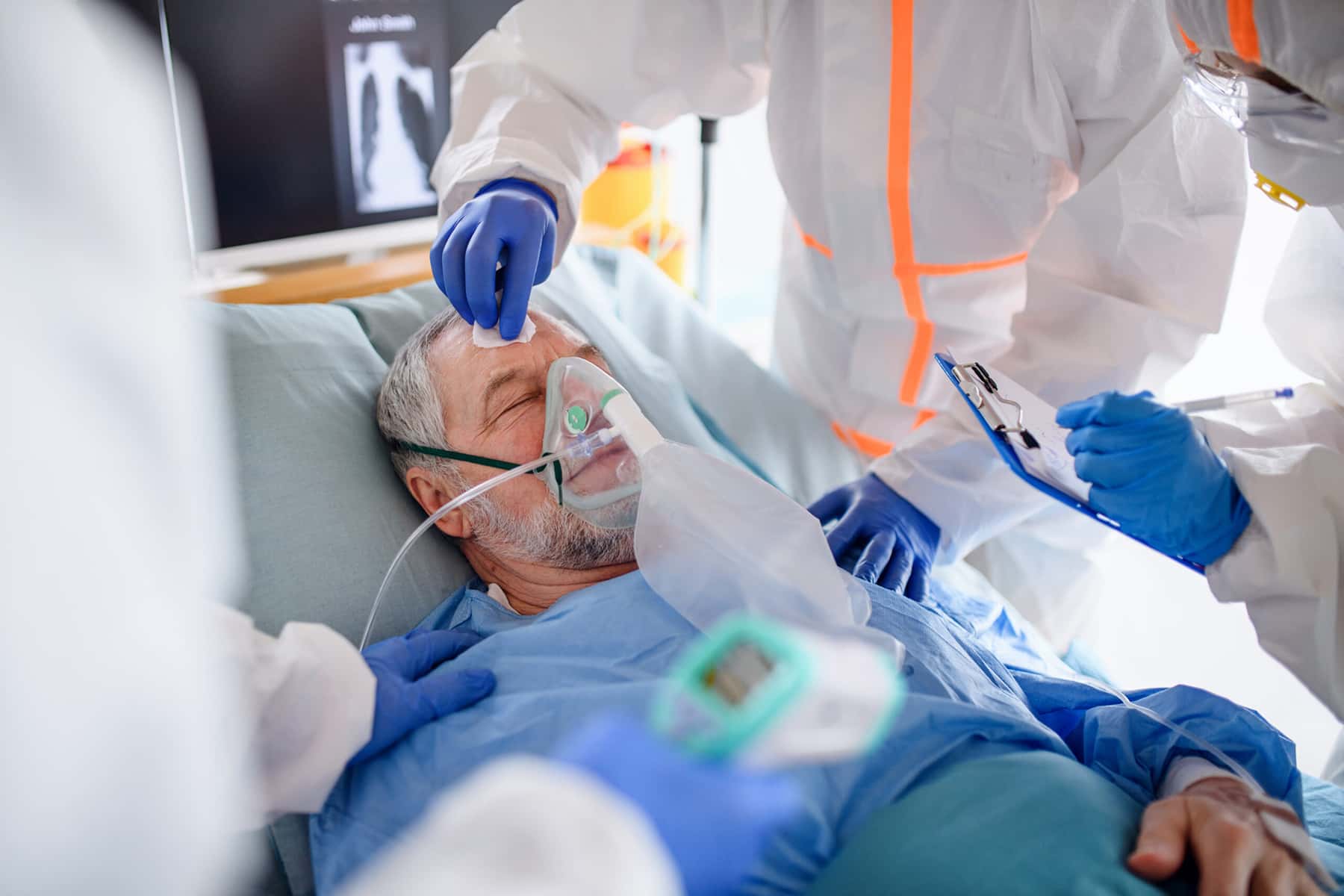 Hospitalizations of COVID-19 patients in Wisconsin are on the rise in parts of the state as people, the vast majority of whom are unvaccinated, are getting sicker and taking longer to recover. The increase comes as new daily cases of the virus reached a record high for the year on November 15, surpassing levels not seen since January.
Since late October, state data shows nearly 91 percent of hospital beds are currently in use. Hospitalizations have grown the most in northwestern Wisconsin with an increase of 21 percent. The north central region of the state has seen a 15 percent increase followed by the southeast with an 11 percent growth in hospitalizations.
Hospitals are confronting challenges with capacity as new COVID-19 cases reached a single-day record for this year with 3,981 positive cases reported on November 16, exceeding the previous high of 3,760 cases January 6. The cases and hospitalizations are taking a toll on health care workers, said Eric Borgerding, president and CEO of the Wisconsin Hospital Association.
"Some of our members are as challenged as they've ever been right now as it relates to capacity," Borgerding said.
He said their members are typically seeing younger patients who often require more intensive care. At the same time, they are busy treating patients for health issues other than COVID-19 as some people delayed or avoided care earlier in the pandemic.
On November 17, there were 1,144 patients hospitalized for COVID-19 across Wisconsin and around 28 percent of them were in intensive care. Only one ICU bed was available in each the northwestern region and north central region of the state. As cases surge yet again, the number of patients hospitalized in Wisconsin is about half of what it was one year ago when the number of hospitalizations reached its peak at 2,277 on November 17.
Even so, Borgerding said hospitals are stretched thin. Last September, patients in intensive care stayed an average of six days. This year, he said ICU patients stayed an average of four days longer in September, translating to a significant reduction in available beds. In general, COVID-19 patients are staying a full day longer on average compared to one year ago.
Marshfield Clinic Health System is experiencing the highest number of hospitalizations since the surge last fall, said Tammy Simon, vice president of patient safety. She said 92 patients were hospitalized for COVID-19 as of November 16 across their nine hospitals in cities including Marshfield, Eau Claire, and Beaver Dam.
"The staffing becomes a concern when we have such a high ratio of very ill patients that require that ICU stay, so really requiring that one-on-one care from nurse to patient," said Simon. "And, the other piece of this is that, at our largest facility (Marshfield Medical Center), right now we have a whole floor dedicated to COVID patients, and we're running out of room."
As the recent surge strains capacity and staffing, hospitals are relying more on outside agencies that provide temporary nursing or ICU staff that are more costly than their full-time employees, said Borgerding. The cost of nurse staffing agencies prompted several congressional representatives to write a letter this week, urging the White House to investigate price gouging.
Patients hospitalized for COVID-19 increased 25 percent in the last two weeks across Mayo Clinic Health System — Northwest Wisconsin, said Dr. Richard Helmers, Mayo regional vice president. The health system has locations in Eau Claire, Barron and Menomonie.
"The increase from the recent COVID-19 surge has been enough to place an even greater strain on hospitals that were already incredibly busy with patients who have other serious or complex conditions," Helmers said in a statement. "In most cases, patients have not been vaccinated for COVID-19. Mayo Clinic strongly encourages vaccination for COVID-19, as this is the best way to prevent serious illness, hospitalization and death."
As of November 17, around 58 percent of Wisconsin residents have received at least one dose of the vaccine and about 55 percent have completed the vaccine series. State data show people who are unvaccinated in Wisconsin are 10 times more likely to be hospitalized and 15 times more likely to die from the virus than their fully vaccinated counterparts.
In far northwestern Wisconsin, Bayfield County has one of the highest vaccination rates in the state. Even so, cases are rising. Bayfield County Health Director Sara Wartman does not think it is a failure of the vaccine but rather the mutation of the virus, as well as pandemic fatigue.
"People are just done with COVID, and so I think that's part of the reason we're seeing an uptick in cases is people don't want to do social distancing," said Wartman.
That is a concern for Wartman because Bayfield County does not have a hospital. Residents typically travel to Douglas, Ashland or Sawyer counties to seek medical care. But, staffing and capacity at area medical facilities is stressed due to the recent surge.
"A person who ends up having a heart attack may end up having to be transferred to a hospital out of this region, and normally we see transfers to Duluth," Wartman said. "Right now, we're seeing transfers going farther and farther away."
Donate: Wisconsin Public Radio
The
Milwaukee Independent
began reporting on what was then referred to as the mysterious "Wuhan Virus" in January 2020. Other local media did not picked-up on the story until many weeks later. Our early features focused on the economic impact, social issues, and health concerns long before other Milwaukee news organizations even mentioned the coronavirus. Over the following year, we have published hundreds of articles about the pandemic and how it has affected the lives of Milwaukee residents. This extensive body of work can be found on our
COVID-19 Special Report
page, a chronological index of links by month. Our editorial voice remains dedicated to informing the public about this health crisis for as long as it persists.
For medical resources, please visit the
CDC's COVID-19 page
or the
Wisconsin Department of Health Services
. All editorial content published by
Milwaukee Independent
can be found at
mkeind.com/COVID19
. With a mission of transformative journalism, our staff is free from commercial bias and are not influenced by corporate interests, political affiliations, or a public preferences that rewards clicks with revenue. As an influential publication that provides Milwaukee with quality journalism, our award-winning photojournalism and features have helped to achieve a range of positive social impact that enriches our community. Please join our effort by entrusting us with your contribution. Your Support Matters -
Donate Now