Kherson Diary: A first-hand account documenting three weeks of life in a Russian-occupied Ukrainian city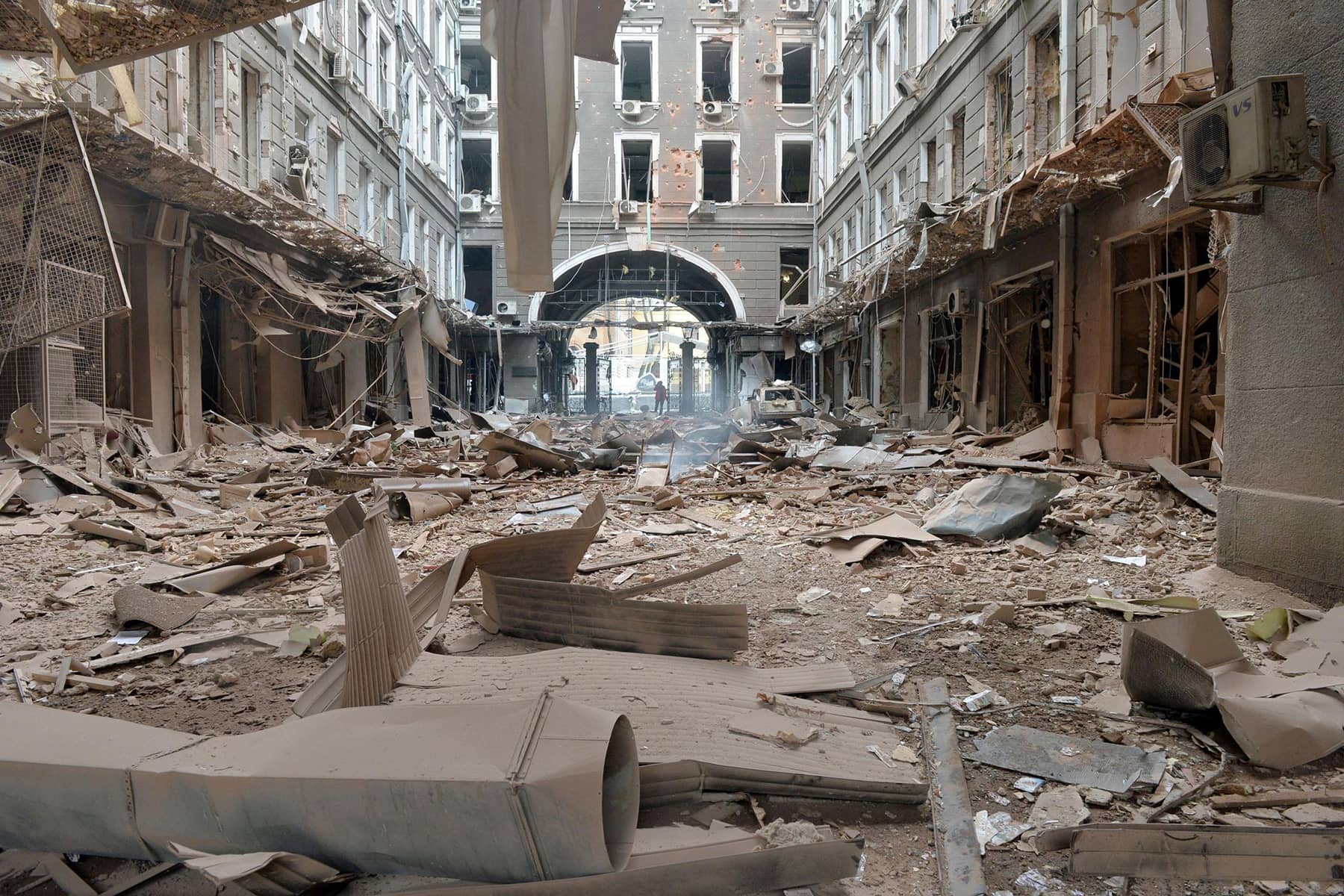 Since Kherson became the first Ukrainian city to be captured during Russia's invasion, its population of more than 280,000 has been living under brutal occupation. Two female journalists, whose identities are being protected, have been documenting the struggles they see in the port city as brave residents endure and resist against the humanitarian disaster unfolding around them.
Monday 28 February
There are huge queues for bread. Flour and yeast have disappeared from stores. I bake four loaves, mixing all the flour in the house – corn, rye – because there is not enough wheat. Then I take bread to the volunteer centre. There are crowds in the volunteer centre. People are bringing food, clothes, bread, water, medicine, packing it all continuously. The atmosphere is very friendly and uniting. The coordinator, a city council member, is taking sedatives and gives orders in a broken voice. We see many familiar residents – students are making tank traps, someone makes molotov cocktails. Everyone is discussing columns of enemy vehicles moving to Kherson. Fierce fighting took place for several days on the Antonovsky Bridge, which connects the city with Oleshky. But no one still believes that Kherson can be occupied. Adrenaline hits, I want to hug everyone. And we do it. These days, people hug very often. We head to Potemkin Square. There, despite the siren, children and adults are walking around. Patriots hang a yellow and blue flag on the monument to Potemkin. It clings to the figure of the "founder of Kherson" like a shroud. We sit on a bench, eat homemade bread and drink wine for our victory. There is a siren, a roar outside the city. Some head to the bomb shelters, we stay outside to enjoy the sunny day. There are queues near pharmacies.You need to stand for several hours for the medication. There are also a lot of people in the supermarket. We fill our backpacks with cookies, chocolate, butter and sausages. But without grabbing everything – not yet knowing how quickly the stocks would run out. The craft beer shop is closing. The last products are given to people in the street for free. We received two litres of beer each – the last greeting from a peaceful life. In the evening we meet with friends. We still have light, heating, internet. And in the morning Russian soldiers enter the city.
Tuesday 1 March
The first day of spring. It is snowing. We are sleeping in our clothes with our anxiety backpacks nearby. At night there was bombing again in the suburbs. I sleep only four hours. In the morning we have tea and turn on the computers for news. Through the window I hear the rough shout "Private! Into line!" Thirty soldiers with machine guns are marching through the yard. Russian soldiers have entered my Kherson. Almost everyone is staying at home. In the chats on Telegram we hear that Russians hit a high-rise building. There are dead and wounded civilians. Several who took to the streets have been killed. Shooting is taking place in many city districts. The mayor of Kherson addresses citizens, urging them to stay at home. He assure them that Kherson remains a Ukrainian city. Our fridges are still full of food, but soldiers of a foreign country walk our streets. A video of Russians robbing a supermarket has appeared online. They march with branded packages to their armored personnel carriers. We are mocking the looters, shooting videos, posting them in chats, watching their movements around the city. In the evening, new videos are posted on Facebook – bodies in the Purple Park. Nearby there are molotov cocktails. Unused. These are the guys from territorial defense. They wanted to stop the attack on the city with these cocktails. Everyone died.
Wednesday 2 March
Total silence. Everyone is staying at home, reading the news. The city council building was shelled at night. Some areas are without electricity and water. Nineteen civilians were killed. The bomb hit the main city mall. Food and alcohol were taken out by Russian soldiers. The mayor of Kherson, Igor Kolykhaiev, demands a "green corridor" for the evacuation of the wounded, women and children. People try not to panic.
Thursday 3 March
We bury our dead. They were collected on the streets by a funeral service. The priest who died in the Purple Park is buried by a priest of the Ukrainian Orthodox church. We watch videos and cry. We spend hours in line for food and medicines, sharing them with neighbors who are sick and too weak to stand in lines. The Russians have completely occupied the building of the Kherson regional state administration. Their equipment is lined up on Freedom Square. A large column entered the city. Mostly buses and cars. This is a humanitarian convoy from Crimea to tempt the locals to receive this help and be grateful to Russia for this. They bring former prisoners to act as locals who greet the Russian troops with flowers.
Friday 4 March
They seize the TV centre and put trip wires around. Now we have Russian broadcasting – Ukrainian broadcasting is available only on cable TV. Everyone is invited to a concert and distribution of products from the Russian humanitarian convoy. Residents ignored it en masse. They had to use their former prisoners from Crimea to make a show. People with Ukrainian flags come to the square and explain to the Russians that no one will take their products. The humanitarian convoy is told to "go f*ck yourself." A rally on Freedom Square is announced for the next day. Lots of people say they will go.
Saturday 5 March
In the morning, people start going to Freedom Square. Russian machine-gunners stand on the perimeter. Then people see soldiers dragging a detained man on the ground. Protesters jump over a road barrier and recapture the detainee. The gunners in front of the state administration building fire a warning shot. But people are not afraid, there are crowds of protesters of all ages. They have come with posters that say "Kherson is Ukraine," they shout "Putin motherf*cker," "Russian ship, go f*ck yourself." But among the crowd, men in dark clothes are wandering, with hoods, hiding their faces, recording those who are at the rally. One even hisses "Nazi pigs." A friend of ours, a doctor, spends the night at work. Kherson women give birth even in bomb shelters: last night, two babies were born.
Monday 7 March
When you are locked in a limited space, measured at best by your neighbourhood, it significantly changes your perception of time. We do not indicate a date or day of the week. For us, today is the 12th day of the war. At noon, guests gathered for my son's birthday. They presented: half a kilogram of flour, a dozen eggs, a jar of beans in tomato sauce … All these "trophies" were obtained in long queues. Stores are selling all their stock to avoid being robbed. In the suburbs, at one of the largest poultry farms in Ukraine, chickens had to be slaughtered. The occupiers did not let cars with feed go there. The city smelled of chicken soup. We got two chickens. In feathers. We will have soup, too! The curfew starts at 8pm. Sounds of bombing outside the window. We drink to victory. The guests are leaving.
Tuesday 8 March
At 4am they were shelling so intensively that our cat hid under the bed and did not come out for a couple of hours. The internet dropped to zero, but there is still mobile communication. Even at this time, we are asked to be environmentally friendly – to sort the garbage in order to facilitate the work of the services. March 8th is International Women's Day. Some believe that the "Soviet holidays" should be cancelled. People just need something joyful amidst this horror, we can't blame them. The private medical centre says that it now accepts patients for free. However, there is a big problem with drugs. Pharmacies are almost empty. A colleague has a mother with blood cancer. She is in despair. Kherson residents now have two types of entertainment – to stand in lines or to go to a rally. Rallies are held daily. They go there as if they were going to work, telling the invaders in detail how they will die in a foreign land. Soldiers are like stone, guarding the perimeter. Funeral flowers were brought to them – two carnations with a mourning ribbon. Each rally ends with the anthem of Ukraine. After four hours' standing in line, we manage to buy flour, butter and canned food at normal prices. In one shop there are chocolate Santa Clauses. We got as many as we could. There are three kids in the family who will be happy with them. The niece and her husband, for the first time in these days, took the children for a walk. They came to visit us. Children understand everything, their father says. War, the children say in a whisper. And they don't laugh, they don't ask questions, they don't rejoice at chocolate Santa Clauses. Mum hugs them tightly.
Wednesday 9 March
It's snowing. The weather has become much more severe. So have we, getting more conscious of the consequences we can see of participating in protests every day. There is a clear smell of danger in the air. The Russian guard enter the city. It's a sort of the military police, to establish a "new order." We watch their large column move along the main street – grey vehicles with people in black uniforms. There are rumours that there will be political purges, that lists of activists and journalists have already been compiled. They want to behead the protest movement, to intimidate people. Media spreads the news that 400 civilians were detained in the region. There is no confirmation, but it's really scary. We are drowning in fakes and misinformation. The "secret chats" of those who work for the enemy are being leaked to social media: "We need up-to-date information on local nationalists who are very active. First of all, the organizers of the rallies, then we will catch the rest." It's all part of the pressure strategy. We still have not had a green corridor opened. It's almost impossible to get cash from ATMs, which are rarely replenished. It's bad because fewer stores allow card payment for goods. The tension is rising.
Thursday 10 March
In the morning we go to the meeting again. Friends joke that we are becoming protest-addicted. We see the funeral service car which drives to battlefields and collects bodies. Janitors sweep the streets. Potatoes and beets have been brought to the store, which means that housewives will be able to cook Ukrainian borscht. Grandmother and granddaughter feed pigeons with fresh bread. The municipal authorities promise to restore windows in the buildings that were shot by invaders. Walking home, we see a column of Russian vehicles with the letter Z on their dirty bodies. They slowly crawl along the main street of our city. Passersby look on with hatred. The TV does not work – the cable is disconnected. Internet is weak. Now almost no films are watched, books are not read. Reality is scarier and unpredictable. But we still hope.
Friday 11 March
Last night, for the first time, there was no shelling. Snow covers the city and erases the traces of the war. We are granted a break. A colleague from a national publication invites us to start collecting data about killed Kherson residents. This is an awesome initiative. It will also help keep us in a good professional shape. Lists of working pharmacies and shops have appeared in Telegram channels. The city veterinary clinic consults by phone. The longest lines are at pet stores. Power grids are being restored in the suburbs. An unexploded shell that hit the old people's home is neutralised. A generator and heaters are sent there. There is a lot of love around. People hug in the streets, call each other, share their supplies. A bit of a true romance. In the Kherson regional hospital young interns got married.
Saturday 12 March
The 16th day of the war. There are more and more military vehicles on the streets of Kherson. Last night they moved near our house: my heart stopped for a while – in the first days of war they tried to enter, inspecting our yard. We heard that Russian soldiers had entered a high-rise building and knocked on the doors of apartments. You'd better not open – they immediately move in. Apparently, there are not enough hotels for these "guests." We put two additional locks on our door. Exactly at 7pm, the iron doors will be closed until morning. In the meantime, children are playing in the yard. The hunt for food continues. Yesterday I bought six frozen cutlets. On the embankment of the Dnieper, fishers are catching fish. Here you can buy crucian carps, bream. But it is rather expensive. A journalist was threatened by phone. She was too active on Facebook. We seem to be under scrutiny and need to carefully control our activities on social media. Again there was information about kidnapped activists in a neighboring village. About 10 people were detained in the city. Activists warn each other to change where they are living to avoid kidnapping. We chose a symbol of cultural resistance in Kherson – the dove by Polina Rayko, a local artist (now dead). Her house, completely painted by her, is near Kherson. Despite the shelling, it's still safe.
Monday 14 March
The morning has a taste of victory over the enemy's plan to make us "pro-Russian." In Telegram channels, residents post amateur videos – fragments of two rallies from yesterday: ours and the one where they were supposed to announce the creation of the Kherson People's Republic (KPR). Now we know in person our heroes and our traitors. At the rally for the supposed KPR, troops opened fire on protesters, so frightened were they by the number of people who were shouting, "Russian soldier is a fascist occupier!" The collaborators, under the protection of the Russian guard, got hurriedly into the car with the Z sign and left. There is no Kherson People's Republic here and never will be. Today the protests continue. The enemy lost their nerve again. One of them threw a stun grenade at protesters. It hit a tree, and ricocheted into them. In the end, they stunned themselves. Our people laughed at the clumsy soldiers. The video of this episode went viral. War is war, but no one has cancelled the planting season. There is not enough fuel and herbicides, but the tractors went out to plough the fields – with Ukrainian flags! –amid the enemy's tanks. On social media, even Russians comment: this nation is invincible.
Tuesday 15 March
As usual, the protest rally started at midday against the background of constant loud explosions outside the city. A trumpet player performed our anthem live. The music sounded so loud and piercing that we all sang the anthem again. Creative protesters built a tomb with the drawn image of Putin, and had his impromptu funeral. Today the central market of Kherson was opened. Farmers brought vegetables and some meat. Endless lines at petrol stations. People have been queuing since 2am. You can only buy 40 liters. We buy button phones with new SIM cards, as it is dangerous to walk around the city with iPhones and Androids. Russians can come and check all your connections and activity on social media. They also take away cars and fuel. They are poorly provided with food and get it most often by just robbing shops. But sometimes it happens differently. We stood in line at the butcher's, which had nothing but meat for dogs and cats. The armored personnel carrier stopped nearby, four soldiers jumped off it and quickly headed towards us. My heart dropped – I didn't have time to hide the phone. But their chief asked, "What are they selling here?" The queue grinned – don't you see? Meat. He asked permission to enter the store ahead of the line and showed the money: "We do not rob, but buy." A woman shouted: "Why are you killing us on our land?" The chief muttered: "We didn't want that," and hurried into the store, followed by two others. Three minutes later they came out – with very unhappy faces. What was sold there could hardly be called meat. The queue was giggling. The soldiers climbed into the vehicle and went to look for food in other places. Now the situation is really tough. They have begun to search the homes of SBU security officers, police and anti-terrorist operation soldiers. In the villages, Russians kill them on the spot. Two Ukrainian soldiers who died defending the city were buried today, in the church of the Intercession of the Blessed Virgin. The employees tried to take payment for ritual services from the mother of the deceased. Kherson residents expressed outrage at the misers and paid for funeral services. At night it thundered at Kherson airport. Russian helicopters were burning.
Wednesday 16 March
The morning smells like bread. It is baked everywhere – in private bakeries, in homes. The winner of MasterChef Ukraine, Pavlo Servetnyk, bakes 1,600 loaves a day and distributes it to people for free. There are no medicines. Minimum vegetables. Sausages, butter, sugar and fresh fruits have completely disappeared; there are only apples. Some people lined up for the Russian humanitarian convoy. One person condemns them, another justifies them – they are afraid of hunger. Today a group of collaborators gathered in the Kherson regional council. A rescue committee "for peace and order" was set up. A well-known activist who fought in Donbas, the owner of the online newspaper Postfactum, Maxim Negrov, was arrested. His whereabouts are still unknown. Kherson journalist Oleg Baturin is in a local prison. The evening is awful: we cannot stop crying when we learn that a bomb has been dropped on the theatre in Mariupol.
Thursday 17 March
In the morning, the Russian military removed the national flag of Ukraine from the building of the Kherson regional state administration. Then they went to the city council to check the premises for saboteurs, weapons, firing points. At the protest, the Russians decided to get on our nerves too. They installed speakers and played children's songs from Russian cartoons and began to dance to them. Then they played the Russian anthem. It's some sort of provocation. But we remain calm. Pharmacies, stores, hospitals are open. Post services begin to give out parcels received before the war. Some cafes begin to arrange hot lunches for the poor and pensioners. The menu includes borscht, porridge and bread. In the evening, their armored personnel carriers patrolled the city centre – they drove back and forth. At 10pm, the soldiers hit the window on the third floor of a residential building with a teargas grenade.
Friday 18 March
The 23rd day of the war. No spring mood. It's frosty and snowing again. We drink coffee in our favorite coffee shop. The brave owners did not close it, although we often sit there under the roar of artillery strikes. All our thoughts are about green corridors. People in the know warn – you can't go in the direction of Nikolaev; they can shoot at your car or take it away. But you can evacuate to the Crimea. Still, people want to survive at any cost. The Russians continue house-to-house searches. Volunteers and journalists lie low. A couple of hairdressing salons opened – a friend went to put her hair in order; another friend took his son to get a haircut. Everyone wants to take a break for a while from standing in lines and do something pleasant for themselves. Everyone is waiting for a victorious spring.
Saturday 19 March
A humanitarian disaster is unfolding in Kherson. There is practically nothing. Only dietary supplements remain in pharmacies. The deputy prime minister of Ukraine, Iryna Vereshchuk, said routes for the delivery of humanitarian aid to the Kherson and Luhansk regions are being worked out. We hope and wait. Today we will go to the daily rally. We are looking for a creative idea. Yesterday, a young woman pasted her air tickets, insurance and Covid certificate on a piece of paper, everything that was needed for a holiday abroad. She told how she dreamed about this trip, and then "Russian tourists" came to us. Plans of millions of Ukrainians for vacation, study, work, a normal life have been upset the same way.
The
Milwaukee Independent
began reporting on what was then referred to as the mysterious "Wuhan Virus" in January 2020. Other local media did not picked-up on the story until many weeks later. Our early features focused on the economic impact, social issues, and health concerns long before other Milwaukee news organizations even mentioned the coronavirus. Over the following year, we have published hundreds of articles about the pandemic and how it has affected the lives of Milwaukee residents. This extensive body of work can be found on our
COVID-19 Special Report
page, a chronological index of links by month. Our editorial voice remains dedicated to informing the public about this health crisis for as long as it persists.
For medical resources, please visit the
CDC's COVID-19 page
or the
Wisconsin Department of Health Services
. All editorial content published by
Milwaukee Independent
can be found at
mkeind.com/COVID19
. With a mission of transformative journalism, our staff is free from commercial bias and are not influenced by corporate interests, political affiliations, or a public preferences that rewards clicks with revenue. As an influential publication that provides Milwaukee with quality journalism, our award-winning photojournalism and features have helped to achieve a range of positive social impact that enriches our community. Please join our effort by entrusting us with your contribution. Your Support Matters -
Donate Now