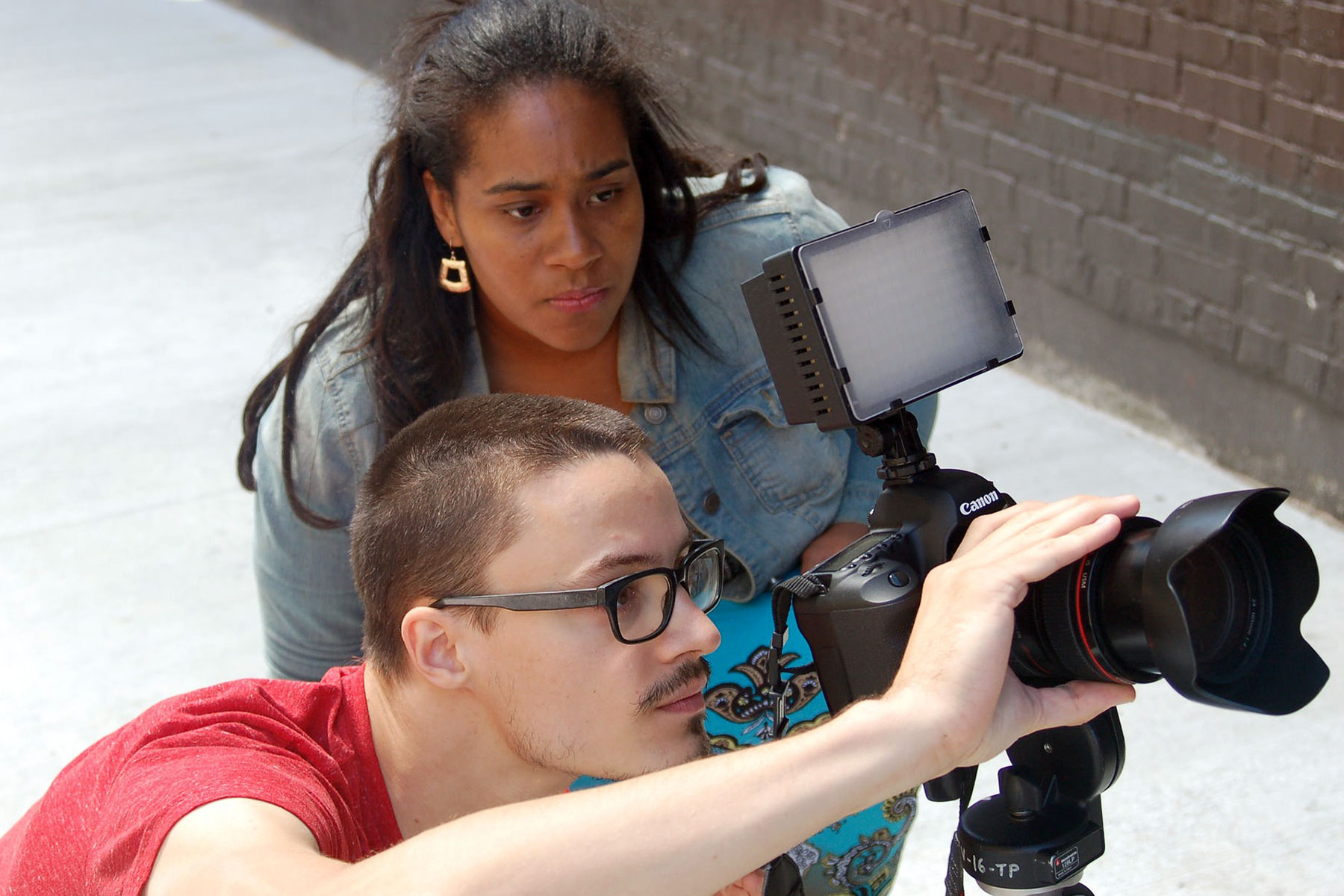 Milwaukee native Tyshun Wardlaw has won a national video competition for rising filmmakers.
One of three finalists for the McDonald's "My Community" award, she was named the winner at the 20th Annual American Black Film Festival held in June in Miami Beach.
Wardlaw's 90-second film "Be the Seed," partially shot in a Walnut Way community garden, features the urban agriculture work of Hank McGowan and his 7-year-old son Kemari. Wardlaw and McGowan were classmates at Vincent High School.
The video, which will be posted on the McDonald's 365Black website addresses a number of issues, including the influence of fathers in the lives of their children, healthy eating and working for the good of one's community.
"(Winning) was exciting. "I am still in a state of shock," said Wardlaw, who attended the festival.
"Be the Seed" competed against 75 films for the top prize. Wardlaw won an all-expenses-paid trip, a private mentoring luncheon with director Malcolm Lee and the two other finalists, exposure for her film on McDonald's 365Black website and a cable channel, and $2,500 in film equipment.
Since she started Wardlaw Productions in April 2015, Wardlaw has been working on her first feature-length documentary, "Growing Up Milwaukee." The film will document the lives of three black inner-city youth who struggle to not become another statistic, Wardlaw said.
She entered the video contest on the advice of mentor Margaret Henningsen, formerly an executive vice president and co-founder of Legacy Bank and now executive director of the Women's Fund of Greater Milwaukee. Henningsen wanted Wardlaw to get the exposure winning the contest would bring.
"I was very confident she would win because she's very methodical …. and very focused," Henningsen said.
Wardlaw, who grew up near 50th Street and Hampton Avenue — an area she says has changed drastically in recent years — hopes her documentary will spark conversations about how to improve young peoples' lives.
"I am focused on bringing change in my city, to how African-Americans are viewed in my city and to some of the limitations we face," Wardlaw said.
While interviewing potential cast members, Wardlaw has seen that many African-American youth view Milwaukee as a place of hopelessness.
Considering the city's poverty, crime, and poor education and job prospects, "they don't understand how they can make it here," she said.
Wardlaw would like to be part of changing those conditions and she believes "Growing Up Milwaukee" will contribute to that change.
Videographer Mitchell Mittelstedt, who films and edits Wardlaw's projects, said she is unique in her "unbounded energy" and "dedication to true, honest work" on films that highlight people who would otherwise not be heard.
Wardlaw was bitten by the film bug after landing a summer job as a casting assistant during the filming of the Disney baseball comedy "Mr. 3000" at Miller Park in 2003. Despite exhausting 12- to 18-hour workdays, "I loved every minute of it," Wardlaw said.
She returned to Santa Clara University, where she was a sophomore majoring in business, certain that she wanted to pursue a career in film or television. Before graduating, she interned on a community show, "Bay Area Vista," at NBC 11 in San Jose.
Wardlaw decided that she wanted to tell stories about real people. Aiming for a job on the Oprah Winfrey Show, where she believed she would learn how to facilitate social change through storytelling, she returned home to Milwaukee in 2006. She worked in TV news production at CBS 58 and WISN 12, while building connections in Chicago. She also earned an MBA from Cardinal Stritch University.
Though she did not get a job at the Oprah Winfrey Show, senior producers there who interviewed her became valuable mentors. Interning for two who started their own production company taught Wardlaw the ins and outs of television production and led to employment on the Jeff Probst Show in Los Angeles and then the Steve Harvey Show in Chicago. Wardlaw then did contract production work on many projects, including the "Voice of McDonald's," a singing competition for company employees.
According to Anna Reahl, a Chicago–based live event producer, who hired Wardlaw to assist her, "The Voice of McDonald's" project had a million moving parts and I needed someone who could keep up with me and stay ahead of me." She added, "Tyshun has that ability and if obstacles arise she finds ways to work around them. Besides being very hard working, she has a great personality … and always remains calm and composed."
Pre-production of the documentary is taking longer than Wardlaw anticipated, but she's committed to taking the time needed to do it right.
Funding has been the biggest hurdle, according to Wardlaw. She said she has used personal funds and in-kind donations to fund the filming of promotional segments. "We are looking for funding sources and accepting contributions," she added.
Wardlaw and her crew are also casting for the documentary's three main characters. She has highlighted several teens on the documentary's Facebook page to help create momentum, she said. "I have a few good leads, but … have not confirmed any of them yet."
But by all accounts, Wardlaw has a critical quality needed for success: persistence. She said, "I knew that I belonged here, that I was created to tell stories on TV and film. I thought if I stopped at any moment, I (was giving up) on the reason I was created, so I could never do that."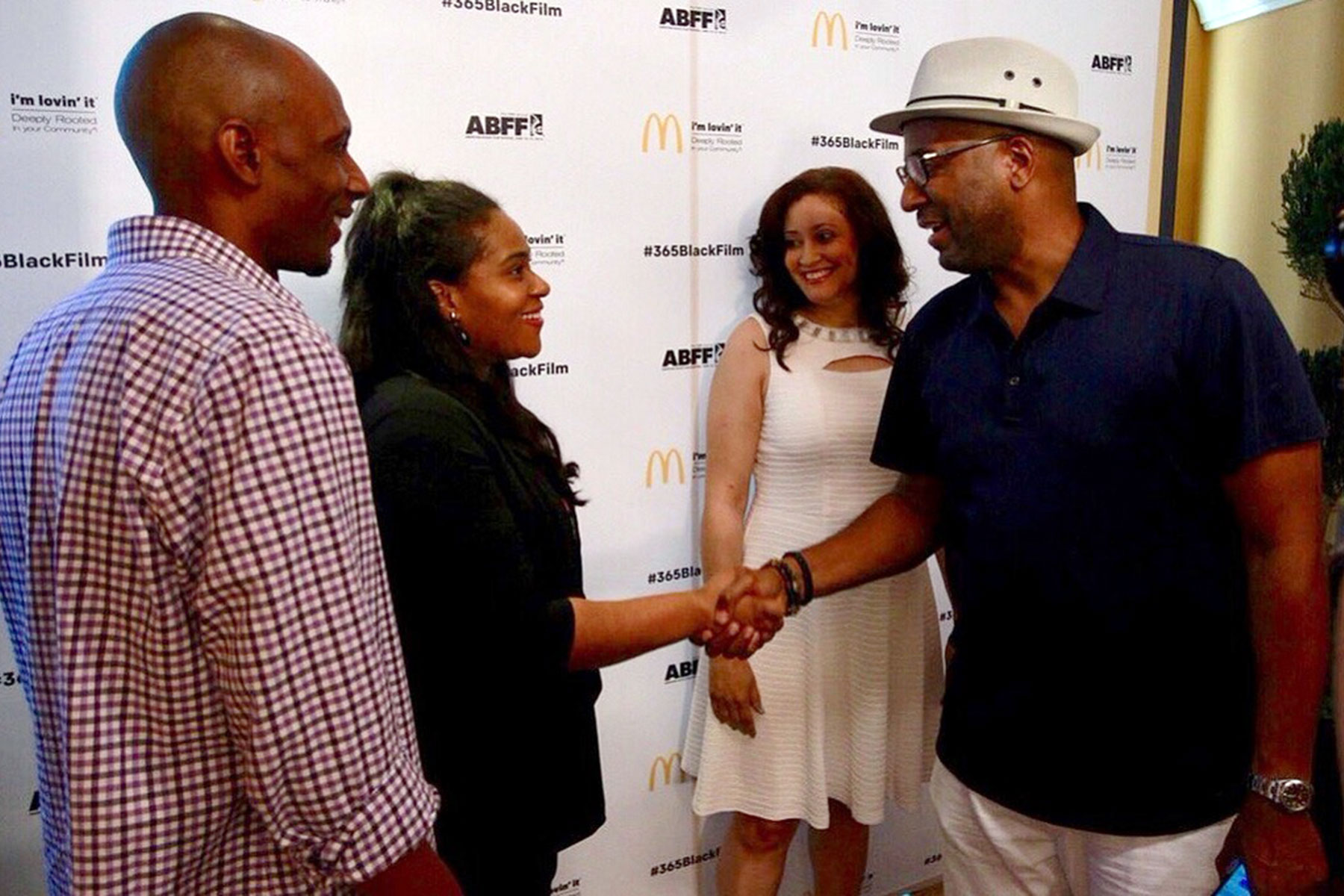 Andrea Waxman and the American Black Film Festival