Group seeks to refurbish fire damaged bells from Trinity Lutheran Church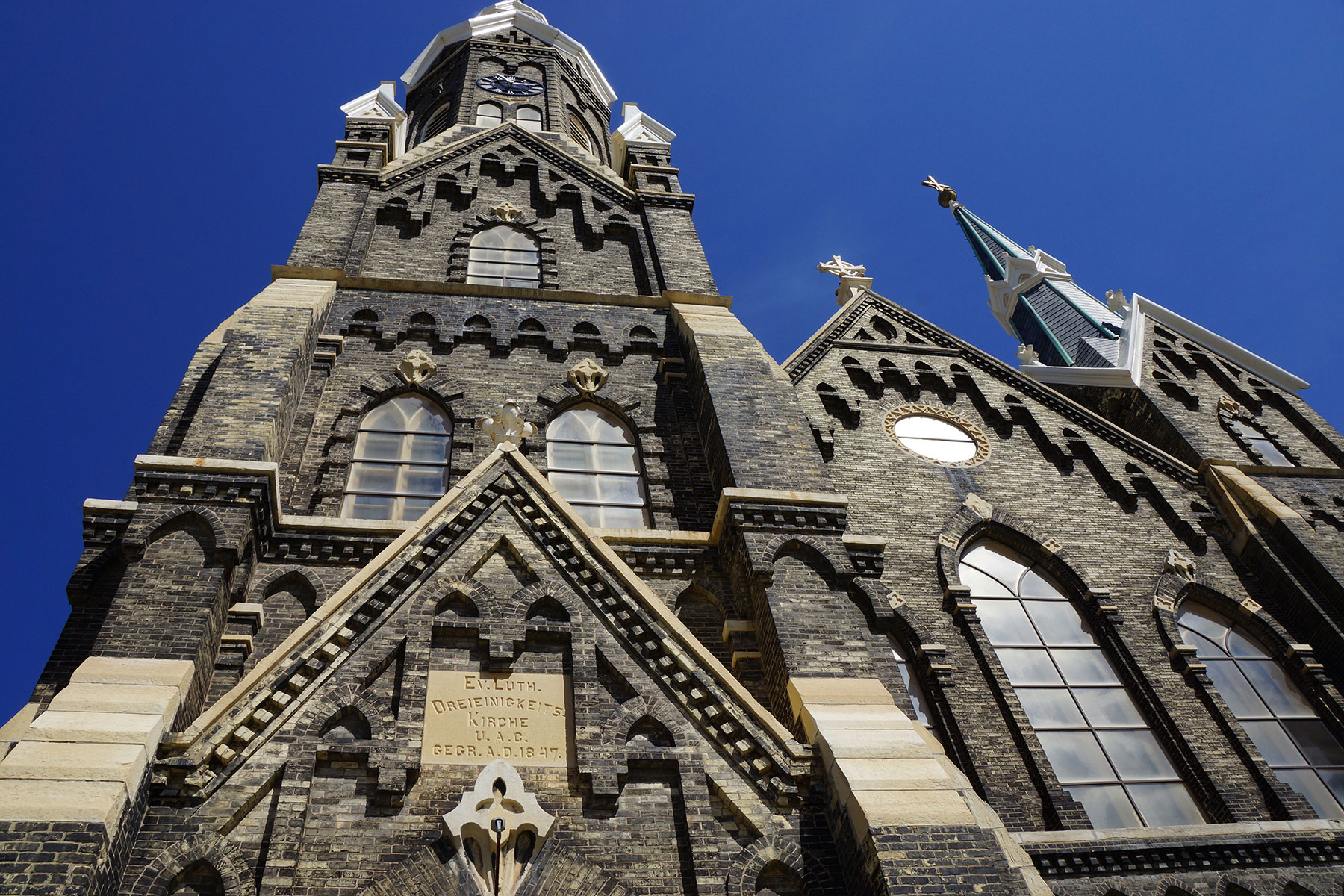 When a massive fire broke out at Trinity Lutheran Church, 1046 N. 9th St., on May 15, three bells in the steeple of the church remained. Now, a nonprofit organization called The Bells of Milwaukee seeks to refurbish the bells, so future generations can hear them ring.
Trinity Lutheran dates back to the 1870s, according to Michael Horne, a longtime local writer and managing director of The Bells of Milwaukee. Horne said the church would be responsible for fixing the bells, but his organization would help with researching and raising money.
The Bells of Milwaukee grew out of a discussion in 2016 between Peter Mortensen, the concierge at the Pfister Hotel, and Russell Klisch, the owner of Lakefront Brewery, about the custom of bells in Milwaukee ringing together as a message of peace on New Year's Eve. They decided to try to revive that tradition. Klisch is now the president and Mortensen is the secretary of the organization.
In addition to the Trinity church project, Horne said the group seeks to document as many bells as possible in the city. Milwaukee is a "bell-crazy town," according to Horne.
Along with the Trinity Lutheran's bells, the organization has identified four other priority bells at these churches: St. Martin de Porres, 128 W. Burleigh; St. Frances of Assisi, 1927 Vel R. Phillips Avenue; St. Cyril & Methodius Catholic, 2427 S.15th Street; and Our Lady of Guadalupe, 613 S. 4th Street.
"These are four churches that have contacted us with concerns about their bells. Now, I'm trying to organize things to try and help," said Horne, who noted that agreements to help refurbish the bells would be made with the individual churches.
"We just hope to give them an additional source of revenue," Horne said. Bells of Milwaukee takes 10 percent of donations to support the organization, according to Horne.
Donors include the Argosy Foundation, Milwaukee Arts Board, former Senator Herb Kohl and others, he noted.
The organization's first project was refurbishing the St. Ignatius and St. Catherine bells at Convent Hill Gardens, 455 E. Ogden Ave. The bells are owned by the Housing Authority of the City of Milwaukee, which contributed labor and materials for their removal and return, as well as for work on the belfry.
The St. Ignatius bell is one of the oldest in the city, built in 1863. For decades, the bells marked the hours, called people to worship and regulated life for thousands of nuns and students. However they were corroded, and in need of restoration. They were rededicated on July 11.
"It was for me and many others a moving experience to hear the voices of the School Sisters of Notre Dame singing along with the bells during the rededication ceremony," said Klisch. Nuns last lived in the convent six decades ago.
Klisch said he is gratified by the success of The Bells of Milwaukee in the past two years. "Each year we hear more bells ringing at midnight on New Year's Eve, thanks to volunteers throughout the city."
The Bells of Milwaukee has retained Lee Manufacturing in South Milwaukee to refurbish the bells. Owner John Witkowiak said Horne contacted him in March 2016.
"I grew up with bells. It's a family business. I used to go to work with my father as a boy. I fell in love with it at an early age," Witkowiak said. He noted there aren't too many people with his type of experience.
Witkowiak estimates there are 900-1,000 bells throughout Milwaukee, and even closed churches probably have bells. "I think there are a lot of bells in Milwaukee that should be rung."
Milwaukee's large European immigrant population came to Milwaukee in the late 19th century and early 20th century, and appreciated bells, according to Horne. "The bells were used to summon their ancestors to church," he said.
Horne added that bells are usually associated with happy memories. "They sound pretty, they're festive and they communicate with past generations. They help communities communicate with each other."